What is this guide?
This guide is intended to help franchise marketers and franchisees boost the performance of their corporate franchise website through search engine optimization (SEO), web design best practices, and great copywriting.

Who is this guide for?
This is a guide for corporate franchise marketers who want to update their existing website or build a new one.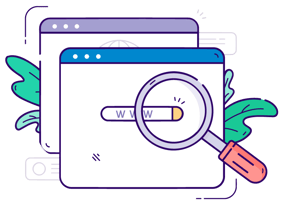 What will I learn and be able to do with this information?
In this guide, you'll learn:
How to maximize the number of ways you can use your website to generate leads and drive conversions
How to assess franchise website performance
What to look for when hiring a web design or digital marketing partner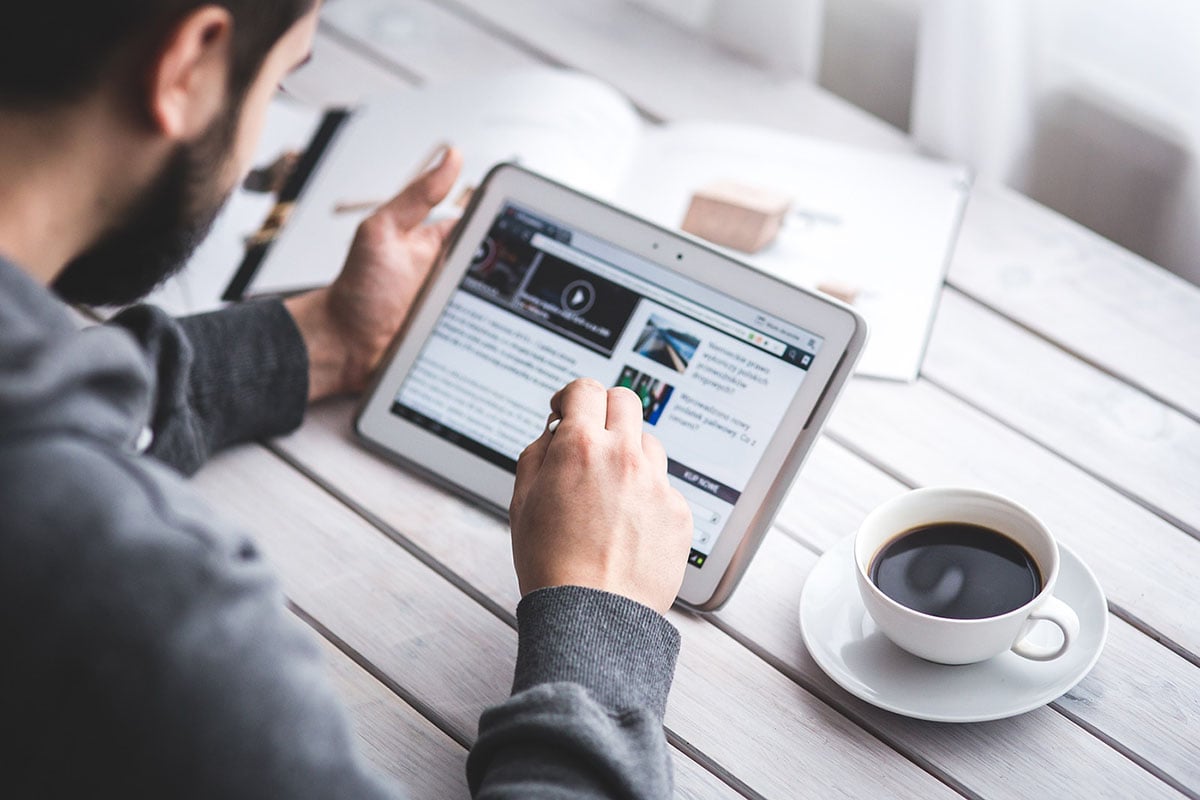 What makes a franchise website effective?
Far before 2023, the web cemented itself as a common starting point in the franchise buyers' journey. Websites were constantly competing for attention among prospects, making it critical to employ SEO best practices, mobile-first design, and gripping, scannable copy in order to compete with other franchises.

For example, way back in 2016:‍
"‍76% of people who search[ed] on their smartphones for something nearby visit[ed] a business within a day."
And "28% of those purchases for something nearby result[ed] in a purchase."
And in 2019:‍
"83% of U.S. shoppers who visited a store in the last week say they used online search before going into a store."
"About 45% of global shoppers bought online and then picked up in-store, which offer[ed] them a more flexible way to purchase and receive their items."
Meanwhile, as far back as 2016, potential franchisees were using the internet to find franchise locations to buy: "Out of the 5,892 documented franchisees who invested in a franchise . . . 43%, inquired through the franchisor's franchise development website" (Franchise Performance Group).

‍During the worst of the pandemic, having an excellent franchise website became even more important.

‍According to The CMO Survey® released in August 2021, of the 239 respondents who made investments in digital marketing over that past year, 77.4% optimized their website.
Meanwhile, the September 2022 edition of the survey showed that while investments in company websites dropped slightly, they remained fairly similar at 75.1% and more companies had moved beyond the initial stages of digital marketing adoption.
Within this increasingly hybrid shopping landscape, and potential customers' (and franchisees') buying decisions evolving from more linear to more cyclical, websites offer the following perks for franchises and their locations:
The capacity for e-commerce
A reliable and easily accessible platform for franchisees to communicate policies and updates to customers
A 24/7, convenient source of reliable information about your franchise, cutting down on potential frustration on the customers' end and time for your customer service reps, as well as offering research material for prospective franchisees
The ability to capitalize on search engine traffic for products and services people are searching for online, at a time when people are more likely to change their buying habits and try new vendors
For franchises to properly align with consumer and franchise buying habits in 2023, they need to make sure they're just as prepared to compete in a digital environment as in their physical stores. Read on to learn how to beef up your franchise's website, attract the attention of customers and franchisees, test your website's effectiveness, and choose a partner who can help with this process.

Foundations of a great corporate franchise website
A great website for any business—including franchises—has four elements to its foundation: easy-to-navigate architecture, compelling web copy, functional design, and clean web development (the code behind the site).

There are many details under these four categories that apply to franchises in particular, like social proof and microsites, which we will also cover in this section.
Architecture & Planning‍
Give important information the dedicated pages they deserve.
Make separate pages for each important aspect of your franchise, including the services franchises provide, products sold, franchisee locations (both current and those you're looking to expand into), contact information, and franchisee recruitment.

If you're not familiar with buyer personas, take some time to understand the concept and develop personas that describe your own franchise buyers. (This resource is a great place to start, and this resource can help you get the most value from your personas.) Consider which keywords and keyword phrases your personas use to find you. Then, build each page around one, or a group of similar keywords, and/or questions that your persona will be asking.

For example, let's say you're a commercial printer. On the corporate level, your primary persona will be the potential franchisee. They will likely find you in a directory rather than from a Google search.

When they visit your site, they will have questions about purchasing a franchise, like how much it will cost, and where you want to put new franchises. In that case, you should include pages on "how to buy a [your business's name] franchise" and "investment," for example. These sorts of pages anticipate your persona's questions.

If potential franchise buyers do find you via Google search, they will probably use keywords like "business printing franchise." You can build your "about" page around that long-tail keyword, and similar ones such as "professional printing" or "printing services for businesses."

Read Also: Improve Franchise Web Content By Defining Your Ideal Candidate »

Provide resources.
Obviously, it's important to include useful, detailed information about your products and services to reassure potential customers they are making the right decision. This is true whether it's consumers exploring your franchisees' products or services, or prospective franchise buyers exploring your opportunity on the corporate website.

But don't stop there. Only a portion of your website visitors will be in a position to make a buying decision. It's important to use your websites to guide buyers through all stages of the buyer's journey, which typically looks something like this: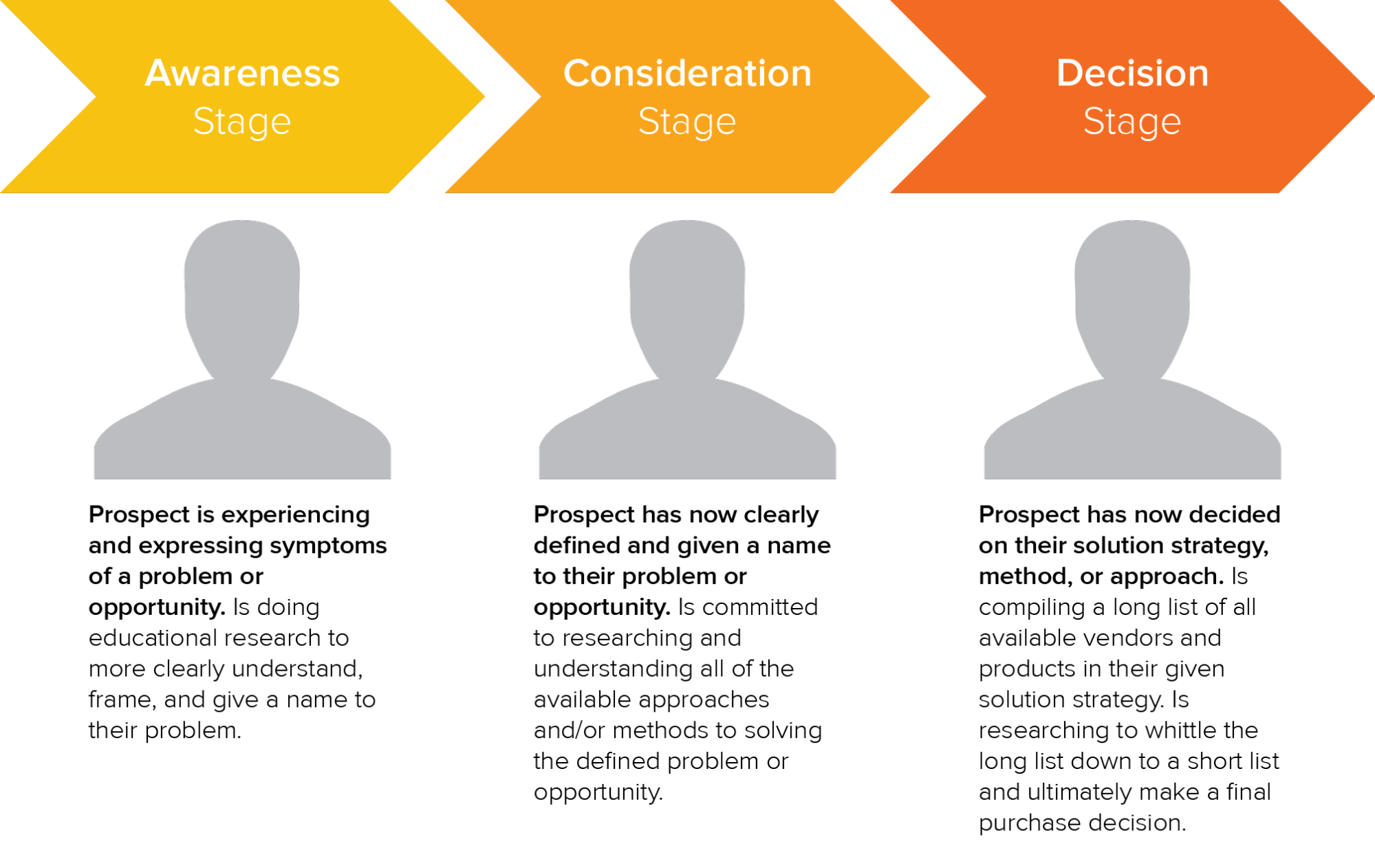 Source: HubSpot
Here are a few examples to give the buyer's journey some context. Let's pretend you're a carpet cleaning franchise.
Awareness Stage Content: Each local franchise website could offer pages describing the common signs it might be time to clean your carpet. Take this a step further and you might offer carpet cleaning schedule recommendations and important cleaning considerations for business owners beyond day-to-day maintenance. These are examples of Awareness stage content. They help buyers identify and define their problems.
Consideration Stage Content: Pages could help prospective customers learn how to remove different types of stains, ten ways to clean their carpet, and cleaning strategies for carpets made from different materials. This is an example of Consideration stage content because it helps the buyer evaluate different methods for solving their problem.
Decision Stage Content: Pages at the bottom of the funnel may describe what to look for and what questions to ask when evaluating commercial carpet cleaning vendors, positioning you as the ideal provider. This is an example of Decision stage content because it helps the buyer decide which solution is best for them (and why it's you).
Use microsites.


A microsite is a section of your main website that stands alone, with persona-dedicated pages, its own navigation, and (usually) its own subdomain—a mini website, connected but separate.

You may want to include a subdomain in order to keep all content for a particular persona, such as a franchisee, in one dedicated place. Consider this microsite that a grout cleaning franchise uses to recruit potential franchise buyers.
Have a franchise locator.


Franchise websites should include a franchise locator to help users find a local franchise location nearby. This also allows for corporate-to-local conversion tracking. Every time a user enters their zip code and finds a local franchise, this event can be considered a conversion and tracked by the corporate marketing team.
Use a blog to provide a platform for content marketing.
Blogging is a common (and often very effective) way for websites to gain traffic from search engines, social media, and other channels. Well-written blog posts optimized for both people and machines (search engines) can rank for relevant keywords and draw traffic from prospects hunting for information.

The only catch is that, for this strategy to be successful, your business must commit to regularly posting high-quality, helpful content. A blog that only includes outdated or sparse content may actually hurt your credibility with site visitors and negatively affect your appearance in search.

Read also: Why Your Franchise Needs a Blog: SEO And Lead Conversion »
Add e-commerce features.
E-commerce, according to Shopify, is "the buying and selling of goods or services using the internet, and the transfer of money and data to execute these transactions."

Buying products online and having them mailed to your doorstep, buying online and picking up in store, or ordering curbside pickup are all attractive options for many customers.

As a result, if your franchise sells products, you may want to consider whether adding e-commerce to your website would work for your business model.

Offering customers the option to purchase online helps franchisees provide a convenient, safe, low-stress option, as well as compete with larger businesses with robust e-commerce platforms, like Amazon.

Learn more about adding e-commerce to your website with these resources:
Copywriting
What is web copy?
Web copy refers to copywriting and content writing for the web. The words you use throughout your site should guide customers through digital space and compel them to take an action like purchasing a product, reading more of an article, or contacting a franchise location or the corporate team.
Make it scannable.
Visitors on the web don't like reading long paragraphs or sentences. Instead, they like to get right to the point and will scan text for the primary tidbits of information. This includes everything from the ingredients of menu items to site navigation.

Here are a few ways to optimize your copy for the web:
Avoid writing paragraphs longer than five lines (Usability).
Avoid writing sentences more than 20 words long.
Use headers and subheaders for easy scanning.
Use an "inverted pyramid" style of writing. Focus the most important info and general takeaway at the top of your content, then go into further detail.
Use lists.
Address the reader with personal pronouns.
Using personal pronouns such as "you, I, or we" in your writing creates a more conversational tone. This feels warmer, as if your company is speaking directly to the reader.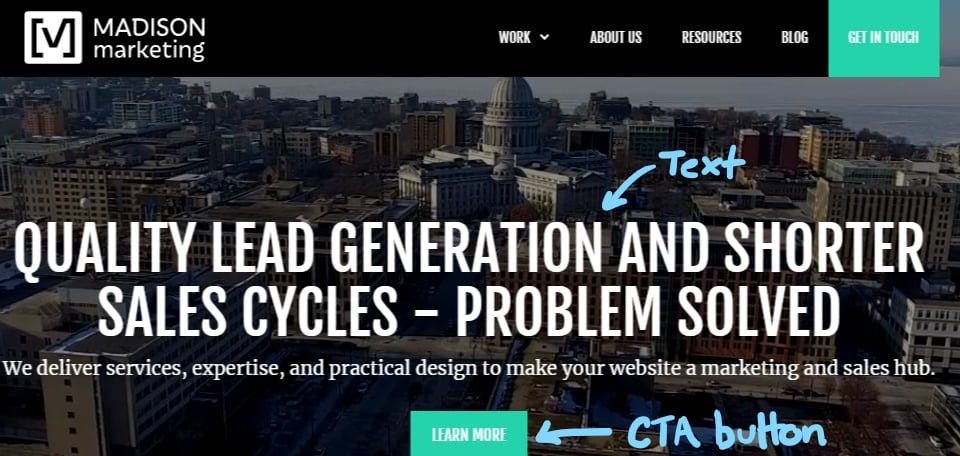 Source: Madison Marketing Group
Move the reader toward a call-to-action (CTA).
Throughout your website, your copy should guide users toward taking a particular action.

For example, your homepage should encourage prospects to convert into leads by following through on an action, such as clicking on your "contact us" button. In blog posts targeted to attract prospects at the awareness stage of the buyer's journey, CTAs should prompt readers to progress to the consideration stage by offering resources relevant to the middle of the funnel.

Again, the idea is to avoid leaving users stranded on your website, when they should be taking action.

Like many other aspects of the website, calls-to-action have undergone years of testing, implementation, and optimization to understand what works and what doesn't. While marketing best practices are never universal, it's important to familiarize yourself with what typically makes a call-to-action as compelling as possible to your prospects and iterate through testing and experimentation.
Use active voice.
Active voice refers to a type of sentence where the subject directly performs an action on an object (Glenda [s] bought [v] the bag [o].)

In a passive sentence, the subject and object trade roles, and the object acts on the subject (the bag [s] was bought [v] by Glenda [o].) In passive sentences, you can imagine that the subject performs the action on the object off-camera.

The passive voice isn't incorrect, but readers prefer active voice in most situations. Is it easier to imagine that your "first store opened in 1995," or that your "first store was opened in 1995?"
Edit.
Carefully edit everything you write before you publish it on the web. If potential customers see typos and poorly written copy on your website, the hard work you've done to craft your messaging can be undermined.

Imagine that a potential franchise buyer visits your corporate site to learn more about your opportunity. Typos and other mistakes will immediately taint what could have otherwise been a great first impression.
Use style and heading tags to make important copy stand out.
Source: Madison Marketing Group
Styling certain elements—such as headers, subheaders, and key statements—to stand out draws both visitors' and search engines' attention to important features of your copy. It can help platforms like Google properly index your site, improve your search ranking, and organize your content for readers looking to skim.

Rely on styled heading tags—H1 for titles, H2 for section titles, etc.—to organize your content for search engine bots and make it easier to scan for readers. (This is also critical for making your website accessible for people with disabilities.)

It's also important not to overuse bolding. Only bold key features of paragraph text, using headings to divide sections and subsections. Too much bolding can be annoying to readers and appear spammy to bots. It can also undermine the point of including bolded elements: to make them stand out from the rest of the text.
Attribute sources with hyperlinks.
As with other forms of writing, it's important not to plagiarize other work across the web. This is an ethical consideration as well as a practical one. Search engines like Google routinely penalize sites that have duplicate content. Whenever you pull directly from another source, make it clear to the reader that you're doing so, and cite the source with a hyperlink. This is perhaps most relevant for content you publish to blog posts. However, it applies across your site.
Satisfy user intent.
Provide users with useful, fresh, relevant content. Information should be original and unique to your company. Don't serve up the same content over and over on your site with a fresh wrapper. This, again, could be considered by search engines as duplicate content, and it can hurt your search visibility.
Write simply and clearly.
A general rule of thumb for writing web copy is to keep your writing at an eighth grade reading level. This is particularly important for a broad audience with different levels of English language literacy. Use simple, short sentence structures and words that are easy to understand.

You may deviate from this if your target audience—your persona(s)—tend to have a higher reading level and/or your voice demands more specialized language. However, it's still effective to write copy that's short, simple, and easy to read. Reduce the cognitive load for everyone who engages with you.
Design
There's more to website design than building something that's simply visually appealing. Web design should provide a streamlined and user-friendly experience.

Well-designed websites look great regardless of the device they're accessed from, are easy to navigate, contain consistent and up-to-date information, have polished content tailored to your persona(s), satisfy user intent, and are easy for bots to index on search engines. A well-designed website demonstrates that you are trustworthy and worth doing business with.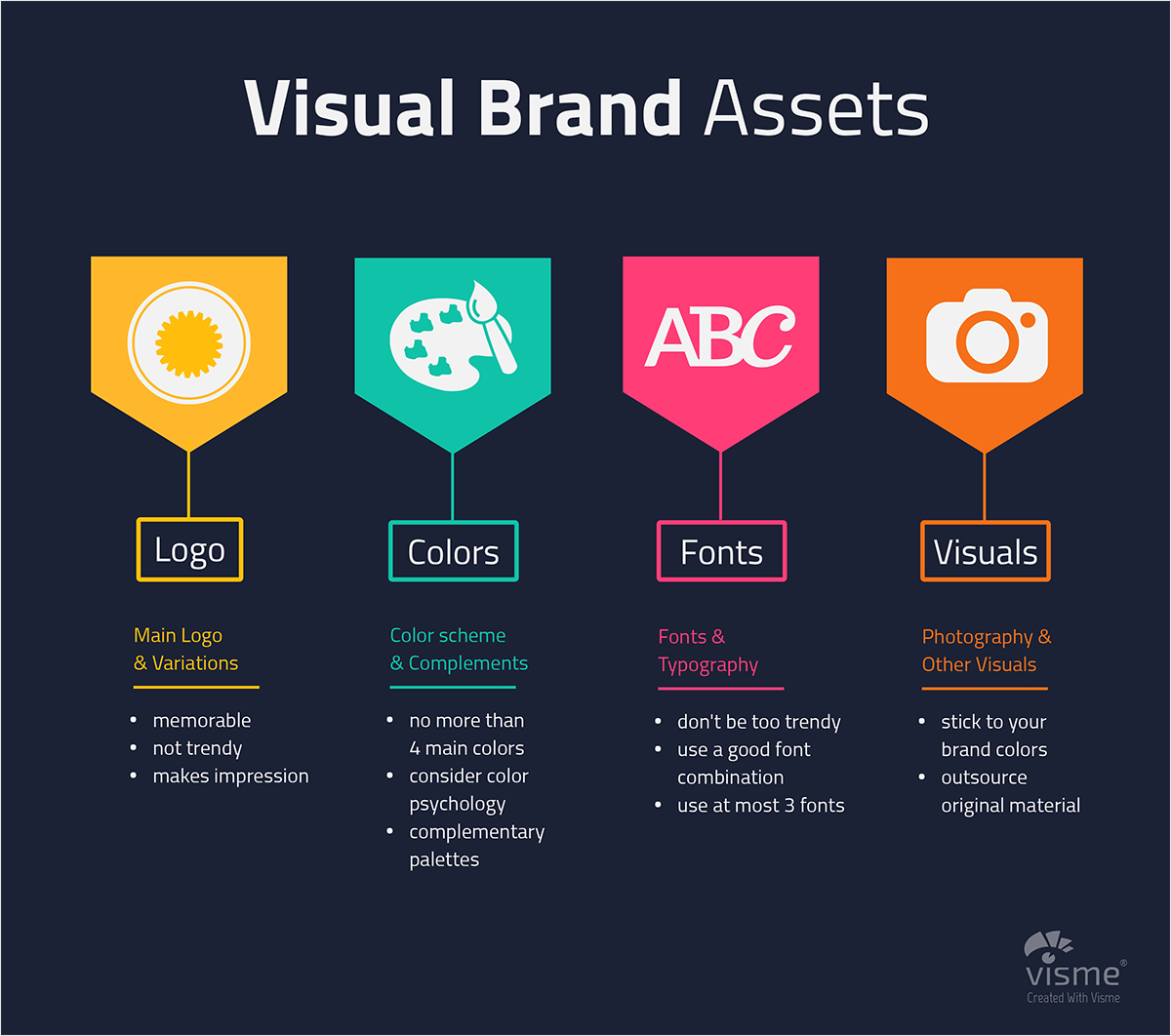 Source: Visme
Follow an existing brand guide or create a new one.
If you don't already have a brand guide, build one and follow it. An effective brand guide will dictate a consistent style, voice, and tone for your franchise in both online and offline materials.

Read also: 3 Ways Franchisors Can Develop A Unique Brand Identity and Voice »
Prioritize your responsive (mobile) design.
Recently, the shift from desktop to mobile web browsing has prompted Google to prioritize the mobile version of most websites for its search index. If your site isn't optimized for mobile devices, it will likely affect your SERP ranking, especially if your competitors offer better mobile experiences.

When setting out to design or update your website, make sure it's developed to be fully responsive no matter what size device it's being viewed on. Review your mobile analytics to see what types of devices your users are most commonly using to view your site to get a better understanding of how important responsiveness is to your users in addition to search engines.
Create a design that's both functional and beautiful.
All humans respond to beauty and good storytelling. According to a study from the University of Surrey, 75% of web users judge an entire website by "its aesthetics" (HostingTribunal). Keep up on current design best practices, look at competing franchise websites, and create an attractive site with plenty of images and/or videos. Be sure to include any SEO-relevant information in your images' meta descriptions and videos' transcripts as well, because crawlers cannot read videos or images.

Read Also: 4 Mistakes Keeping Visitors From Moving Past Your Homepage‍ »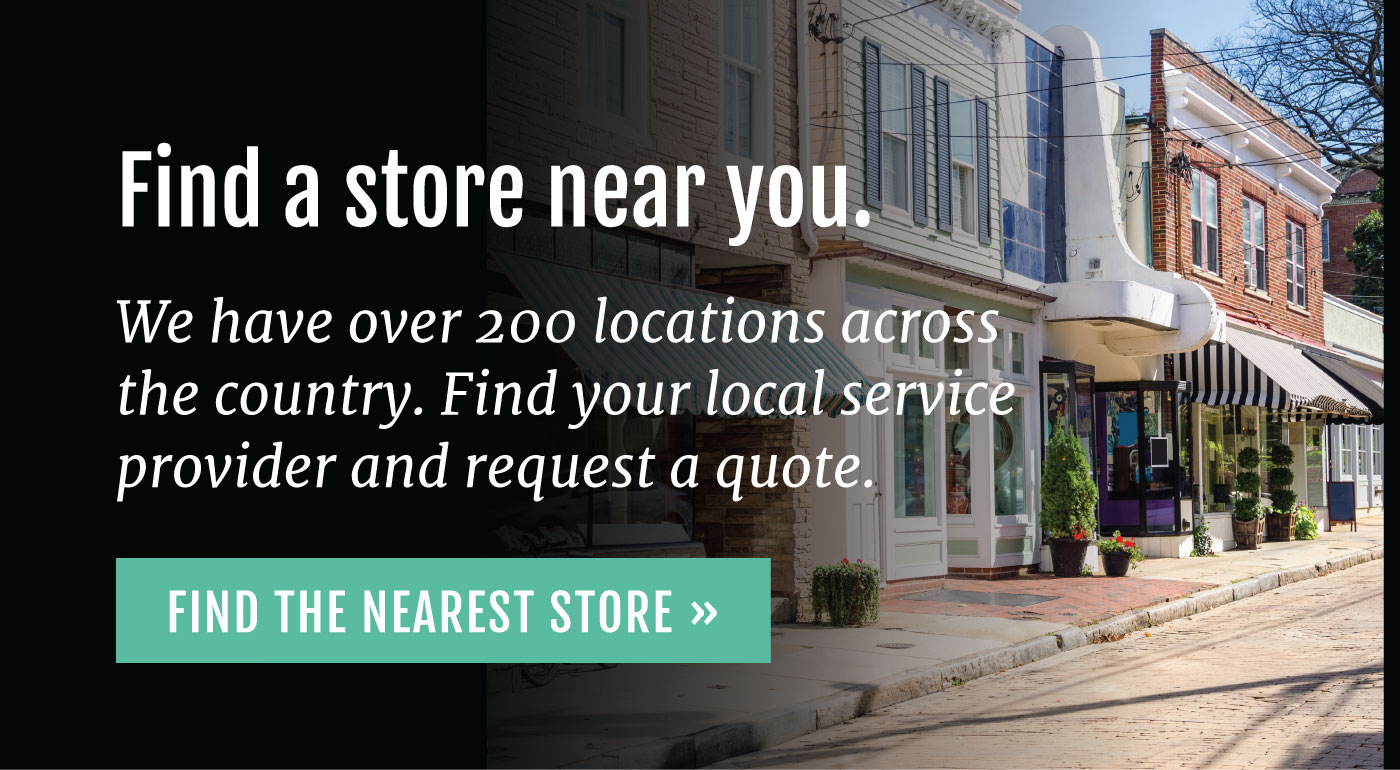 Lead to a clear next action through visual queues.
The design aspects of your website, like your copy, should lead prospects to a clear next action. Describing exactly how to do that is next to impossible since each website is unique and therefore demands different aspects from its design. The more important point is to use CTAs as a goal for the design itself.

Rather than asking simply "is our design pretty?" ask whether or not it's designed to guide the user to the action you'd like them to take. This could be submitting a form with their contact information, adding a jar of essential oils to their online shopping cart, or signing up for an email newsletter.

For more tips, check out this article about creating CTA buttons.
Tailor your CTAs.
Gear the calls to action on your website toward the resources your franchise has. For example, if you have a large call center, direct visitors to call you for support. If you are a smaller franchise, it might make sense for you to direct customers to fill in a contact form, which requires fewer resources to manage.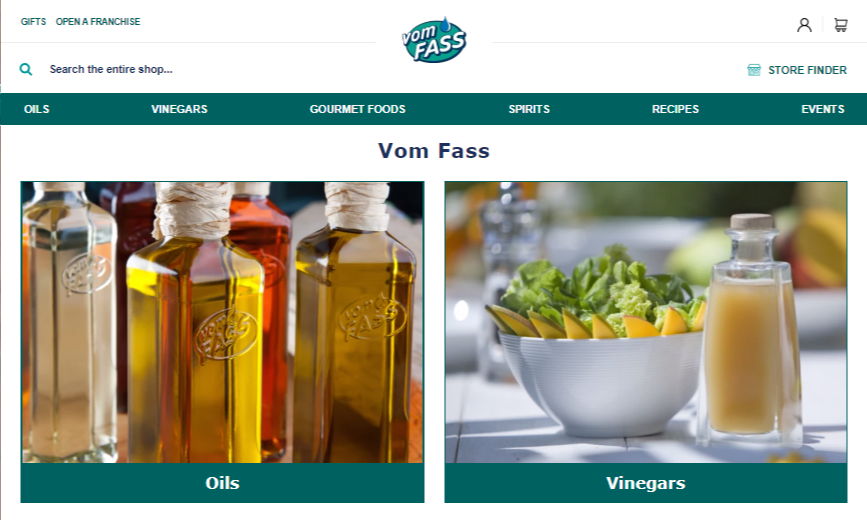 Source: Vom Fass
Keep it clean.
Effective websites are not cluttered with competing design elements or clogged with text. Use less text. Keep your style and chosen fonts consistent.

For example, say the body text on your landing page is Times New Roman font, your "about us" page uses Arial, and your blog posts use a mixture. Choose one font for body text, and use it consistently on every page of your website.
Use forms.
Providing potential leads with useful content that requires a form submission to access can help you acquire lead data. For example, you could prompt potential franchisees to submit a form in order to get a how-to guide for buying and running one of your franchise locations.

Read also: 5 Quick landing page fixes to increase franchise website conversions »

Source: Dog Guard
Provide social proof.
Social proof refers to authentic testimonials, reviews, awards, and other feedback from customers about your business. People are more likely to do business with a franchise that other people have done business with before and recommended.

It's important to cite real social proof on your website, such as awards you have won or testimonials from customers. You should never buy reviews or create your own. These tactics are often easily sniffed out by Google and sometimes can be woefully obvious to visitors.
Development
Keep average page load time under than 3 seconds.
Make sure your site loads quickly on every device. Page speed can be a major search engine ranking factor and many visitors will leave a site if it does not load fast.

Use Google Analytics to see which of your pages are slowest. Then, use Google PageSpeed Insights to learn why and make the necessary improvements.

"Https" indicates a secure site.
Make your site secure.
Visitors feel safer on a secure site and Google tends to favor them in search. For humans, the trust factor is much more than just a perception. SSL-secured sites are by nature more protected from threats. Prospects can be confident you're safeguarding their credit card number or other sensitive information.

Google will inform your visitors that your site is not safe if it isn't a secure site. Buy an SSL certificate in order to enable HTTPS. This will make your site secure, which can make your visitors feel safer and improve your search ranking.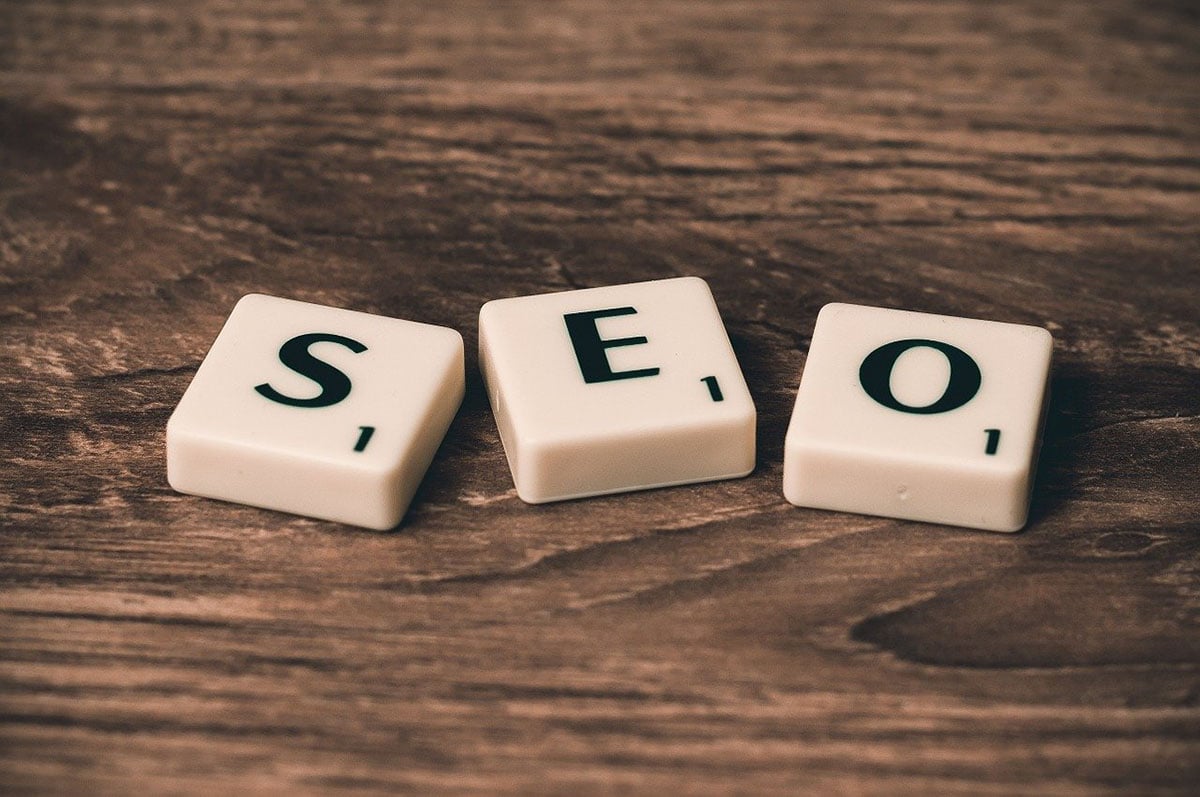 Search Engine Optimization (SEO) for franchisors
What is SEO?
SEO stands for Search Engine Optimization and is among a franchisor's most important tools for building a better website. It involves a number of practices that can improve website visibility on search engine result pages (SERPS). SEO practitioners view Google as the most important search engine because it holds about "92% of the global market share" (Hubspot).

SEO involves targeting specific keywords, keyword phrases, or topics relevant to your business.

Source: Google
After a search engine user performs a search, a list of results appears. Those results typically fall into two categories: paid results and organic results. Paid results are advertisements that pay for space on the results page and are not driven by SEO.


Organic results, on the other hand, are ranked by Google's algorithm. "Crawlers" (bots) gather information like the content and structure of websites, then feed this data into the algorithm, which rewards sites with particular qualities by ranking them higher on results pages.

Achieving organic search rank is typically a major SEO goal at both the corporate and individual franchise level.

You might notice that results come in different packages, depending on what keywords you search for. For example, you might see something like this when you type in "cleaning services madison wi."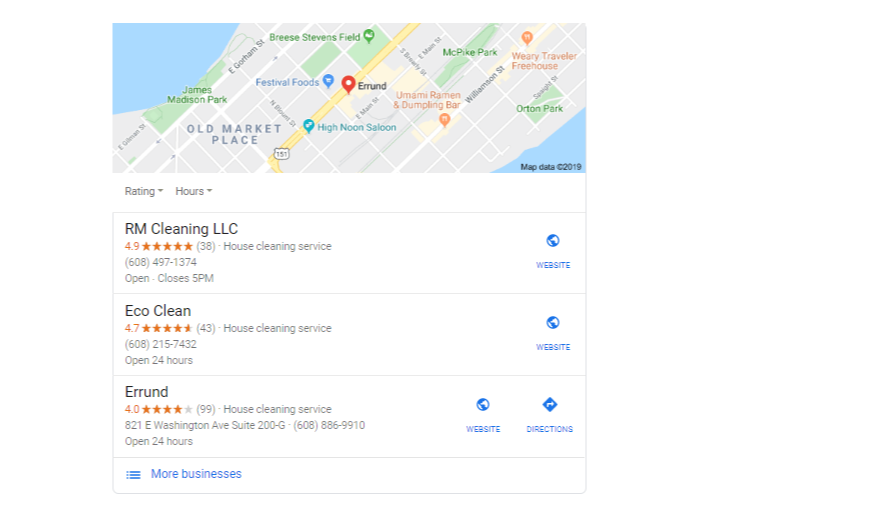 ‍
This is called a "local pack." It displays a map and typically features three businesses that are either local or service the specified area. This result shows up when Google thinks you are performing a local search, or looking for a local business to visit. Ranking for local searches is an important SEO consideration for individual franchise locations.

So, what website characteristics does Google reward? There are many.

Rather than chasing a seemingly endless list of discrete search factors, consider the following approach to address them methodically:
Identify your buyer persona(s).
Each of your customers is an individual with specific motivations, needs, goals, and concerns. It's likely that subgroups of your customers have many things in common, such as their income level or profession. Identifying who your customers are and what they need can help you serve them better and narrow down which keywords they are likely to use.

Come up with a profile of your ideal customer(s). What do they typically want and need? Why do they have those wants and needs? What motivates them to buy your products? Try this out yourself with this free HubSpot tool. Feel free to customize the persona to meet your business's specific needs and reflect how your product is used by your real customers, or the specific problems your customers are trying to solve. Read more about getting the most out of buyer personas here.

You will typically have multiple personas. Most franchise businesses have at least two: the customer (or end user), which buys your products and/or services, and the prospective franchisee buyer. You may also serve more than one type of customer and/or more than one type of franchisee.
Perform keyword research.
Now that you understand your persona(s), identify which keywords they might use in order to find information about problems you can help them solve. You'll also want to identify which keywords your web pages already rank for.

Start by brainstorming a list of keywords that relate to your franchise, such as your business' name, location, and the sorts of products you sell (Moz).

Type these keywords into a search engine and see what comes up. This can help you identify synonyms and similar keywords that you didn't think of. You can also use keyword research tools such as:
Check out this Ahrefs article to learn more about how to use keyword research tools, and this article to learn about the keyword research process.

Talk to existing franchisees and to your franchise sales team to learn what questions your current franchise buyers, prospective franchise buyers, and customers have. If your salespeople are fielding the same kinds of questions over and over again, it's likely that your buyers are using search to answer those questions as well.
Satisfy user intent.
User intent refers to what a user wants to find when they type in a particular keyword. Once you've identified who you're writing for, deliver quality content that answers questions that your personas are asking.

There are four main types of user intent: informational, navigational, commercial, and transactional.
Informational intent: seeks to answer a specific question ("capital of Spain")
Navigational intent: seeks to locate something on the web ("Facebook")
Commercial intent: seeks to shop for a particular thing ("houses in Madison")
Transactional intent: seeks to buy something ("buy Netflix subscription")
Understanding what users want when they search for particular keywords can help you decide which keywords to target on your franchise website. For a great example of how to understand and satisfy user intent, check out this article.
Provide complete and relevant metadata.
Metadata is data about data. For example, when you take a photo with your phone, the time and place where you took the photo is recorded (5-Minute Metadata). The photo is the data, and the recorded time and place are its associated metadata.

There are many kinds of metadata, but on a web page, common examples of metadata are the web page title tags that appear at the top of your browser tab and over the meta descriptions (summaries of what your web page is about) that appear for each web page in your search results.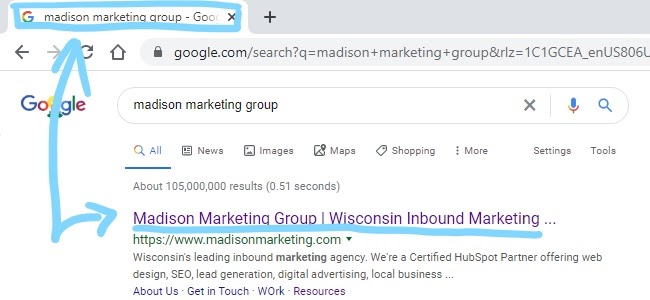 Source: Google
Examples of metadata—upper left and middle: title tags; middle (text below URL): meta description of a web page

When a user decides which result to click on, they glance over the metadata that each web page provides on the Google search results. Specific, clear, helpful metadata versus generic, confusing, unhelpful metadata can be the difference between getting a click and losing a click to one of your competitors.

Writing metadata is one of several opportunities you have to slip in some of the keywords you just identified and provide semantic context for search engines. For example, if you own an insurance franchise in Wisconsin, you can cleverly insert the words "Wisconsin" and "insurance" into your homepage's title tag.

Google's indexing bots use metadata like signposts to figure out what your web pages are about and how your site is organized. If your metadata is repetitive, vague, confusing, or nonexistent, then you're missing an opportunity to let Google know what your page is about.
Keep your content up to date.
No one wants to read outdated information, and Google tends to reward newer content by placing it higher in search results. In addition, it's important to keep up with readers' expectations and adapt to changes in website design.

As a result, you want to regularly update older content and post new content. Adding a blog to your website is a great way to allow for regular content publication without cluttering your navigation. Think of blogging as continuously adding more front doors to your website.
Include keywords tactfully throughout your web pages.
Google certainly pays attention to keyword usage to understand what a page is about and where to serve it in search results. Be sure to include target keywords in multiple places on relevant pages, such as headers, body text, descriptions, titles, metadata, URLs, and the anchor text of links.

While integrating keywords is essential for SEO, it can be tempting to stuff pages full of them in an attempt to cater to the search engines. In 2023, Google is sophisticated enough to detect keyword stuffing and penalize it. In addition to having zero value for search, it also makes for a terrible user experience. Write for humans, optimize for machines.
Build links.
Links are still a major search ranking factor. Specifically, we're talking about links from other websites Google perceives to be "high-quality" that point back to your website. In short, users appreciate web pages that help them by linking to other content they might find useful. Likewise, websites build their reputation in Google's eyes by linking and being linked to by other, high quality websites. This practice is called "link building."

There are two main types of links that you want to build: internal links and external links.
Internal links are links to other pages on your website.
External links are links to other websites.
When linking to external sites, you always want to link to websites that you trust, and that you feel comfortable sending your visitors to. These links are similar to a word-of-mouth recommendation. In the same way that you wouldn't recommend your friend to a business you don't trust, you shouldn't link to a website that you don't trust, such as a low-quality, irrelevant, or insecure website.

For example, if you are a pet grooming franchise writing an article about hair care for different dog breeds, link to a reputable breeders association or an academic study that provides evidence for claims you make.

Never engage in unethical linking schemes such as paying someone to link to your site. This falls into the bucket of "black-hat SEO" (unscrupulous SEO practices), and Google will punish your site if these are detected (and they often are). Instead, learn how to earn backlinks the ethical way.
Enable tracking.
Add tracking analytics tags to your website in conjunction with tools like Google Analytics and Google Search Console so that you can gather data on your website usage and optimize it accordingly. This enables you to learn more about your franchise website's performance, and your website's users including:
Which pages appear in search results and receive the most traffic depending on how long they stay on your site
What devices they are using to engage with your site
Many other metrics to help inform marketing decisions
Learn how to add tracking tags for Google Analytics here.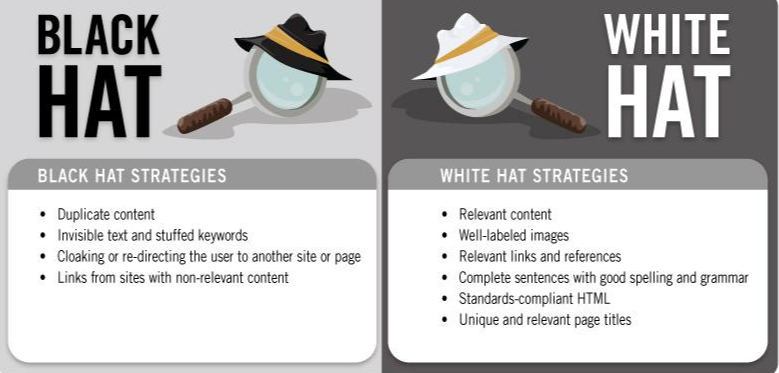 Source: Crazy Egg
Never engage in "black hat" SEO.
Never try to artificially boost your SERP ranking by engaging in shady SEO practices like keyword stuffing or buying links. Doing so may temporarily improve your SEO, but will damage your ranking when you are caught, potentially leaving you farther away from the first page than when you started.

To help discern between good or "white hat SEO" and bad "black hat SEO" check out the webmaster guidelines of the search engine you are trying to rank for. To learn more about what Google considers good SEO and bad SEO practices, check out its Webmaster Guidelines. If your persona uses internet explorer, check out Bing's guidelines as well.

For more information on beginner SEO practices for franchises, check out our Franchise SEO Guide.
Implement structured data.
Structured data refers to certain standardized categories of information that help Google understand what a website is about, such as the hours, address, and phone number on a franchise's local listing (Google).

You can use this Google schema walkthrough to learn how to use structured data or use Google's structured data testing tool to test your website.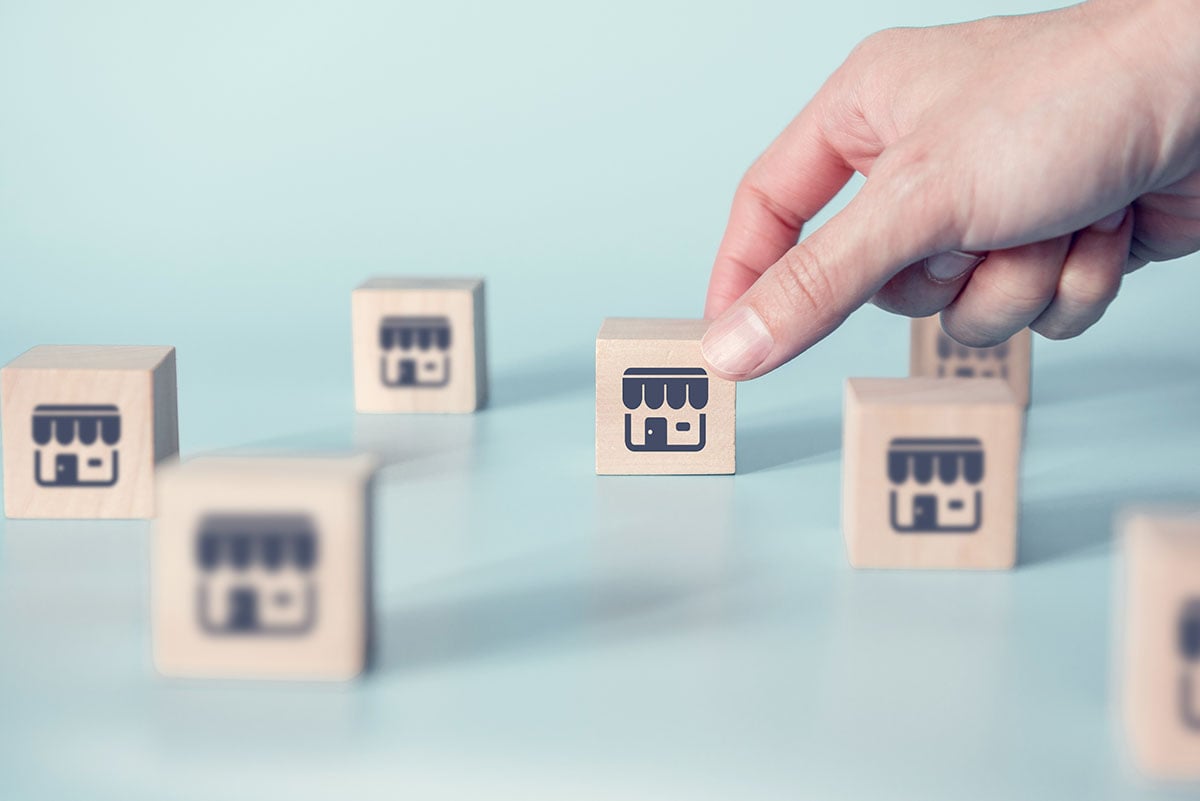 ‍
Local franchisee websites
Digital marketing and website best practices for an individual franchisee can vary significantly from those for corporate franchise websites.

While franchisees are limited to serving customers in one local market, corporate franchise websites can serve customers at a national or international level.
Should franchisee websites live on one domain, or each have their own domain?
Before we get into individual franchisee website best practices, let's answer the question we hear most frequently from franchise marketers: Should my franchise business roll franchise location web pages into its corporate site, or allow franchisees to manage their own sites, on separate domains?

Either approach can work, but generally we recommend individual franchise location pages be housed within the main corporate site rather than living on dedicated websites.

Here's one big reason why: As a franchise business grows, it usually becomes more difficult to maintain consistency across design, SEO, and copywriting best practices using the separate-domains strategy.

Some franchisees might be more marketing and web-savvy than others, leaving a handful of franchisee websites in good shape, but most of them with a lot to be desired.

When franchise businesses take the corporate-only option, however, best practices become scalable and repeatable. Updates can be managed by a team of experts, instead of left in the hands of unpredictable franchisees.
Franchisee website or microsite best practices
Whether you're a franchisee with your own website or a corporate-level franchise marketer hoping to drive digital marketing results at the local franchise level, here are some basic best practices for local franchise sites or microsites:
Franchisee website/microsite architecture
Location-specific pages.

Only include pages for products and/or services that a specific location can offer.

Individual service pages.

Create a separate page for each service you offer.

Consistent contact info.

Include the same contact information on every page: your franchise's name, address, and phone number.

Social proof.

Cite recent testimonials, awards, and other forms of social proof on your website. For a local website or microsite, the sources of social proof should also be local. It's more effective, for example, when a Tulsa-based microsite includes testimonials from Tulsa customers. Site visitors from Tulsa may see that customer as more like them, and therefore guess that they will have a similar experience with your business.

Adhere to the corporate brand guide.
Franchisee local SEO
Use local search keywords.

Focus your local SEO strategy on geographical and local keywords like "Wisconsin," "Madison," or "carpet cleaners in Madison." The people who are searching for these keywords tend to be looking for a nearby location to visit and convert.

Earn and emphasize social proof by generating reviews.

Earning social proof via reviews is especially important for franchisees. It acts much the same as word of mouth for customers, and can improve your search result ranking.

The golden standard for social proof is to have both older, positive reviews, and most importantly, a steady stream of new positive reviews. Google favors new over old, but old reviews, even if they are a four stars rather than five, indicate reliability.

It's a good idea to integrate these reviews into the design of your website or microsite to encourage visitors to convert or pick up the phone and call. Another way is to ask for feedback about your services using review generation systems like Birdeye.
Birdeye features
Monitor and report on reviews across various platforms like Google, Facebook, and Yelp
Automated review request emails or texts that can tie into a business's CRM or be sent manually
If you buy Birdeye through us, we'll set it up for you, send you monthly reports, and let you know about unusual reviews.
Claim, optimize, and standardize citation sources. Claim every listing of your franchise location on sites like Google Business Profile, Yelp, and Citysearch. Create accounts for your franchise location on social media sites like Facebook. Make sure you're using the exact same business name, address, and phone number on all listings, and fill out each listing as completely as possible.
Franchisee website/microsite design
Adhere to the corporate brand guide.

Most franchises use a corporate brand guide to design an individual location website "template" and then use that template to create each franchisees website or microsite. If one isn't available, stay as close to your corporate branding as possible when it comes to design and voice.

Provide consistent information.

Include the same contact information at the bottom of every page, including your business name, address, and phone number. Also, be sure that information on other listings, like Google Business Profile, is identical to what you provide on your website. Google looks for consistent information across the web, so this increases your likelihood of showing up in the local search results.

How does your franchise website perform?
So, you've decided to give your website a new look and feel. First, you need to take its pulse. One easy, (and useful) exercise for checking website vitals is to run it through marketinggrader.com.
You can also check your website's performance manually, before and after your site update. Here's how to do it.
Before you update, check the
Trackable

revenue generated per user
Conversion rates on your offers (e.g. number of form submissions or clicks on calls to action)
Bounce rate (tip: if many users bounce after 3 seconds, it's probably a loading issue. Check your pages' loading speed with Google Pagespeed Insights.)
Average session duration/time on site

Organic search traffic,

and, if you're using

Google Search Console

, appearances in search results

Pages viewed per session
Google search ranking for important keywords
Number of keywords ranked for
After you update, check your
Trackable revenue generated per user: (it should be higher!)

Conversion rate(s):

people should be converting at a higher rate.
Bounce rate: should be lower (fewer people should be bouncing.)
Avg. session duration/time on site: people should be spending more time on the site.
Organic search traffic and appearances in search results: should be higher in the long term, but don't be alarmed if it doesn't go up right away. This can take some time.
Pages viewed per session: may be more, but don't be alarmed if there are fewer. Sometimes a site update will increase the efficiency of a site so that users can find the same information by looking at fewer pages.
Google search ranking: may be higher, but this can take time
Number of keywords ranked for: may be ranking for more keywords
Partnering with a digital marketing agency
To save the time and money needed to find and vet in-house talent or outsourced specialists, many franchise businesses rely on agencies for their website and digital marketing needs.

Here are a few things to consider when deciding whether digital marketing work is best left in-house or outsourced to an experienced agency.
Franchise website costs
Depending on your needs and capabilities, you may want to create a full franchise website to start things off right, or, you may decide to go with a basic website that can be improved and built out over time.

Here are some estimates for each option:
Full franchise website copywriting, design, and development: $20,000+
The price for an entire website depends largely on the quality of the work (e.g. web development, design, copywriting) and the website's features. More expensive websites tend to be higher quality, not outsourced, and contain more complex features such as microsites and individual franchise pages. A cheap website tends to be lower quality, with some work outsourced to subcontractors who you don't know.

For what it's worth, we tend to believe the franchise websites we've built are of the highest quality, and typically do not charge less than $30,000 for a franchise website redesign.

To vet a potential partner, ask the following questions:
Do you write copy, design, and develop in-house, or is it outsourced?
Can you provide references for your copywriting, design and development work?
Can you provide case studies demonstrating quantifiable results achieved for businesses like ours?
What is your strategy for building leads?
In addition, you should answer these questions:
Are they willing to train me to eventually take over marketing tasks?
Are they honest and clear about their intentions?
Do they tailor their pitch to suit my business?
Whether a higher quality site is worth the money depends on how large your franchise is, and how much you want to invest in your website. A better quality website can generate revenue and potentially pay for itself.

Here are a few tips for cutting down on cost if you want to work with a reputable partner, but your budget is tight.
Cost-saving tips
Manage parts of the project in-house, and outsource the rest to a firm. For example, many of our clients write most of their web copy in-house.
Work with a partner who will use a flexible CMS (content management system) like HubSpot so you can make updates yourself.
Start with a launchpad site of the bare essentials, then modify and add new content as needed (see below).
Launchpad website: $20,000–$30,000 range
With the launchpad approach, you start with the bare minimum of what you need, which does not include individual franchise pages or microsites, but may include a simple franchisee recruitment aspect. As users interact with your site, you learn what works, what doesn't, and can add and remove content accordingly.

This approach to website building means that your initial investment is lower. You end up paying the same amount to have an agency add onto the site later or spend more time on an ongoing basis making updates yourself, but you can spread out your costs over a longer period of time.
SEO strategy recommendations: $3,000+
Whether or not you're building a site, you can expect to pay at least a few thousand dollars for SEO strategy services.

Keep in mind, this estimate only includes strategy, meaning there will likely be further time or money costs to account for the execution of this strategy.

Our approach to building franchise websites
So many ingredients go into making a great franchise website—from SEO to copywriting—that it can get a little overwhelming. But don't let it throw you. At the end of the day, SEO is about anticipating your customers' (personas) needs at each stage of the buyer's journey; web design is about visuals and user-friendliness, and copywriting is about educating, persuading, and selling.

Whether you're a marketing expert or new to this field, you, as a franchisor or franchisee, can use your skills and the best practices in this guide to build or help build a high-performing website.

Boost your page rankings by targeting the right keywords, please your visitors with fast, clean, and attractive site design, and fine tune your content to satisfy your personas' intent.

At Madison Marketing Group, we've created websites for a number of successful franchises. We strive to craft high-quality websites fitted to our customer's needs, whether that's a full franchise website or a launchpad built on a flexible CMS that leaves room for additions. Our websites are built with modern, easy-to-navigate design, snappy copy, and content that pleases users and search engines alike.

If you would like help resolving your website needs, talk to us today. We'd love to learn more about your franchise.
Next Steps
As a franchisor, this guide may present a mountain of work and likely little time or resources to do it.

If you fall into this camp, it may be time to consider a marketing partner who can help you do everything explained in this guide—and more if you need it.
Get our comparison guide to determine whether an agency is the best choice for you, or read our case study to see how we put some of these best practices to work for a client.