If you know your website needs to perform better organically in search, but don't have the tools, time, or expertise to make that happen yourself, you'll likely seek out an SEO service to help.

Consultancies, freelancers, and agencies offer all kinds of services to help you occupy top spots in an important topic and keyword areas. If you're not sure what exactly these services are, how they work, or whether they're worth it, then this is the post for you.
In this post, we'll cover:
Common SEO strategies and services offered by SEO agencies
How they work (in a nutshell)
How they are beneficial to businesses
How to tell an effective agency from an unscrupulous or outdated one.
Disclaimer: We're a marketing agency that sells SEO services, and we like new clients as much as the next business. On the other hand, we're also perfectly positioned to give you an inside look into what sort of strategies we've used to get results for our clients.

Whether you choose to work with us (or invest in SEO) or not, we hope you'll find this information genuinely helpful in your search for effective digital marketing solutions.
The main takeaways—at a glance
Before we dive into the nitty-gritty, here are some fast answers to the questions we cover here.
Briefly—search engine optimization (SEO) is a set of strategies that people use to help their web pages rank higher in search engine results without paying for advertising.
It involves specific writing, design, and development strategies like quality content creation, mobile-first design, page speed optimization, and more.
Agencies offer services like:
Search engine optimization strategy
Keyword research
Content creation
Social media management
On-page optimization
Running SEO audits
Improving page loading speed
Local SEO management
Backlink building and earning
Technical SEO optimization
SEO campaign creation
SEO is valuable because it helps the pages of your website (and sometimes listings) appear higher in search results, making them more likely to get seen by potential customers searching for products, services, or businesses like yours online.
This can help you attract new customers and generate awareness.

Since SEO generally aligns with providing a great user experience, it can also benefit your current customers.
Here's some well-informed advice from Rand Fishkin, Scott McGovern, Patrick Reinhart, & Neil Patel:
SEO provider red flags
They guarantee you a spot on the first page of results (or even #1) using SEO.​
They talk about SEO strategies like they're secret, magic, or proprietary.
They brag about themselves but don't know, or ask, about your needs.
You found them in Google search results or on a "best SEOs" list (not necessarily a deal-breaker, but riskier than a referral).
They want to control your accounts and data, but won't give you access.
They can't give you recent, accurate, quantitative results they achieved for a client.
Signs of a good SEO provider
They tell you they can help you get on the first page of results with relevant keywords that bring in qualified traffic but do not 100% guarantee immediate results or that you will show up on the first page for specific keywords.
They can show you recent, quantitative, positive results they have gotten for a client.
They have a documented strategy for improving clients' SEO.
They have qualified specialists that can handle different aspects of SEO.
What is SEO?
Search engine optimization (SEO) refers to a broad set of strategies that people use to help their web pages rank higher in search engine results without paying for advertising.

This separates SEO from pay-per-click (PPC) advertising, also called search engine marketing (SEM). Even if you haven't dabbled in PPC, you've probably seen this type of ad in search results. It's marked "ad" to visually separate it from other results.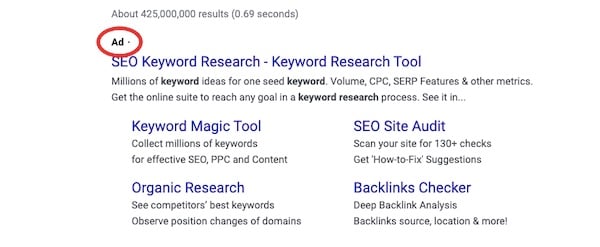 Source: Google
With PPC, you pay the search engine's company (in this case, Google) to appear on the first page of search results, often at the very top, where people tend to pay the most attention.

But SEO tries to earn the same spots without paying Google a cent—which is why "unpaid" search results are often called "organic" search results.

Source: Google
Next comes the million-dollar question: How can an organic result fight its way to the top of the page?
Types of SEO
As you know, SEO strategies help with that. But what are they, exactly?

First, it's helpful to remember that there are two main types of SEO, and one subtype:
On-page SEO: strategies that you can implement on the pages of your site

Technical SEO: Backlinko defines this as a set of strategies that ensures your site "meets the technical requirements for modern search engines."

Off-page SEO: what you do off your site to improve SEO, like on your social media profiles or listing sites like Google Business Profile (formerly known as Google My Business)
SEO strategies tend to focus on improving either off-page or on-page SEO (and sometimes, more specifically, technical SEO), but they all work holistically to help you show up higher in search results.

For example, optimizing your Google Business Profile is an off-page SEO strategy, but it can also help pages on your website rank higher because, among other things, it lets you link from one of Google's pages to your site, which helps you build your website's authority.



There are more niches within these general categories, too. For example, "local SEO" involves a set of strategies that account for differences in how search engines generate results for local businesses versus non-local searches.


Similarly, voice and image search optimization involve tactics that target new ways of conducting searches, such as by using photos from your phone or talking into a device or smart speaker.

Here are some services SEO experts often include in a monthly retainer, according to Brian Dean, and what they really mean.
Common SEO services available (and valuable) in 2023
Search engine optimization strategy: HubSpot defines an SEO strategy as "the process you follow in order to maximize the opportunity to gain organic traffic from search engines."

In other words, it uses strategies like the ones in this list to optimize your site to get found. Examples of what this involves:



Identifying important content topics
Conducting keyword research
Conducting competitor research

Keyword research: finding words and phrases potential customers might use to find businesses like yours. Examples of what this involves:

Using keyword

research tools

, search engines, and competitors' sites to come up with keyword ideas

Finding more keywords using these keyword ideas

Narrowing your list down to keywords you're more likely to rank for and that will attract the right people to your site

Identifying which keywords you already appear for, and which of these you should pay attention to

Content creation: writing content that is more likely to rank in search results and attract visitors. Examples of what this involves:

Writing content that addresses your target audience's needs, speaks to them in a compelling way, and provides the information they were looking for

Creating pages that are easy for visitors to use and search engines to scan

Including target keyword(s) in the title, body text, URL,

title tag

, and

meta description

of a page

Social media management: managing a business' social media accounts, analyzing the performance of social activities, and listening to see how people are talking about and engaging with your brand. Examples of what this involves:

Creating and scheduling posts
Responding to customers and other platform users
Analyzing metrics such as shares and engagements with posts

On-page optimization: fixing issues to make your website perform better, often as a result of an audit. This can involve just about any type of SEO tactic, depending on your specific needs. Examples of what this involves:

Updating webpage copy to be easier to read, answer the searchers' questions better, and include relevant keywords
Updating website design to be more user-friendly
Linking related internal pages together

Running SEO audits: diagnosing issues on your website that could prevent you from ranking well in search. Examples of what this involves:

Looking for content (like blog posts) that is too short and/or vague to properly answer users' questions
Making sure you only use one H1 tag (title heading) per page
Making sure your pages load in 3 seconds or less
Improving page loading speed: optimizing the pages of your site to load in 3 seconds or less. Examples of what this includes:

Resizing images
Turning on lazy loading so you don't have to wait for images that are not visible to load before being able to interact with a page
Getting rid of useless code

Local SEO marketing: improving a local business' search presence by considering uniquely local search engine ranking factors, like Google Business Profile signals. Examples of what this involves (four of the most common services, according to Brightlocal's research):

Google Business Profile optimization and management

Content creation and optimization

SEO audits and analysis

Citation

building and cleanup
Backlink building and earning: getting other websites to link to yours so that Google sees your site as more trustworthy. Examples of what this involves:

Identifying broken links to old versions of your pages and redirecting to the new page
Creating great content that other sites want to link to, like crazy helpful blog posts, original research, or tools
Finding broken links to content like yours on other sites and asking the owners if they would link to your post instead
Technical SEO optimization: fixing issues that make it difficult for a bot to find all the public content on your site; Examples of what this involves:
SEO campaign creation: creating and executing a project that uses strategies like the ones above to improve your business' search presence. According to Keyword Tool, this is generally a multifaceted, long-term project.
And this just scratches the surface of what SEO experts do for you. Read our guide to learn about more specific SEO strategies. For more data about local business SEO services, check out this survey.
As someone new to SEO, all this information may be making your head spin.
Here's the bottom line: All these services are designed to help your web pages score higher in particular metrics that search engines use to decide which pages are best and most relevant for a given search, commonly called "ranking factors."

There are as many as 200 confirmed and possible ranking factors for Google alone.

Fortunately, most (if not all) SEO strategies boil down to one thing: giving searchers what they want, how they want it.

This is because Google's search engine is designed to provide high-quality, relevant search results in an easy-to-read format that satisfies the search intent of users.
What is search intent?
Search intent is simply what a searcher wants. There are four types of intent:
Informational:

They want to learn something ("Capital of Argentina")

Transactional:

They want to buy something ("Buy refurbished laptop")

Navigational:

They want to find something ("YouTube")

Commercial:

They want to find a business ("Coffee shops near me")
Intent is one of the most important ranking factors. If you do nothing but provide exceptionally helpful content that gives searchers exactly what they want in an easy-to-consume package, you'll be ahead.
The catch
Unfortunately, doing all the right things doesn't guarantee you a spot at the top for every search you want to appear for, though it may, and can certainly help you appear for valuable search terms.

It's complicated because:
Pages rank for keywords, which are competitive (more on this next).
You have to compete with PPC ads.
Other businesses and organizations may have more authority than you, making them more attractive to Google as sources of information.
Search engines update and evolve.
Only the search engine companies know all the ranking factors.
Before you think twice about investing in SEO, let's unpack this.

A good agency should be able to help you rank on the first page, but it won't happen overnight, and they can't 100% guarantee that you'll show up for the precise keyword you want to appear for or get the precise rank you want.
Challenges of SEO
Why is this?

Keywords are the words and phrases that people type into a search engine, to find content online, like "orchard," or "Facebook ads best practices."

They help search engines find relevant content to provide in search results. Writers of web content usually try to rank for specific keywords they believe potential customers are using so they can get their content in front of that audience.

They find good keywords by doing keyword research, one of the strategies we mentioned before.

But everyone does that, including competitors who have other search ranking factors, like better "domain authority," going for them.

Domain authority is basically the reputation of a website as calculated by third-party SEO tools. It's not a tangible score calculated by search engines, but an approximation of "authority" search engines likely perceive.

If you and an industry leader are trying to appear for the same keyword, and you're new to SEO and/or the industry, you often don't stand much of a chance at ranking above them in search results—at least in the near term.

Plus, even if you rank lower on the first page, the first three organic results get most of the clicks.

After that, there are other challenges, like how several ads can appear before the first organic result, depending on the keyword. This is because search ads target keywords, too.


In this case, there is one PPC ad and a "local pack" ad that shows a relevant businesses' Google Business Profile information before the first organic results, three unpaid local pack results, before finally getting a plain, text result.

As you can see, there is also more than one type of organic search result.

This adds another layer of complexity because some are designed to answer your searcher's question without requiring them to visit your page.
The solution: an effective SEO strategy
Some of these challenges have strategic remedies.

For example, if competitors were beating them in the local pack, a local business would be wise to do some off-page SEO, like optimizing their Google Business Profile and other online business listings to increase the chance that they'll appear higher in the pack.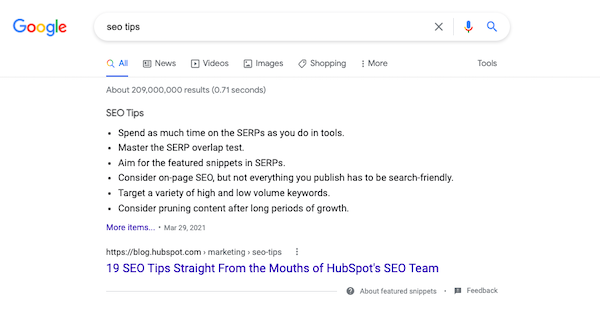 A featured snippet; Source: Google
Likewise, you can create and publish helpful content that answers frequently asked questions clearly and concisely to rank for snippets at or near the top of the page, potentially upstaging competitors.

And, of course, if competitors are buying ads for the same keywords you're trying to rank organically for, the only option to "beat" them is to join them with better ads of your own.
While buying search ads is by definition not organic, you could try targeting different keywords that have relatively low PPC competition.
Or, if it's critical that you're at the top of search results for that keyword, try making ads that target that keyword, and target other keywords with your organic SEO strategy.
It's also important to remember that a specific ad will not appear for a keyword every time someone searches for it, but an organic result can. And ads cost money forever.
Organic listings incur an upfront cost to produce and optimize content that pays dividends well into the future.

These are the sorts of headaches that make a solid SEO strategy essential and partnering with an experienced agency, even if it's sometimes more expensive, a better value.
How can SEO help you?
So why go to all this trouble, rather than paying for PPC ads that appear at the top of results? It depends on your goals and timeline.

PPC and SEO are in many ways apples and oranges. They both help you get found in search engine results, but one is a short-term strategy, while the other is a long-term strategy.

PPC can be lucrative if done well and can generate fast leads. Theoretically, you could get a lead the same hour you publish your ad set.
Campaigns require maintenance as well, but particularly if your campaigns are small, this doesn't need to take a lot of time. Maybe a few minutes a week.

PPC ads, on the other hand, stop generating leads as soon as you stop paying for them to be displayed, and you must pay for every lead they generate. As a result, they can be very expensive, and, if not managed well, can actually lose you money, as one of our clients found.

SEO services, on the other hand, generally take several months to start generating returns, are expensive on the front end, and require more maintenance, particularly if you have a new website or have never done an SEO campaign before.

However, your SEO efforts can bring in leads for months or even years, and you don't have to pay for them, beyond the cost of time and tools. As a result, SEO strategy can generate great ROI over time.

Beyond generating leads and awareness, SEO can also help you delight your existing customers and put visitors at ease.

This is because much of SEO has to do with providing a great user experience:
Fast page speed, easy-to-read page designs
Helpful information (like in-depth pages)
Ensuring your website is safe to browse (such as by securing your website with an SSL certificate)
Having positive interactions with your customers (such as by replying to reviews)

In other words, technical SEO is like infrastructure. If you already have a high-performing site with the right capabilities, providing an attractive landing page for PPC visitors is no problem.

But if your website provides a poor user experience, you could pen the most compelling ad ever written and fail to convert leads into customers when they arrive.

Both strategies can be useful if used strategically and executed well, and can even complement each other if implemented together.
How to tell a qualified SEO agency from a poor one
If you're planning to try SEO and want to ensure you choose a good partner, here are some red flags and positive signals you can watch for to avoid wasting money on an inexperienced or unscrupulous partner.
Red flags
They guarantee you a spot on the first page of results (or even #1) using SEO: The keyword here is "guarantee," as we discussed before. Patrick Reinhart warns against agencies who promise this.

As you know, while it's reasonable to expect an agency to help you rank on the first page of results, or even get to be the #1 result, it's impossible to guarantee they'll be able to get these results for each keyword you want to appear for.
They talk about SEO like it's a mystical force they control: Scott McGovern warns that sketchy agencies may present themselves as wizards of SEO magic. SEO is incredibly complicated, but it's not magic, and no one has the secrets that will unlock top search results.

Rand Fishkin agrees, saying that there "is no secret sauce" or "proprietary process." Instead, good SEOs follow best practices that are common knowledge and strategies that have worked for previous clients.
They brag too much and don't ask about you: Since SEO is a long-term strategy, you want a partner that will work with you and come up with a custom strategy to meet your specific needs.

Reinhart notes that poor SEO agencies may be more transactional and one-size-fits-all in their sales pitch rather than asking questions about your business. A good partner, he says, wants to work with you.
You found them on a "best SEOs" list or via Google: Fishkin and McGovern caution against googling "Best SEO agencies" or similar keywords, trusting "Top SEO agency" lists, or trusting "best SEO" directory listings.

While this seems counterintuitive, Fishkin points out that great agencies often get a lot of referrals, so they don't need to generate leads online. Also, many "top SEO" lists are paid advertising. Agencies pay a certain amount to get listed #1, #2, and so on.

Instead, Fishkin recommends getting a referral from someone trustworthy, such as a family member, friend, colleague, or similar business that isn't a direct competitor.
They want to control everything: It's normal for an agency to ask for access to accounts like Google Analytics, but predatory agencies may want "full control over your logins, data, and reporting" Reinhart says.

The key difference here, is they don't want you to be able to access your own data. This often leads to the agency holding your accounts hostage if you try to fire them.
Their case studies are old: When you ask to see an agencies' case studies, Reinhart recommends asking them when the data was gathered and how, if that's not clear.

If the data is even a few years old, there's no way for you to know if they're using up-to-date best practices, because SEO changes all the time.

If you've already hired an SEO agency and are suspicious about whether they're doing a good job, check out this article.
Signs of a good agency
They're good communicators: McGovern notes that hiring an SEO firm that is transparent, communicates effectively, and as Neil Patel adds, is compatible with your company, are going to be important in the long run, since SEO is a marathon, not a sprint.
They can show you recent, positive, quantitative results they've gotten for a client: A recent case study with properly gathered data provides proof of an agency's effectiveness. Reviews and testimonials can also be helpful.
They have a documented strategy for improving a client's SEO: Patel notes that effective agencies have developed a consistent strategy for improving their client's SEO over time, and will often advertise it.
They have specialists for every type of SEO strategy: Patel notes that a good agency will have specialists in different areas in order to implement SEO solutions, which are multidisciplinary.
Conclusion + next steps
SEO is challenging, technical, time-consuming, and progressively changing.
It's a larger investment on the front-end for businesses new to using it, yet many have found that it generates great ROI for their websites.

It's also integral to promoting and maintaining a healthy digital presence.
How we do SEO
At Madison Marketing Group, we bake SEO into our inbound marketing services—including web development, design, content marketing, and local marketing—with the ultimate goal of generating leads for our clients.
If you're wondering what SEO strategy and implementation look like in practice, read this case study or talk to us.


Topics: Search Engine Optimization