When a business sets out to use SEO (search engine optimization) for the first time, it often runs into an immediate problem: how to pick the right keywords to pursue.

Teams know they need keyword targets, but how do they determine which ones are the best for each of their pages?

In this article, we lay out a process for determining the type of keywords that can attract high-value, qualified prospects to your web pages.
TABLE OF CONTENTS
What are keywords?
Keywords are words and phrases that people use to search for things in a search engine.

When someone wants to answer a question or find a product, service, business, or website, they type a query into the search bar, like "accounting services madison wi," then hit enter.
Source: Google
Google's algorithms get to work trying to understand what the searcher wants.

When Google analyzes the phrase "accounting services madison wi" to provide good search results, it looks at words like:
"Accounting services"—tells Google you are looking for something related to accounting services.
"Madison wi"—a location phrase that tells Google you are performing a search for something local, which Google handles somewhat differently than a non-local search.
The search engine then weighs in contextual factors, like:
Your IP location: searching from a computer with a Madison, WI, IP address
Your search history: you were searching for "office supplies in Madison" yesterday
What other people who searched for this phrase clicked on: service pages for local accounting firms and lists of great accounting firms in Madison
It tries to guess what you want: maybe accounting services near Madison, WI?
Then, it looks at the web pages it has indexed to see which ones, for example:
Contain words and phrases that are similar to the ones used in your query (keywords)
Provide authoritative, helpful information on the topic (accounting firms)
Are relevant to your location (near Madison)
Had high engagement (If people spent a long time on a page, maybe they found good information there.)
Then it spits out something like this: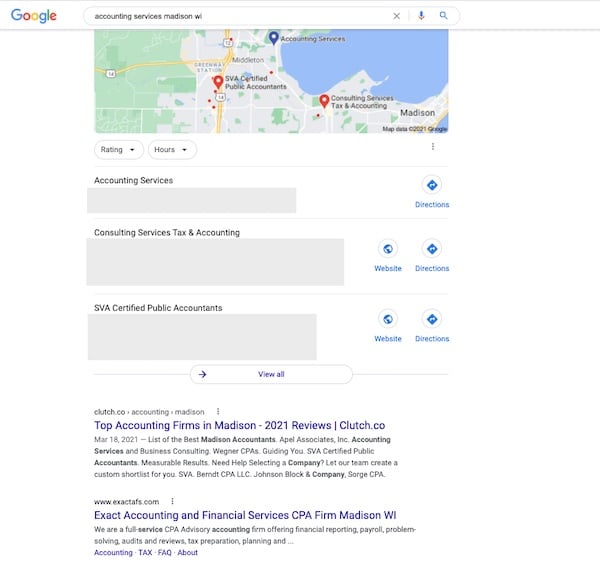 Google uses keywords like "accounting services" to help figure out what a page is about. If your page includes a lot of authoritative content that engages users and includes the phrase "accounting services," it may have a good chance of ranking for that keyword and variations of it.

That's why one of the keys to creating web pages that are easy to find in search engines is finding keywords that your potential customers use (or could use) to find you, your products, and the services you offer.
This process is called keyword research.
Keyword Research Basics
How to find keywords
Two good (and free) tools that can help you find keywords are: Wordstream's Free Keyword Tool and Google's Keyword Planner.
We briefly summarize how to use each of them below.
Free Keyword Tool
Start by typing a word or phrase related to your products, services, or brand into the search bar of Free Keyword Tool. These brainstormed search terms are called "seed keywords."
If you wish, you can narrow down your results by specifying the industry you work in and/or the location of your business (if you work for a local business).

Source: Free Keyword Tool
Say you're doing keyword research for a healthcare consulting firm website. You could enter a seed keyword like "healthcare it consulting " and hit "find my keywords." The result: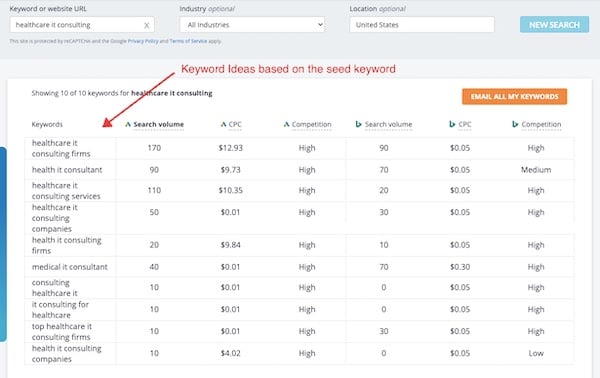 Column one: a list of keywords people have actually used that are similar to your seed keyword
Column two: Search volume; the number of times people search for that keyword each month using the Google Search Engine
Column three: Cost per click: how much you have to pay Google if someone clicks on a Google ad using this keyword
Column four: Competition Score: how hard it is to rank high in search results for a particular keyword
Columns five–seven: The same metrics (search volume, CPC, competition score) for Bing search engine results and ads
Google Keyword Planner
If you have a Google Ads account, you can simply log in, go to the taskbar, and click the wrench icon, labelled "tools." Then, navigate to "keyword planner" under the "planning" column in the dropdown menu.

Source: Keyword Planner
If you don't have a Google Ads account, this Ahrefs article tells you how to use Keyword Planner without having to create ads.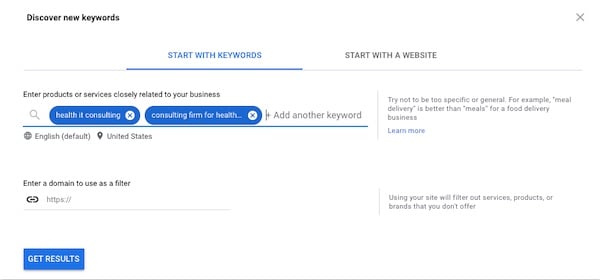 Once in Keyword Planner, you can type seed keywords into the search bar, and even search for several at a time by hitting enter after typing each one.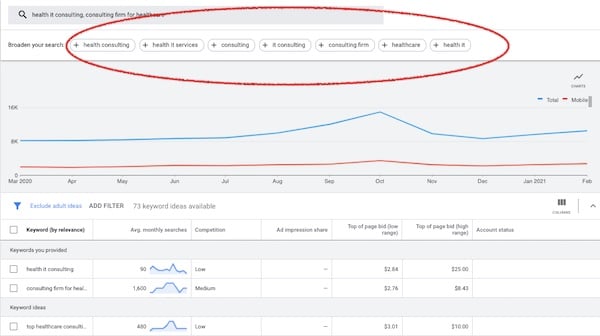 When you click "get results" you will get information about the exact keywords you entered, plus keyword ideas and suggestions for more seed keywords at the top of the screen you can use to modify your search.

As you can see, Keyword Planner tells you the same basic information as Free Keyword Tool: monthly search volume, cost per click for ads, competition score, plus a little more. For a deeper dive into keyword research, check out this guide.

So now you have all the keywords you could ever want. Next, we'll dig into how metrics like search volume can actually help you, and how to select the best keywords for your web pages.
What makes a great B2B keyword?
If you're working for a healthcare IT consulting firm and looking for the best keywords to include on your general service page, then the keyword "health it consulting" could be money in the bank.

Why?

Because it's a keyword that is directly relevant to your general service page that indicates commercial search intent.

Search intent is the ultimate goal of a search: what people want to find, learn, or buy. Broadly speaking, there are four categories of search intent that virtually every keyword or search query can be broken down into:
Informational:

They want to learn something.

Transactional:

They want to buy something.

Commercial:

They want to find vendors.

Navigational:

They want to find something.
As you can see, people who have commercial search intent are trying to find a vendor. They already want to buy the services you provide, they just haven't decided which vendor to buy from. They're likely close to becoming someone's customer.

Ranking high in search results makes them more likely to become your customer.

Here's another reason why this could be a good keyword to snap up. It has low competition, also called "keyword difficulty":




As I mentioned earlier, this metric indicates how hard it would be to rank higher than other pages going after this keyword, based on how many other authoritative and engaging pieces of content are already ranking high in search results.

This score suggests that the pages ranking for this keyword are not very authoritative, popular, and/or outstanding in content, so ranking high in search results for this keyword would be fairly easy if your content is better in these areas.

Note: While most keyword tools offer an estimated competition score, it's best to gauge this manually, since the accuracy of a keyword difficulty score varies depending on the tool you use.

You can get the lay-of-the-land by simply typing the keyword into Google and looking at the first page of results. Ignore the results labelled "ad," because they paid for their spot on the page, rather than using SEO to rank higher.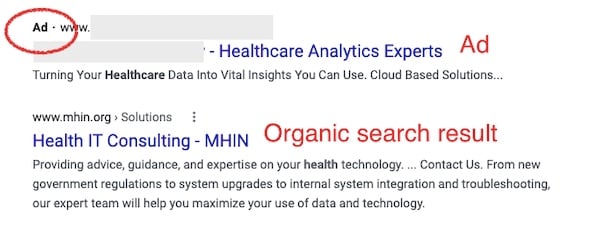 Source: Google
Results that don't pay Google for a nice spot in search results are called "organic" search results.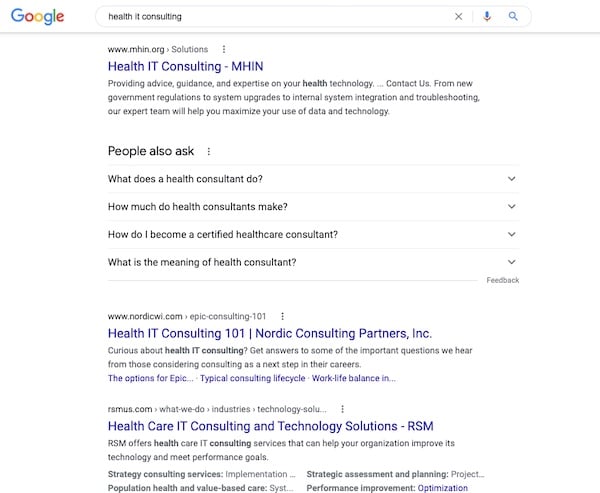 Scroll through the first page of organic results, paying special attention to the top three. This is where you want to be.

According to Backlinko, "The #1 organic result is 10x more likely to receive a click compared to a page in #10 spot." but "organic CTR for positions 7-10 is virtually the same. Therefore, moving up a few spots on the bottom of the first page may not result in more organic traffic."

So as you examine each result, ask yourself:
How authoritative are these websites?

For example, if they are an industry leader or a site that ends with a .gov, they may look more authoritative to Google (and users). This generally makes them very hard to beat.

How good is their content?

Click on the result and scan the page. Is the content in-depth? Well-written? Easy to understand? Nicely designed? Easy to navigate and scroll through? Written by an expert? The better the content is, the harder it is to outperform.
Learn more about manually gauging content scores.

One more thing to notice about this keyword is the monthly search volume: how many people search for this keyword per month.

Roughly 90 people in the US search for this term each month.

That's not a lot. Still, if you make good money from only a handful of sales, going after this keyword may be worth it.

Plus, many B2B businesses serve a niche audience. This means there are fewer people searching for these products and services online compared to consumers looking for B2C products and services.

For example, think about how many people need "toothbrushes. . ."

Source: Google Keyword Planner
. . . compared to how many need commercial "banding systems" for getting products like pharmaceuticals ready for shipment.


So when searching for and selecting the best keywords for your business, you'll want to ask yourself:
Is this keyword relevant to my business? For example, does it include your business name or describe your services or products?
Would potential customers use this keyword to find my business? Would they be likely to use this phrasing or terminology?
What is the likely search intent behind this keyword? Navigational, transactional, commercial, or informational
How hard is it to rank on the first page? Keyword competition/difficulty
How often do people search for it per month? Monthly search volume
Generally, the best keywords will be:
Highly relevant to your business and customers
A logical way for customers to search for your business, its services, or its products
Have a search intent that matches your page content (for example, an informational intent with an FAQ page)
Have low competition
Have enough search volume to give you a good return on investment.
Adding keywords to your web page

Once you've identified relevant, high-value keywords, you can include them on relevant pages of your site.

Keywords can be incorporated pretty much anywhere in the copy of your page. Some common places to add keywords are: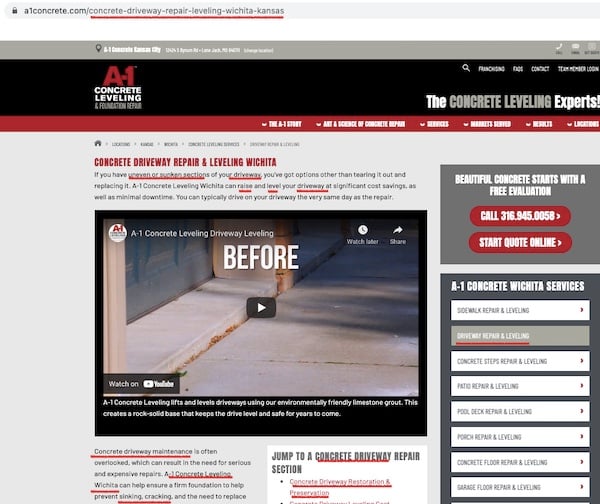 Source: A-1 Concrete Wichita
Titles
Headers and subheaders
Page copy
URLs

The search result for the same page; Source: Google
Page metadata (title tags, meta descriptions)

Alt text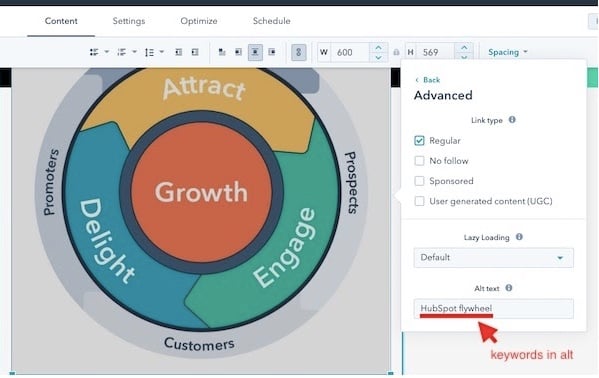 Source: Madison Marketing Group
That said, adding relevant keywords to each of your webpages is not enough for your page to rank high in search engine results. The content of each of your pages needs to be well-written, engaging, and satisfy your visitor's needs.

Fortunately, if you write in-depth about your topic, whether that's a service page about the different types of plastic lids your company manufactures or an FAQ page about disinfecting services, you will have plenty of opportunities to include keywords without sounding mechanical.

In my opinion, great writing that satisfies search intent in an easy-to-use format is generally what ranks best in search results.

Keywords simply help search engines figure out what your page is about and make them more likely to display your content for particular searches.

For tips on writing different types of web pages, check out these resources:
Next, we'll touch on one more keyword opportunity you'll want to take advantage of.
Capitalizing on keywords you already rank for
What's even better than finding a relevant keyword with a high search volume and low competition score? Finding one your page already ranks for.

If your website has been live for a while, there's a possibility that some of your pages are already showing up in search results for certain keywords.

It's generally much easier to rank higher for a keyword that you're already ranking for, and if that keyword is valuable, based on the criteria from the previous section, then your energy will be well spent doubling down on it.
After all, "On average, moving up 1 spot in the search results will increase CTR by 30.8%." (Backlinko).

You can use Google Search Console, another free tool from Google, to learn what keywords cause your web pages to appear. When you sign up for Search Console, you'll be asked to log into your business's Google account, add your website, enter your website's address, and verify that it's really yours.
Tip: This may be easier if you've already signed up for Google Analytics, which tracks activity on your site and is also free. Here are step-by-step setup instructions.

Once you're set up in Google Search Console, go to the sidebar menu and select "search results" under the "Performance" heading.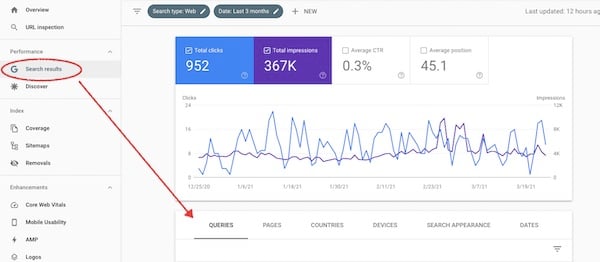 Source: Google Search Console
You can adjust the date range for your data by clicking the dark grey button labelled "date" and select from a number of options, or type in your own custom range.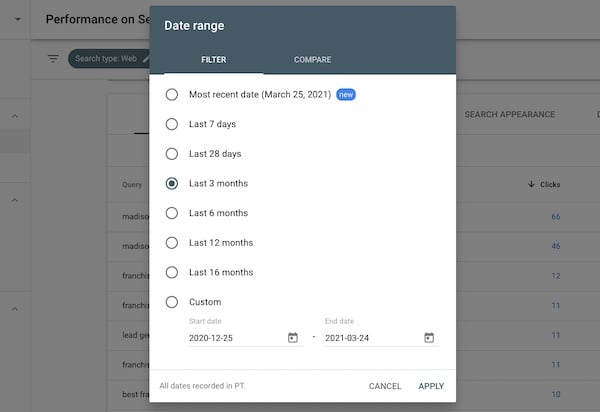 You can also adjust what data is displayed by checking or unchecking the boxes above the graph. Be sure that "average position" is checked, as well as "total clicks" and "total impressions."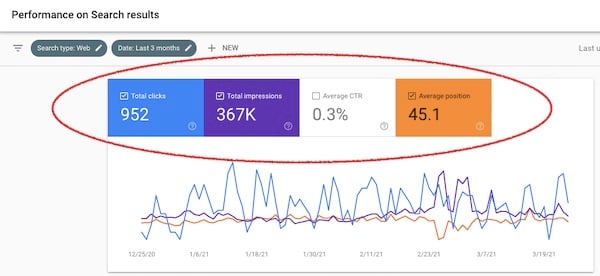 If you scroll down the page, under the first tab "queries" you will be able to see a list of keywords you rank for, along with a data column for every box you checked above the graph.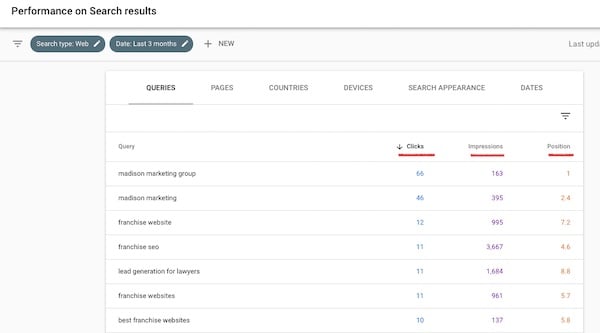 In this case, you should see the number of times people who searched for that keyword clicked on your result ("clicks"), how many people saw your result ("impressions"), and where your page typically ranks in results, ("average position")

To learn which page is ranking for a particular keyword, click on the keyword. This will filter your results so you only see data for it.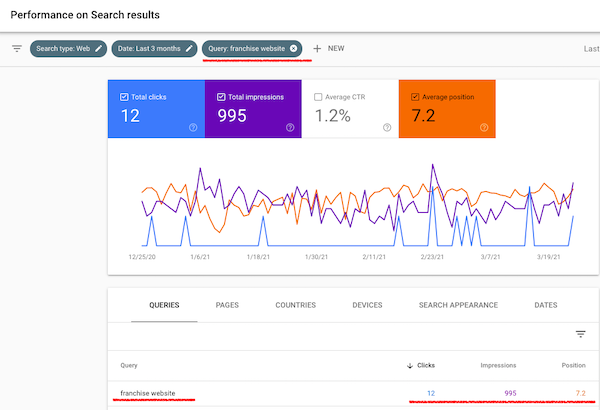 Next, go to the second tab, next to Queries, called "Pages." This will show you which pages are ranking for that keyword.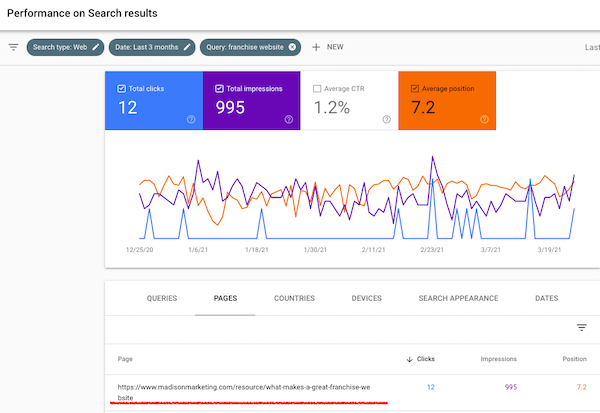 Now, you can see which pages:

Contain this keyword, and are ranking for it
People clicked on the most
Were seen the most
Rank the highest for that keyword
Based on this information, you can identify which page you need to optimize in order to rank higher for that keyword.
To learn more about optimization, check out our SEO guide.
Conclusion
Choosing the right keywords can be a chore, but when the right keywords are applied to the right pages in combination with other SEO best practices, these pages have the potential to attract leads for months or even years.
Learn how we used SEO content marketing to generate leads for a B2B client.
Topics: Search Engine Optimization