What is this guide?
This is a comprehensive guide to search engine optimization (SEO) for franchisors and their franchisees.

Who is this guide for?
This guide is for franchisors interested in learning how to optimize their web presence to attract more potential franchise buyers and sell more franchises.

This guide is also for franchisors who want to build a local SEO program for their franchisees while ensuring consistency and success across their brand.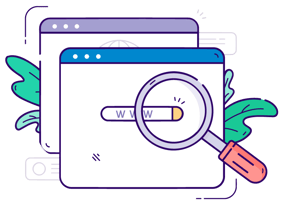 What will I learn and be able to do with this information?
You'll learn the basics of Search Engine Optimization, how it applies to franchisors and franchisees, and what you can do as a franchisor to get more sales leads for yourself and your franchisees.
You'll also learn the challenges and common issues specific to franchises and ways to prevent and overcome them.

Introduction
Franchisors and their franchisees are relying more and more on the internet for filling their sales pipeline with qualified leads. For franchisors, search engines like Google are now the main tool by which potential franchise buyers find and make first contact with you.

Similarly for franchisees, it's very likely that a growing portion of local customers are finding them through online searches.
‍
Whether you've taken steps to strengthen your SEO in the past or not, symptoms of a poor or non-existent strategy include any of the following:
Reliance on traditional media spend
Poor overall ROI on marketing spend
High acquisition cost per customer
Consistently seeing smaller competitors rank higher in Google search results
A complete absence of the company's website when searching for it online
Skepticism over the importance of SEO can sometimes keep these projects off the table entirely. If you're skeptical about the role search engines play in the buying process for something as big and life-changing as a franchise (or local business for your franchisees) the statistics might surprise you:

SEO Statistics
For franchisors:
According to a global survey of over 1,500 marketers, 75% of said SEO tactics were either "extremely" or "very effective" at "helping them achieve marketing goals" (Hubspot)
"According to a 2018 Twitter poll, 49% of respondents said organic search (people clicking on unpaid search engine results) "is the digital marketing channel that brings in the highest ROI." (SEJ)
70% of the marketers surveyed said SEO was more effective at generating sales than paid search ads, according to a 2019 survey. (DataBox)
For franchisees:
To see how we helped a 40-year-old franchise generate more leads from search traffic, check out this case study.
With more people starting their buying journeys from a search engine, it's critical for businesses to be visible on them. That's where Search Engine Optimization comes in.

This guide takes the complex world of SEO in 2023 and boils it down for franchisors. You'll learn what SEO is, how it applies to you and your franchisees, what you can do right now to boost visibility (for yourself and for them), and how an agency could help you do even more.

Before we jump in, it's important to note that franchise SEO—or SEO for any business with a network of locations—can be particularly difficult for a number of reasons we'll get into later. However, the fact that so many franchise systems get it wrong presents a huge opportunity for those that invest the time and energy to get it right.

This is your guide to getting there.


What is Search Engine Optimization (SEO)?
Search Engine Optimization, or SEO, is the practice of following a set of principles that work to boost your visibility and maximize the amount of "good" traffic your website receives from search engines like Google.

More simply, it's the process of making your website look and behave the way Google wants it to so your site ranks well and more buyers find you.

The better your website is able to meet Google's expectations, the more likely it will appear at the top of search engine results for the words and phrases your potential customers search for when they want to learn about or buy a product (or in this case a franchise).

Since franchisors and their franchisees have different business goals—one being new franchise buyers and another being local customers—the way they "do" SEO differs somewhat, too.
That's where this guide starts. Since SEO might be a foreign concept, we've explained it in plain terms using real-world examples to show what it looks like and how it works for both franchisors and their franchisees.

SEO 101 for Franchisors
Let's pretend you're a franchisor and sell carpet cleaning franchises. Some of your potential buyers may go straight to a franchise broker and find you that way. Others, however, may use Google to search on their own.

These folks may search for direct phrases like "cleaning franchises in Madison, Wisconsin." They might also search for phrases less direct, such as answers to questions, like "how much does it cost to start a cleaning franchise?" or "do I need commercial cleaning experience before buying a cleaning franchise?"

There are hundreds of questions like these that a potential franchise buyer might search for when they begin hunting for opportunities. This is where the investment in SEO separates winning franchisors from losing ones. Those that invest in SEO and maximize their visibility online earn the attention of these buyers by having a web page ready for them with the information they're looking for.

In addition, the very fact that they offered an answer in the first place makes exactly the kind of first impression a franchisor wants to make: one that leaves a potential buyer impressed and interested. By giving them good information they went looking for, you immediately build trust and position your brand as a problem-solver—all before anyone picks up a phone.

‍SEO is the essential ingredient that makes that first impression possible. It's not only putting that information out there for buyers, but doing everything you need to do to make sure Google ranks your web page high in search results. Without this, these curious prospects may never find you. Even worse, a competitor might decide to offer that information instead, leading to a lost sale that would have otherwise paid for the entire SEO investment and much more.

Note: Effective SEO enables franchisors to capture the attention of new potential buyers, generating a steady stream of qualified new leads.

SEO 101 for Franchisees
SEO is equally important for franchisees, but the goal is slightly different. Instead of attracting new franchise owners in territories around a state or the country, franchisees typically want to attract local customers to their brick-and-mortar stores.

Following the carpet cleaning example, this would be people with dirty carpets. A franchisee's SEO strategy and tactics in this case should be adjusted for local searches, but the idea is the same: be as visible to potential buyers online as possible.

Imagine you own a carpet cleaning franchise in Madison, Wisconsin. You obviously want to be first on the list when local customers use Google to find service providers in the area.

These buyers are going to want to do a few things:
See all the carpet cleaners in Madison
Compare prices
Make sure they can do the specific cleaning job
Read reviews to gauge reliability
Get phone numbers to call for estimates
SEO for you as a carpet cleaner means making sure all of that information is not only there for them, but accurate and easy to find. That takes a little work, but the payoff from effective local SEO can be huge—especially when your competitors don't put the work in themselves.
The difference between your business showing up or not showing up when someone searches for "best carpet cleaner in Madison" can be hundreds of dollars a day in lost jobs when those potential customers find a competitor who's more visible online. Again, the SEO investment quickly pays for itself in the business it generates.

Note: Local SEO awards franchisees coveted digital real estate in search results when local customers search for the products or services they provide.
Why inbound SEO leads are typically preferred over outbound leads
When done right, SEO boosts the likelihood your website or business listing will appear to searching buyers. This, in turn, builds trust among those who find you at the top as searchers are more likely to see the top search results Google delivers to them as the "best."
In short, being at or near the top in search results means more people calling you or converting on your website—more inbound leads.

From a franchise sales rep's or a local franchisee's perspective, warm inbound leads are preferred over cold ones any day of the week, because when an inbound lead calls or converts online, you can safely assume the need and purchase intent are there.
Now that we've made the importance of SEO clear for those on either side of the franchise world, let's get into the details of how to actually "do" SEO as a franchisor. Then we'll turn our attention to building a local SEO program for your franchisees.

Now that we've made the importance of SEO clear for those on either side of the franchise world, let's get into the details of how to actually "do" SEO as a franchisor. Then we'll turn our attention to building a local SEO program for your franchisees.

SEO for Franchisors in 2023: How to Attract Qualified Candidates to Your Franchise Opportunity
Let's focus first on getting you more franchise buyers. As mentioned before, most franchisors rely on traditional sales channels like brokers to put their opportunities in front of potential buyers. But with the internet taking some of the broker's power of out of their hands and into the buyer's, franchisors need to invest in being visible to these enterprising prospects who go it alone.

Fair warning: SEO gets somewhat technical, so we're going to keep it as simple and clear as possible. Rather than trying to tell you everything there is to know, we've boiled it down into six steps you as a franchisor can focus on to attract qualified leads.
Step 1: Understand 5 basic parts of SEO
SEO is like a puzzle with five essential pieces that come together to make it work. Each one is different, but when you put one next to another, part of a larger picture emerges. Whether you intend to make improvements yourself or work with an SEO partner, even a simple understanding of the five concepts summarized below can go a long way.
1. Keyword research
Before you can optimize your website for the words and phrases potential buyers search for, you need to know what those words and phrases are. There are a number of ways to research these keywords yourself, but be aware that keyword research is a whole ball of wax onto itself. This is one area where an agency that specializes in SEO can lend their tools, expertise, and time.

→ Check out Ahref's beginner's guide to keyword research if you want to dive deeper, or grab our free case study and learn how we helped a client increase seven-year sales revenue by 282% and achieve 34x marketing ROI with campaigns powered by effective keyword research.
2. On-page SEO
When search engines like Google crawl and index your website, they look at many different factors to determine its quality compared to other pages like it on the web. These factors contribute to your website's performance in search. Some of these on-page elements are simple, like page titles, header tags, and meta descriptions. Others are less clear, such as a page's "relevancy," "quality," or the "trustworthiness" of any websites that link to yours.

Optimizing on-page SEO factors is an ongoing challenge, but there are many tools that analyze your website to help you spot areas for improvement. Here are a few of them:
Check out Moz's Guide to On-Page SEO for more on this.
3. Website Speed
Website load speed can have an affect on search rankings. Slow sites provide a poor user experience, something Google's algorithm prefers to avoid at all costs when determining search rankings. There are a number of ways to un-bloat a slow web page and streamline it for better speed, but the first step is analysis.
The tools below are all great to use here:
Want to learn more about page speed and SEO? Check out Moz's Guide to Page Speed.
4. Quality, regularly-published content
Simply checking off the boxes on the basics we've covered isn't enough to rank well. Quality content is incredibly important. One part of this equation is ensuring you're demonstrating E-A-T (Expertise, Authoritativeness, and Trust). Chapter 5 of this guide does a good job explaining how to do that. Use the following guidelines to evaluate your own web pages for quality:
Is it original? Your content needs to have something original (or valuable) to say.
Is it better than what's already out there? Find what's ranking well right now and figure out ways to improve upon it.
Is it fresh? Google generally values newer content over stale content. Are your pages offering up-to-date, accurate information?
Is it reader-centric? Don't talk about yourself when prospects are looking for a solution to a problem. Put their needs first whenever appropriate.
Is it well-written and well-formatted? This is subjective, but ask yourself whether the writing is clear, concise, and understandable to your audience.
Did an expert write it? Did someone experienced in your industry write the content (or provide the information)? If not, you may want to consider finding an expert to write and/or provide the writer with information and feedback. Google tends to rank content created by authoritative sources higher. If you're wondering whether it makes sense to hire a writer, check out this post.
5. Off-page SEO
This is a wide-ranging set of elements outside of your website, such as citations (places your business is referenced elsewhere online such as Yelp), online reviews, links to your site from other websites, and places your brand is mentioned by others.

Want to learn more about off-page SEO? Read SEMrush's guide to off-page SEO.

‍Even for a boiled-down list, we realize it's a lot to take in. Now that you've got a taste for just how complex SEO can be, we recommend taking a moment to re-read and do some of your own research into these five areas for a better understanding of them. You don't need to be an expert, but it'll help you the rest of the way.

Once you feel like you have at least a basic understanding of the main parts of SEO, let's move onto the next step toward improvement: revealing your site's current strengths and weaknesses.
Step 2: Conduct an SEO audit
If this is your first SEO project, just about every expert will recommend a comprehensive audit to get the full picture of your current strengths and weaknesses.

SEO audits that are too technical can fail to reveal the whole picture, so we recommend signing up for the free seven-day trial of the SEO tool Ahrefs and following their (totally free) step-by-step audit guide that brings way more into the equation.

The findings of this audit will likely reveal existing gaps and do much of the planning work for you. If, at the end of your audit, you're given a list of things you know you need to do, but don't know how to actually do them, consider talking to an agency that can help you interpret the results and see the next steps that require an expert to spot.

If you have a working understanding of the five concepts summarized above, an agency will be able to explain exactly what can be done in each of those areas to make improvements.
Step 3: Address the three common SEO problems that hurt franchisors
As we mentioned at the beginning, franchise SEO is particularly problematic for a few reasons. Auditing is likely to uncover problems with your website itself, but some challenges lie beyond your website and outside the reach of the audit. It's worth taking a closer look at those problems and investigating them separately.

We've summarized the three common problems that weigh down franchisor rankings and prescribed an approach for fixing each of them:
1. Duplicate content
This is a cardinal sin in SEO and is worth mentioning for franchisors despite being a much bigger problem with franchisee websites. When two pages offer duplicate information, they both suffer. If you use a website template and simply tweaked one or two areas of a page while keeping much of it the same across a number of pages (such as listing territories or locations), Google may confuse this as an attempt to manipulate the ranking system and penalize you accordingly.

What to do: Take stock of any series of pages that are very similar to one another and consider ways to consolidate duplicate information into a single page or another arrangement. Make sure no two pages are essentially identical.
2. Suspicious linking
Many franchisors link to their franchise locations from their main website. While this is done with the good intention of helping people find the location near them, Google, again, can misinterpret it as trying to game the system. Links from one site to another are major factors Google uses when determining which pages to rank where. When the search engine sees many sites linking to one another (like franchise systems tend to do), it can appear to Google as an unauthorized link exchange, thereby risking a penalty.

What to do: Remove simple links to other branded franchise websites or make them nofollow links. Replace these with a more sophisticated tool for helping users find local franchise locations. If your website is built on WordPress, this article offers many plugins that do just that.
3. Poor franchisee SEO bringing the franchisor down
When franchisees are given the keys to their own website, some may engage in shady SEO practices that can ding the entire brand. This is one reason it's advisable to retain some level of corporate control over franchisee websites and, at the very least, monitor these sites to prevent such behavior.

What to do: If your franchisees manage their own websites, hire someone to examine them for risks or challenges and fix them accordingly.
Step 4: Plan and execute an SEO improvement project
Once you have a functional understanding of SEO basics, established a baseline, identified gaps, and made sure you're not suffering from common SEO problems, it's time to get to work proactively optimizing your franchisor website.

We realize all these numbered steps can get a little confusing, but the following six steps offer the most straightforward SEO improvement process you can undertake. Before you jump in, realize that this can't be done in a day, a week, or even a month. Effective SEO and digital marketing takes time, so move through these steps methodically and thoroughly.
1. Identify your audience and keyword opportunities
Before doing any keyword research, you have to paint a complete picture of the audience—your buyers. Put yourself in your prospects' shoes and answer five questions from their perspective:
What are the biggest obstacles I face when buying (or deciding whether or not to buy) a franchise?
What type of information is valuable to me (instructions, inspiration, education on a topic)?
What types of information would I seek out online to help me buy a franchise?
What else am I interested in besides buying a new franchise?
With a good understanding of your audience, now you need to do the important work of keyword research. Think about how your buyers look for opportunities.
What kinds of things does someone who's ready to buy a franchise right now search for versus someone who's still learning about franchise ownership? Here are three things to do when setting out to make a list of great keywords to target with your website:
Make a list of keywords that indicate buying intent. When people search for "low-cost cleaning franchises in Madison, Wisconsin," it's pretty clear they intend to buy one. Make a list of other phrases like this that people who are sure they want to buy might search for.
Make a list of keywords that indicate learning intent. Far more people use Google to learn about franchising rather than buying one right now. You want to catch as many of these people who are qualified candidates as possible and send them into your funnel. These folks might be searching for phrases like, "best cleaning franchise 2023," or "how long does it take to be profitable with a cleaning franchise?" Again, you want to be the one giving these answers to them, building trust and pointing them to your opportunity along the way. Brainstorm a list of other phrases potential buyers might search for to learn about buying your type of franchise or being a franchisee in your space.
Compare competition for certain keywords. Some keywords and keyword phrases are easier to rank for than others. For instance, if you started a shoe company from scratch, you'd have no chance beating out major retailers like Amazon, eBay, Foot Locker, and others for a phrase like "blue Nike running shoes." However, there are tons of other questions about shoes you could rank for.
There are a variety of keyword research tools that can help you uncover what your buyers are likely searching for most and how competitive those keywords are. SEMrush and Ahefs are two of the best.
However, this can take considerable time and know-how to do on your own, which is why most companies hire an agency to do the work for them. If you're interested in gathering all the keywords your business is ripe to rank for, talk to us about a doing thorough keyword research.
2. Prioritize keywords to pursue
With your lists in front of you, fire up Google Keyword Planner and follow these steps. (Note: if you don't have a Google Ads account, you can learn how to access Keyword Planner for free here.)
Select your account, then click "discover new keywords."
Copy and paste your lists into the search bar (10 words or phrases at a time), and ask Google to "get results" for you based on them.
Near the funnel icon at the top of the keyword table click "add filter," then search for "avg. monthly searches." Set filter to ">=10." This will filter out any keywords that are searched for fewer than 10 times a month.
Add another filter. This time, search for "competition," and set the filter to "competition=low" which will filter out overly competitive keywords.
Return to your keyword suggestions. Sort them by relevancy by clicking on the heading labelled "keyword." Select any commercial keywords or anything else that doesn't apply to buying your type of franchise by clicking the box to the left of each keyword.
This will bring up a blue banner above the table, which should say "plan," and "new ad group." At the right end of the blue bar, click the three dots icon. Then, click "add negative keyword." Every checked keyword should now be labelled as "in plan, negative." Uncheck all keywords by clicking "x" in the blue banner.
Create another filter. This time, search for "plan."Set the filter to "exclude keywords in my plan." This will make all the checked keywords that aren't relevant to you disappear.
Take the top 20 keywords (at first) and plug them into Google Trends to see if more or fewer people are searching for them over time. Prioritize upward trends over downward ones.
Sort this list by competitiveness, and categorize high competition keywords over low competition ones. The MozBar and this guide to using it are great for this. Check the PA (Page Authority) and DA (Domain Authority) of top ten results for the search query. If you see SERP with both PA and DA are lower than 50, then you have a good chance of beating them.
Return to Google Planner. In the left-hand menu, go to "negative keywords." check them, and hit "remove negative keywords" since you do not plan to use them to create an ad set. You may need to refresh your browser to ensure they have been deleted.
If your head is spinning, do like most franchisors do and put this work in the hands of a skilled agency. You'll save yourself time and headaches and probably get far better results.
3. Create and promote content to target your top keyword opportunities
To rank for keywords and keyword topics, your site needs to include pages that specifically address each individual keyword or topic. This is commonly referred to as "content marketing" and is a massive topic of discussion onto itself.

In short, targeting those keywords and topics requires a well-thought-out content publication strategy and the talent required to actually write or produce the content itself.

Let's explore the means by which franchisors can create website content that ranks for the keywords and topics identified through research.
Web page content
On the website, adding a Frequently Asked Questions page is a great first step to addressing those questions your prospects may want answers to.

You might also consider featuring pages that address the most important keywords and keyword topics in the navigation of your website. If lots of qualified prospects are searching for those keywords, it's likely something that qualified buyers that make it to your site are wondering about, too.

Blog content

‍A company blog is an even better way to target those questions and keyword topics.

Blog posts that combine compelling information with content optimized to rank well in search engine results can transform your website into a magnet for serious franchise prospects.

When it comes to creating blog content focused on conversion, covering a wide range of topics ensures you're casting the widest net possible over everyone looking for the right opportunity.

Converting leads with compelling franchise blog content means keeping topics focused on those most likely to take the next step.

To help you create ideas for your blog aimed at this ideal visitor, start building one or more personas that describe your typical franchisee. Start by asking these questions to describe the kind of person most likely to take the next step in the sales cycle:
What are their interests both personally and professionally?
What's their professional background?
What kind of lifestyle do they typically have?
What's their income level?
Highly specific questions like these can help you target your posts around those most likely to convert. To target these prospects even more precisely, check out this post explaining how to define your ideal candidate.
So you've got a basic idea of who you're looking to attract. Now you're probably wondering what to blog about.
4. Start earning high-quality links to your franchisor website
As mentioned before, the number of links to your website from other high-quality websites is a huge ranking factor for Google. Historically (and still today), the practice of getting more good backlinks to your site was called link building. Many people, however, are now calling it link earning, since things have changed since the old days of SEO.

Back then (and again, sometimes still today), many link builders engaged in a variety of spammy tactics to boost the amount of links to their site. Today, however, Google has wised up to these "black-hat" practices, most of which no longer work or, worse, can actually negatively impact your franchise website's search presence. Now, most SEO professionals focus on earning links from other sites the honest way: by creating helpful or interesting content worth linking to.

The equation looks something like this: Create valuable content, earn more relationships, some of those relationships lead to links, more people see your content and even more people link to it.

Rather than launching into a giant how-to about old school link building, the task of earning links is simple: create high-quality content for an audience likely to link to it and make sure they can find it. Here are some specific ideas for types of content that other sites may be interested in linking to:
Compelling statistics about your industry (especially original data)
Expert advice into a specific topic your audience cares about
Videos
Webinars
Infographics/visuals
If you don't want to wait around for others to find your content and link to it, there are a number of ways to be proactive in gaining good links the right way:
Broken link building: This strategy involves finding broken links on other sites and convincing them to link to you instead.
Brand mention link building: This is going out to find all the places on the web your brand is mentioned, but not linked in, and requesting backlinks to them.
Contextual internal link building: This strategy involves simply linking your own pages that are contextually related with one another to help Google crawl and index them under a given topic.
5. Foster an active, legitimate social media presence
While social media is not a direct ranking factor, it can help your SEO. This means the information you share on social media and your audience's engagement can potentially help your pages rank higher in search results and increase organic traffic to your site. As a franchisor, you may already have an active social presence. If that's the case, use the tips below to make sure the signals you're sending are good ones.
Follow the best practices and norms of the social media platforms you're active on.
Invite and engage with users who mention or directly interact with your brand pages.
Take advantage of the opportunity social media offers to humanize your brand. Showcase your franchisees.
Consider working with influencers in your field (people with a lot of followers who are likely interested in your business) to run a paid campaign.
Don't buy followers, ever.
Invest some of your ad budget toward social media advertising and target buyers with a compelling offer or message.
Share original content (such as blog posts) on social media to attract visitors to your site and encourage people to link to your content.
Make sure the business information on your social media account, and the accounts of each of your franchise locations, are correct and up-to-date. This is a "citation" or mention of your brand online, which is an important local ranking factor for SEO. Link back to your website in your profile. This is also an important ranking signal, and can draw traffic to your site from social media.
6. Avoid bad SEO practices
Unfortunately, the SEO world has a lot of bad advice. Some "experts" tout outdated strategies and tactics that not only don't work but can actually hurt your website performance.

Others are just straight up sketchy or spammy (and still don't work). Again, Google isn't naive. Google knows people try to game the system, so it does its best to close the doors to them.

With that in mind, here are some tips for avoiding bad SEO advice. In general, it's best to steer clear of any service providers that try to push any of these tactics on you.
Link farms and paid links: Don't ever use link farms to buy backlinks. Not only does this not work, but getting caught by Google will result in being buried into search engine obscurity.
Trading guest posts for links: Don't respond to guest bloggers that trade links for low-quality articles. Again, Google is too smart to let people game the system so easily. They'll penalize you.
Keyword-stuffing: Don't stuff keywords onto a page over and over again, like saying "best cleaning franchise" ten or more times on a page. This is another red flag, not to mention turning readers away in droves.
Cloaking or invisible text: Cloaking (hiding the real destination of a link) and showing different versions of a page to crawlers and users was a common practice in the past but not anymore. Using such techniques now is actually a very bad practice. You should only keep one version of a page for both search engine crawlers and users and ensure that users can differentiate between website content and ads.
Phew! That should give you enough to work on at the moment. Like we've said many times, very few companies try to tackle SEO themselves. There's just too much to stay on top of in order to be effective. If you're a franchisor looking for an SEO partner that brings best practices and new ideas to bear for your brand, talk to us today to get the ball rolling.

Now let's turn our attention to SEO for franchise owners. Specifically how you, the franchisor, can help them, either by conveying this advice to them yourself or having an agency partner work with them on your behalf.

SEO for Franchisees in 2023: How Franchisors Can Help Franchisees Attract Local Business
Multi-location franchises have a reputation for being difficult for local SEO. Lots of locations with essentially the same name and brand can be a digital mess that Google can have a hard time sorting out accurately.

That said, it's a mess franchises can't afford not to clean up. Local visibility is too important. A franchise owner's success may rely heavily on it and will likely depend on it even more so in the future.

Before getting into what franchisors can do to help their franchisees make local SEO improvements, it's important to focus first on the key challenges and ways to overcome them. You may have some fires to put out.

With that said, here are the major local SEO challenges franchises often contend with and a step-by-step process for righting the ship before implementing the real improvements.
The challenges of local franchise SEO
Lack of control over local business listings: One of the messiest parts of managing local SEO among multiple locations is figuring out who has the keys to the web properties. Franchise websites and all the accounts for claimed business listings need to be tightly controlled so improvements can be rolled out and maintained for everyone. Are all login credentials for your franchises stored and maintained in a central corporate system? If not, this first step might hurt. Trying to fix listings across multiple locations, each with separate logins, can be an extremely difficult task, but it really has to be done in order to do anything else.
Franchisees who don't know or care about local SEO: This problem isn't exclusive to franchises, but it's very common among them. Most business owners with websites don't know anything about SEO. They have other things to worry about, so they outsource it to an expert (if they do anything at all). Pushing a single SEO vendor onto all of your franchisees can ruffle feathers (especially if the more savvy ones already have a vendor they like), but unifying franchisees under a single strategy managed by a single vendor ensures everyone remains on the same path to success.
Franchisors don't know what to do themselves: Hopefully the first part of this guide solved this problem if you had it, but it's worth calling out. Typically, a franchise's corporate marketing manager is simply helping with SEO through a third party vendor when requests from franchisees come in. As with anything where corporate plays the middleman between franchisees and a vendor, tensions, misunderstandings, and other landmines are common.
General drama: Drama, or the fear of creating drama can lead franchisors and their franchisees to avoid potentially contentious conversations about projects that disrupt the status quo. Again, as the franchisor, the key is communication and proper framing around the outcomes for the franchisee. While franchisees may need to devote some of their time and energy to helping you centralize their business listings, make changes to their website, and other tasks, they'll likely be far more willing to cooperate when they realize the upside to their business.
A 5-step process for overcoming these challenges
Educate yourself and the rest of the corporate team:

You can't expect to convince your franchisees of anything unless you come into the conversation familiar with how SEO works and what needs to be done to improve it. That's why we wrote this guide. Here are some tips for getting everyone on the same page.



What to do:

Ideally, this guide should be read and understood by everyone involved on your corporate team.
Educate your franchisees:

This should be a joint effort between you and your SEO partner. While conference calls can be effective here, live webinars give you the ability to show visual aids and run through concepts on-screen. While no one should expect franchisees to become SEO experts, even an overview of the basics and likely outcomes will earn their support along the way. Ongoing education is important, too. Your SEO partner should always make regular progress reports a part of the program they offer. These reports also give you the opportunity to reiterate the goals, why this is happening, and how it works.

What to do:

Create clear and simple communication materials to share with franchise owners. This should explain, in very simple terms, what local SEO is, why improvements are being made, how it will positively impact their businesses, and what they need to do. This should be supplemented with in-person or online webinars to dive deeper into what's going to happen, why it's happening, and what they need to do on their end.

Take corporate control of local web properties and online business listings:

Apart from communicating with franchisees, this is the first and in many ways most important first step you should take. If each location is managing its own website and business listings, there's no hope of standardizing messaging across them. Even worse, their online citations—places their name, address, and phone number appear online—might be full of issues, which can negatively impact local search presence and can be difficult if not impossible to resolve without corporate control.

What to do: After familiarizing your franchisees with the basics of local SEO, take corporate control over everything you can, especially the citation and business listing services you qualify for below. You'll likely find that many of these listings haven't even been claimed by your franchisees. In these cases, it's critical to go through the process of claiming each one for each franchise and ensure the listing is accurate.

Note: This can be incredibly labor-intensive to take on yourself. A good SEO partner should have the tools to claim, update, and monitor all of your franchisee's listings at once. We do this for clients regularly. Learn how we used local seo and search ads to increase marketing-generated revenue by 220.29% for franchise locations.
Google Business Profile
Bing Places
Apple Maps
Facebook
Yelp
MapQuest
YP
Angi
Superpages
Foursquare
Manta
Nextdoor
ShowMeLocal
Citysearch
bbb.org
Local.com
Another note: these are just 16 of the most important citation and listing services. Depending on your industry, there may be considerably more that search engines read for accuracy.
Bring online reviews under corporate control: Customer reviews are a huge factor both for local search ranking and a franchise's reputation. But comparatively few have a solid strategy for getting, monitoring, and responding to them. When poor or fake reviews are left unaddressed, prospects can immediately turn away.

What to do: If you don't already use one, your corporate team should implement a CRM system so that reviews can be managed by franchisees or the corporate team. No matter who is in control, responses should be governed by a basic set of guidelines to ensure responses to poor reviews don't make bad moments worse.
Set clear expectations and report on your actions regularly: With SEO, it's easy to lose track of what a partner or a corporate team is doing for you. SEO by nature is behind the scenes, so even the best work can be invisible to those who are benefiting from it.

What to do: Make this a non-issue from the start by reporting on your activities and successes.
A 5-step local SEO improvement plan for franchisees
Once franchisees are educated and onboard with local SEO and have brought all their web properties and business listings under corporate control, it's time to launch an improvement project.
Step 1: Implement individual websites for each franchisee, if you haven't already
Typically, franchisors handle their franchisee's web presence in one of four ways:
Listing pages (bad for SEO): Each franchise's business and contact information is simply mentioned together on a single page on the franchisor's website. This might save the costs of having individual websites, but the lack of effort to build a dedicated website will only result in a lack of traffic to it.
A dedicated page on the franchisor's website (better, but still not good for SEO): In this scenario, each franchise location gets its own page on the franchisor's main website. These typically have more information than a simple listing, but they're far from ideal. It's very difficult to do any significant SEO work on a single page. If your competitors have their own websites, you can expect these to beat out your page in search results for a wider variety of search terms. If you're stuck in this arrangement, localize it as much as possible and be sure to include useful information like hours, an interactive map, directions, images, and testimonials.
A local mini-site (better for SEO): Mini-sites are better than single pages in that they offer each franchise to have separate pages for their services, contact information, portfolio of work, etc. This gives them more opportunity to rank for more local search terms and enables you to maintain corporate quality control over each franchise location's contact information as well as ensure your brand identity is consistently conveyed.
An individual website for each franchise location (can be better for SEO): Individual franchisee websites can provide the opportunity to reach a local audience with targeted content specific to that location. However, they also carry the risk of competing with the corporate site in search results and inconsistent design, messaging, and branding, resulting in brand dilution.
Step 2: Provide key information on each franchisee mini site
There are a number of essentials that just about every type of franchisee mini site should offer, regardless of industry. These are important both from an SEO and usability perspective, which are increasingly becoming one in the same as Google tunes its search engine to value what people want from a website.

Here's a checklist to ensure you've got the basics covered:
Your pages are optimized for the most-searched local terms (by including them in title tags, meta tags, and on-page content).
Your mini sites provide the hours of operation.
Your mini sites provide an interactive map of the franchise's location.
Your mini sites include original images and video.
Your mini sites include real testimonials from customers.
Your mini sites provide the correct business name, address, and phone number.
Your mini sites include structured data.
Your mini sites provide clear, well-written content.
Link to social media profiles.
Step 3: Create local SEO landing pages for each franchise mini site
Landing pages are the "front doors" to a website, each optimized for local keywords. To capture the attention of a wider audience searching for your franchisees' services, build pages focused on a handful of related keywords.
If you have a shortlist of general local keywords, Google's Keyword Planner can reveal other, more specific related keywords to target based on search volume. For more about landing page optimization,
Read: 5 Quick landing page fixes to increase franchise website conversions.

When building these local landing pages, make sure to optimize a few key areas:

Meta information: The meta title and meta description are what show up in the snippets of Google search results. Make sure both of these are appropriately optimized for the keywords you're targeting with the page.
On-page content: The content on the landing page itself should also include an appropriate amount of keywords. It should also include the heading hierarchy Google prefers.
URLs: Typically, there are two types of URL structures best used for landing pages like this:
URL.com/city
URL.com/keyword-in-city
Step 4: Set up, verify, and optimize online citations and business listings
We've already covered citations—defined as mentions of a business name, address, and phone number on the web—and business listings. But it's worth calling attention to in this sequence. For local SEO, a website alone is not enough. When serving up local search results, Google considers many factors from third parties like business listings.

Here's a checklist to ensure your citations and listings are in order:
Set up, verify, and optimize each franchise's Google Business Profile and Bing Places for business listings.
Include the rel-publisher tag on each franchise's website which links to the Google Business Profile page.
Make sure each franchise is accurately listed on every important online directory.
Establish a process for encouraging local reviews.
Step 5: Gain backlinks to franchise websites
As we explained earlier in the guide, backlinks (links from other websites to yours) tell search engines that you're a reputable and trustworthy site. Earning local links can be a little tough, but it can certainly can be done, and the payoff can be huge.

Here are a few ways to do it:
Google Business Profile listings:

Google rewards sites that use their business listing service, so in a way, simply creating a Google Business Profile account and linking it to your website can be an incredibly easy way to gain an important backlink from Google itself. Make sure this listing is fully optimized with hours of operation, addresses, images, and descriptions of your business.
Local press:

Getting linked to from reputable, high-traffic local news articles and other press can be useful to a franchise website's backlink profile. Getting involved in community events that are reported on is always recommended. Franchises should also consider writing and submitting press releases (with links contained in them) to local editors when you have news they might be interested in. Local press, in particular, can have a tendency to copy-and-paste into their articles, so it might be easy to score a link this way.

Business directories: Directory links have a reputation for being lousy for SEO since they're so easy to get. To squeeze as much value as you can out of them, aim for a variety of them from different types of sites, such as:

Major directories:

These are the Yelps and yellow pages of the world, and it is an absolute must to claim and have accurate links from them.

Niche directories:

These are local directories specific to a town or city.

Madisonbd.com

is an example of one in Madison, Wisconsin.

Create and share local resources: Do your franchisees get their businesses involved in their communities? If so, create pages with resources related to those activities. An event roundup is a perfect example of a page that others in your community might want to link to.
In summary, the more unique each individual location's online presence can be made, the better for SEO. There are many factors to consider when putting this advice to work, such as the nature of the business, the size of the franchise, marketing budgets, skill sets, and more. Each franchise will have to weigh all these things out and come to a decision as to their overall digital marketing strategy.

Once that decision has been made, look to optimize your site using the advice above.

Next steps...
As a franchisor, this guide may present a mountain of work and likely little time or resources to do it.

If this is the case for your company, it may be time to consider an SEO partner who can help you do everything explained in this guide—and more if you need it.
If you need help marketing your franchise online right now,
contact us to get the conversation started.
Still researching? Learn how we helped franchise locations increase marketing-generated revenue by 220.29%.