A-1 Concrete Leveling wanted to help franchisees' grow their business,
but resources were limited

.

In 2019, the A-1 Concrete Leveling franchise boasted 55 locations across the country, but only one dedicated corporate marketing employee.

Growth had stagnated for this nearly 40-year-old business, and Director of Marketing and Communications Dale Pease wanted to generate more leads through increased digital marketing efforts.

To do this, he would need to win over franchisees, overcome an underperforming website, and work within tight budget constraints.

Read on for a summary of the results of our partnership, more about A-1's challenges, and how we overcame them together.
Graphical summary
After implementing and executing:
Consultation on a corporate site refresh
Local SEO projects for five franchise locations
And local PPC advertising for four franchise locations
Madison Marketing Group helped A-1 Concrete Leveling locations increase. . .
Microsite lead form submissions by 32.35%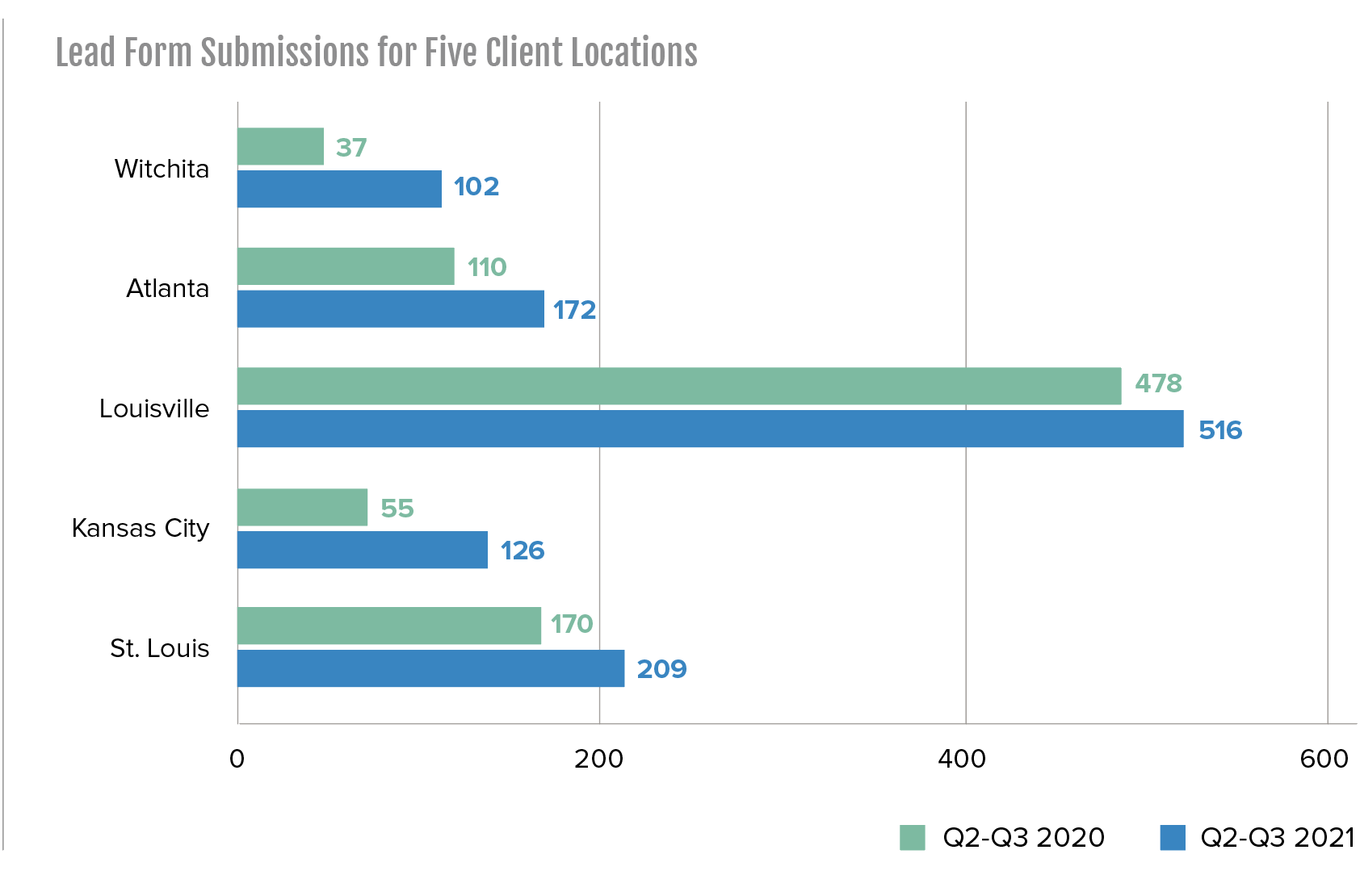 Organic search sessions by 21.59%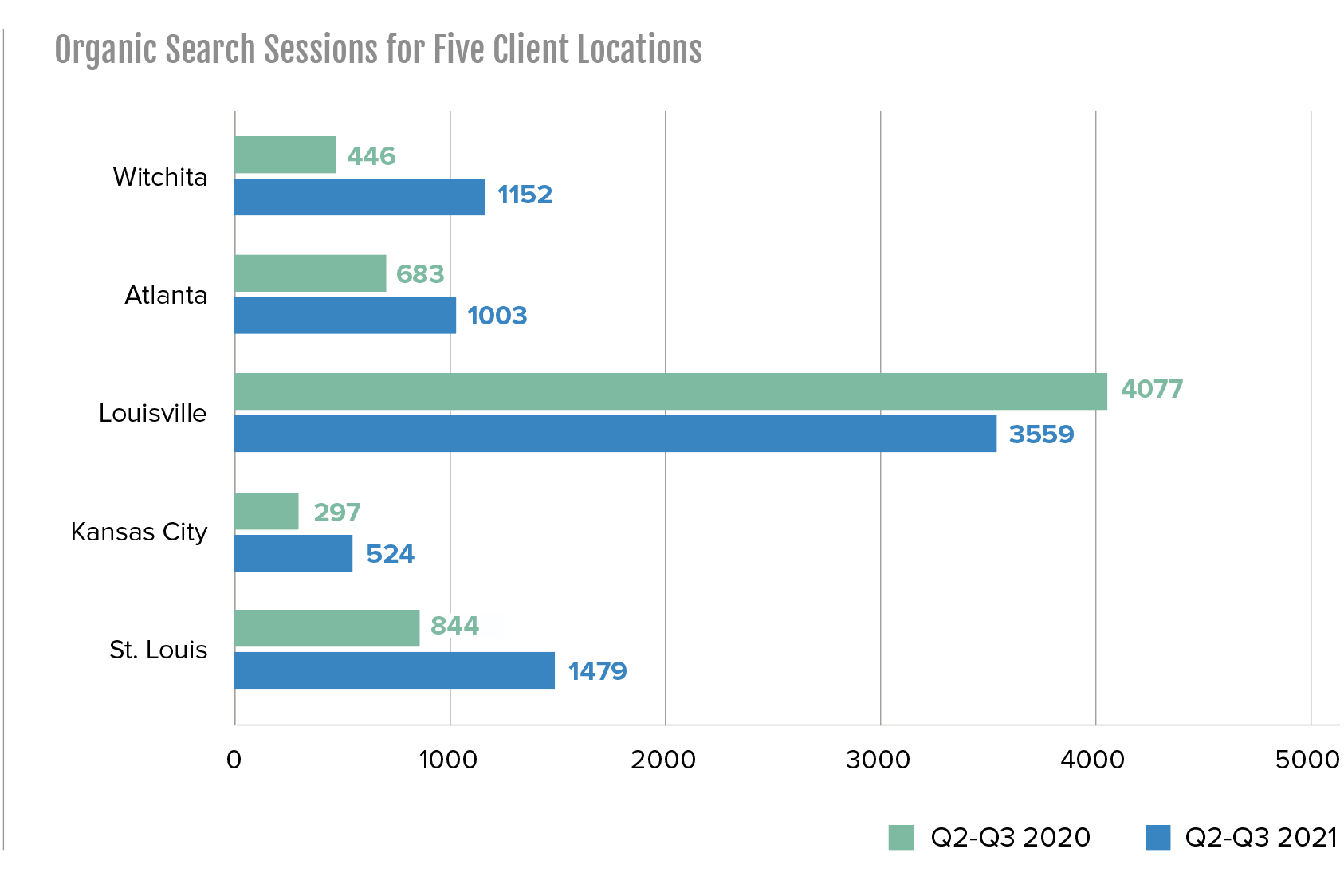 The total number of estimates by 187.27%
Note: estimate data was not available for one of the five locations we worked with.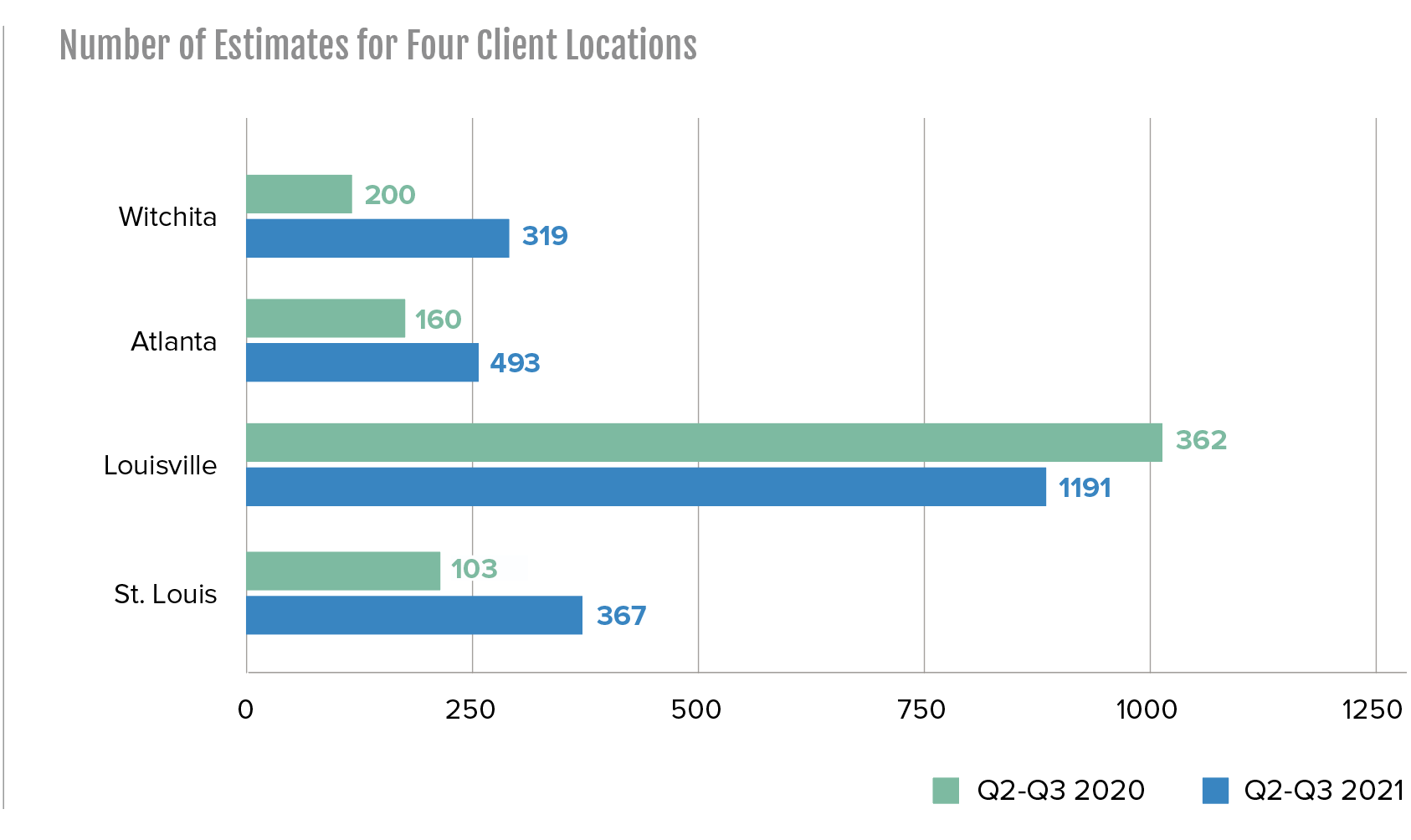 The number of jobs acquired by 214.81%
Note: job data was not available for one of the five locations we worked with.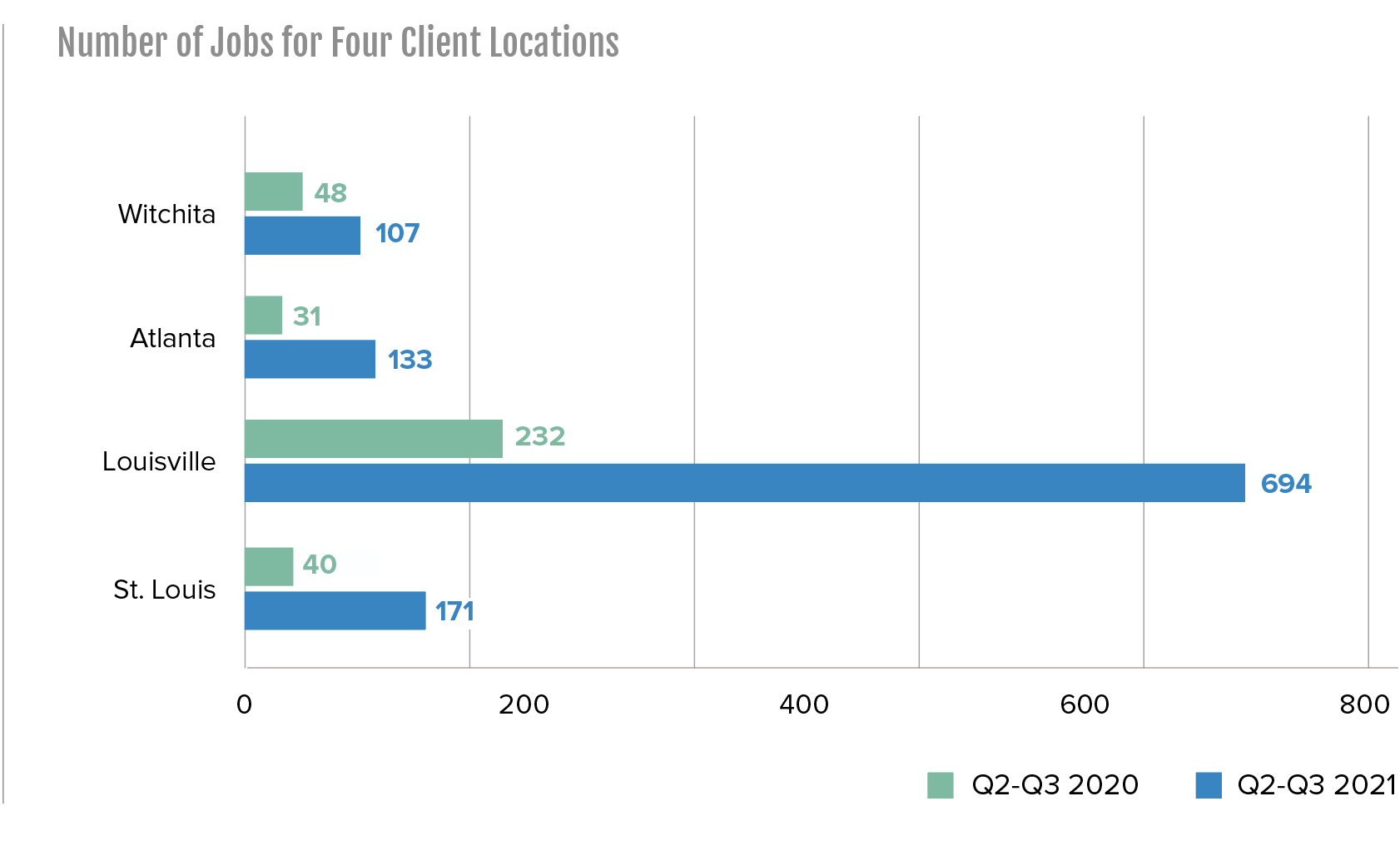 Marketing-generated revenue by 220.29%
Note: revenue data was not available for one of the five locations we worked with.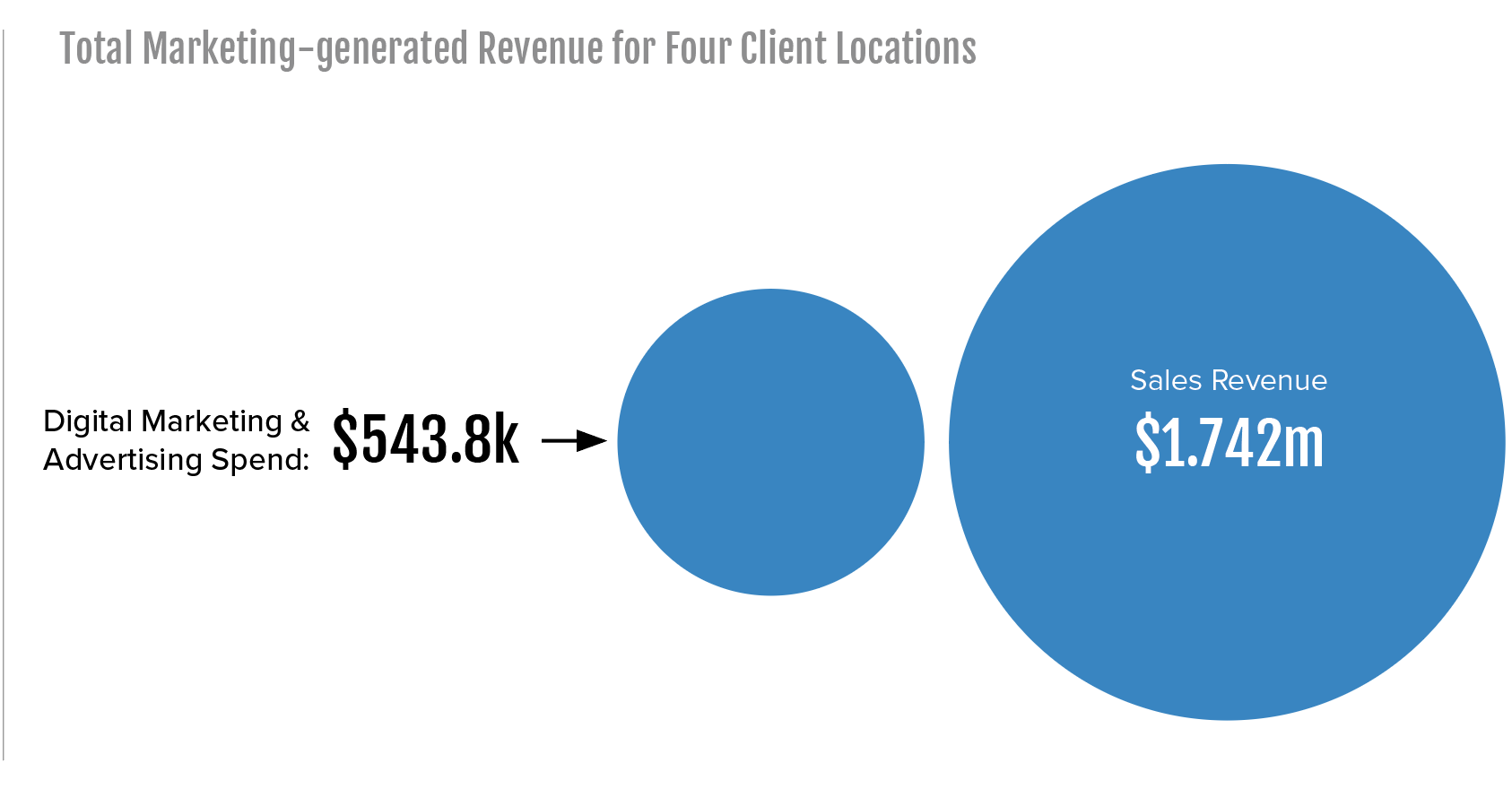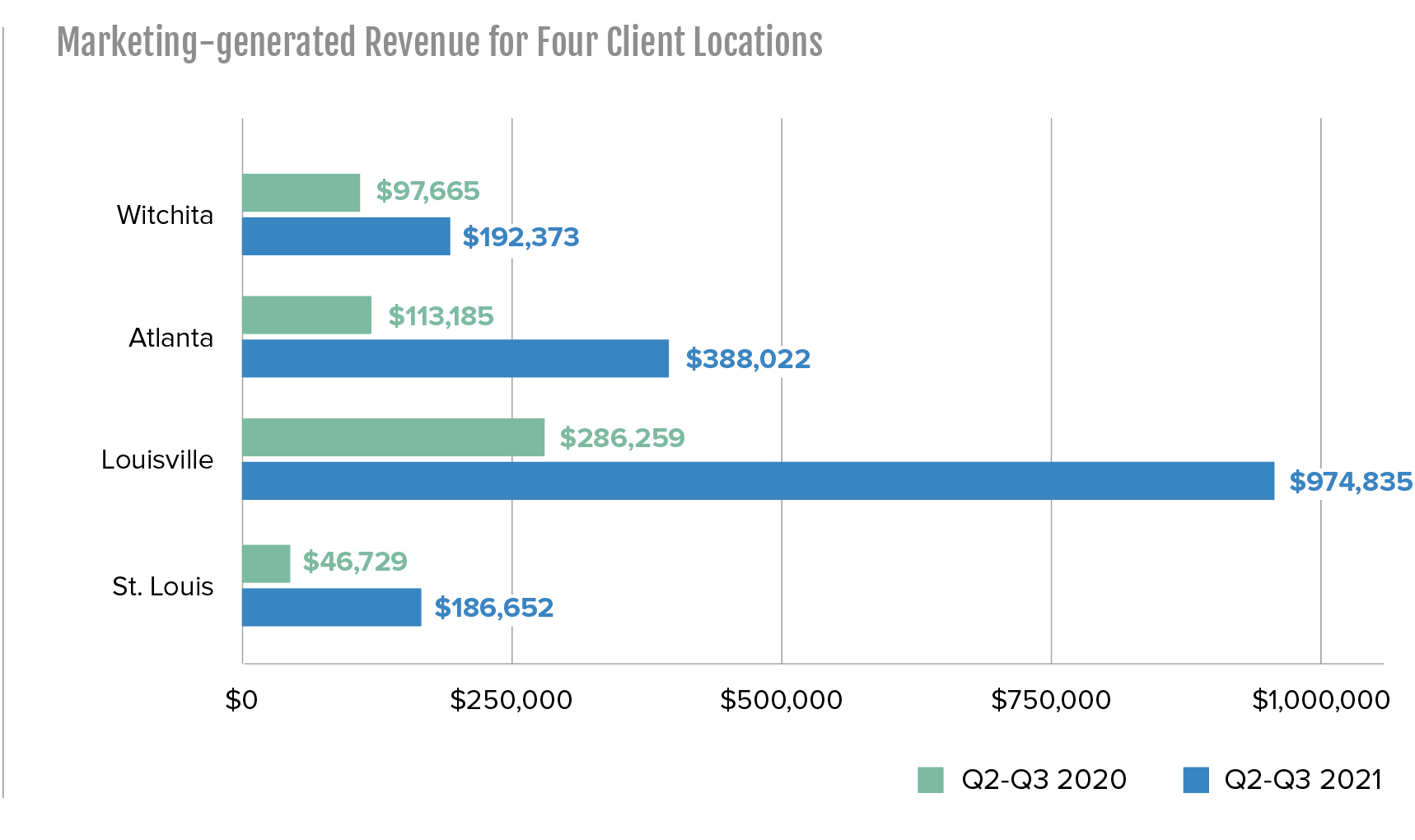 In addition, A-1 locations that worked with MMG saw significantly improved performance compared to all locations.
Lead form submissions for the five locations we worked with increased by 32.35% compared to an increase of 4.37% across all locations.

The number of organic sessions for the five locations we worked with increased by 21.59% compared to a decrease of 8.68% across all locations.

. . . And MMG client locations experienced a much greater increase in marketing-generated revenue in 2021 when compared to company-wide data.
The total combined revenue for four locations we worked with increased by 623.93% in Q1–Q3 in 2021 compared to an increase of 20.00% company-wide.
Note: revenue data was not available for one of the five locations we worked with. Company-wide revenue data only available year over year.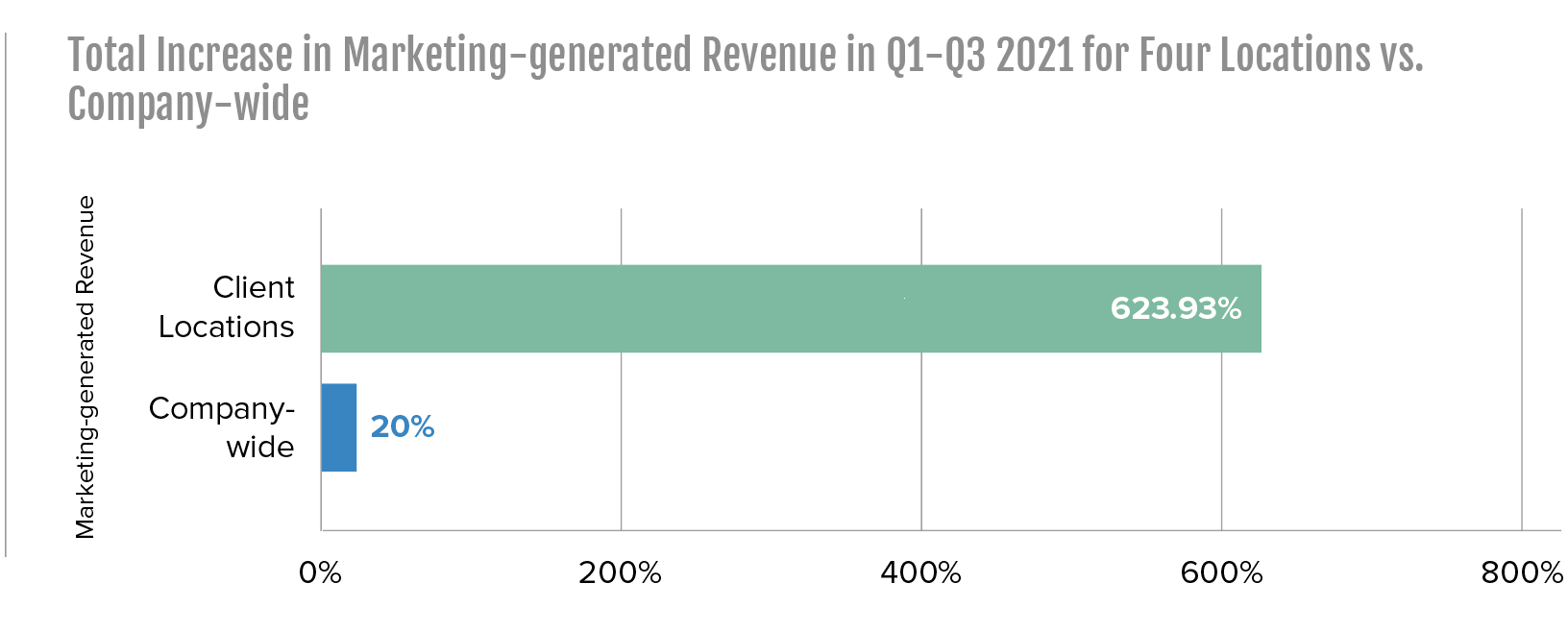 Growth Had Stagnated for America's Largest Concrete Leveler.
In 2019, for the first time in their nearly 40-year history, national franchise A-1 Concrete Leveling's growth had stagnated.
The company wanted to help franchisees grow their businesses, but marketing performance and digital lead generation efforts in particular varied across its 55 locations, despite the company's diligence in investing in traditional marketing channels.
As a result of working with an SEO consultant a few years prior, the franchise generated a respectable number of leads each month via organic search traffic on their corporate website and achieved search rank for some valuable keywords there. But A-1's team felt the company had only scratched the surface when it came to SEO and other digital marketing lead generation channels.
This led A-1's Director of Marketing and Communications, Dale Pease, to believe renewed focus on SEO would be a key factor in achieving growth. But the franchise lacked a long-term partner that could provide the strategy and services needed to achieve those results.
"I felt like we'd plateaued a bit from a SEO perspective, and it was clear neither me nor anyone else here at A-1 had the time and expertise needed to help us get over that hump. We chose to work with Madison Marketing Group because they had worked with franchises before, and I was impressed by their strategic approach." Dale Pease, Director of Marketing & Communications, A-1 Concrete Leveling, Inc.
A-1 Wanted to Grow its Business, but a Thin Budget, Limited Staff, and Underperforming Website Stood in the Way.
Pease was, and still is, A-1 Concrete Leveling Corporate's only dedicated marketing employee. He was already squeezing the most he could out of a slim marketing budget, and securing more budget dollars proved challenging.
The corporate site needed improvements to its architecture, content, and design to generate more leads and rank higher in organic search results with the end goal of growing its locations' businesses.
To this end, the corporate site would have to replace the need for separate franchisee sites in order to maintain brand consistency. Among franchise locations that had their own websites, there were a wide variety of designs and adherence to SEO best practices.
Moreover, existing franchisee websites were competing with the corporate website for space on search result pages, potentially confusing searchers. However, franchisees hesitated to change their websites, because they were generating leads.
Despite these challenges, A-1 was able to carve out a modest scope for our SEO consulting services. We used this scope to guide the design and development of A-1's corporate website, which Pease would execute internally. It included:
A custom SEO assessment
First, we evaluated the current performance of A-1 Concrete Leveling's corporate site, including but not limited to:
Keywords that pages already ranked for in search results (e.g. "driveway leveling")
Visitors' behavior on the corporate website
Which pages drove the highest engagement among users and most often resulted in a conversion
Location page search traffic and ranking performance
Keywords that competitors ranked for that A-1 Concrete Leveling didn't
Technical performance, including page load speed on mobile devices
Then, we provided a set of recommendations for optimization, including:
Covering services and other important topics on dedicated pages and in greater detail to beat competitor pages in search rankings
Creating webs of topics and subtopic pages connected with hyperlinks to earn search rank
Creating location microsites on the corporate website with intuitive navigation and correct business info that would give each location a better chance of earning search rank in its local market
Working to boost pages already ranking for valuable keywords to rank even higher, an easier feat than trying to rank for new keywords
Replacing pages that weren't ranking for valuable keywords with better pages to rank higher in search results
Claiming and updating citations off-site, such as directory and Google Business Profile (formerly Google My Business) listings
Improving page load speed by moving DNS management to Cloudflare (a managed system) to reduce JavaScript and CSS file load time as well as improve security
Keyword research
We identified words and phrases used by people interested in services and topics relevant to A1 Concrete Leveling to find information online and created a database.
This involved a multi-step process that included:
Using Google Search Console to identify which topics A1's website currently ranked in search results for
Brainstorming a list of additional topics relevant to the clients' business based on the clients' website, conversations with the client, and known competitors' websites
Presenting the client with the finished list of topics to eliminate anything irrelevant
Plugging the finished topic list into keyword research software and Google Search to find all keyword opportunities associated with those topics
We recommended the keywords we found be used to create or update web pages, which in turn could appear in search results and attract potential customers looking for concrete leveling and repair services.
Site architecture and design consulting
Using findings from the SEO assessment and keyword database, we advised A-1 on which pages to include in the new corporate website (including a few basic location pages for franchisees), assisted its team in laying those pages out in a site architecture, and provided design consulting focused on user experience and conversion optimization.
"The improvements we made to the corporate site provided a good foundation for improved search performance, but I wanted to see how we could build on that work to boost visibility and lead generation results at the local market level," Dale Pease, Director of Marketing & Communications, A-1 Concrete Leveling, Inc.
We discovered that, in the 12 months leading up to Q4 2019, 23% of visitors to the corporate site visited franchise location pages, indicating some buying intent. This provided a low-hanging opportunity for A-1 to achieve its goal of improving location performance and growth.
After Pease approached us for advice, we put together a three-point plan for improving A-1 Concrete Leveling's search visibility in local markets.
The State of A-1 Concrete's Local SEO
When Pease asked us for advice on how to build upon the success achieved in 2019, we came up with affordable local SEO packages that franchisees could purchase to address the lingering challenges A-1 faced on the local level and optimize franchise location microsites for the most important factors affecting local search result rankings.
Outdated, unclaimed, and inaccurate Google Business Profiles
Some A-1 Concrete Leveling franchise locations' Google Business Profile listings were unclaimed, and often used the wrong type of address marker in Google Maps.
This was worrying, considering that Google Business Profile has become increasingly important for getting found in search results, according to Whitespark (a local SEO authority and provider of marketing software and services for local businesses).
In their 2023 survey, Whitespark found that Google Business Profile factors made up an estimated 32% of factors associated with appearing in local pack results, which are generated using Google Business Profile data.
These local pack results appear near the top of local search results pages, where potential customers are most likely to see and click on them: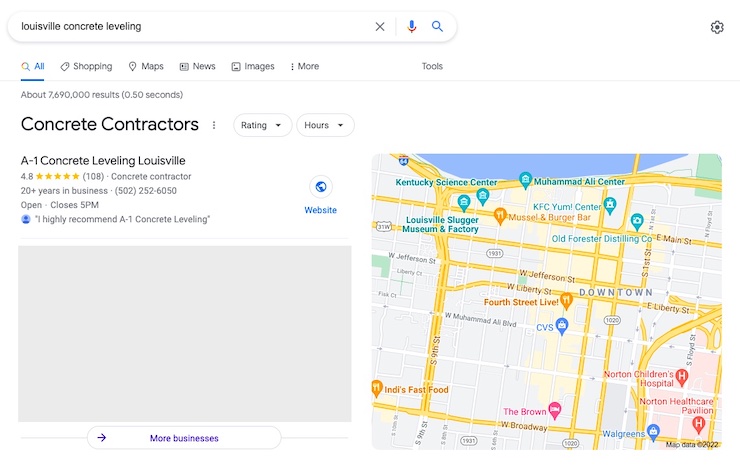 Outdated, unclaimed, and inaccurate citations
A-1's citations (mentions of a business's name, address, and phone number online, such as directory listings) were providing potential customers with unreliable and incomplete business information, potentially resulting in lost sales opportunities. Incomplete and inaccurate information within listings also sends Google signals of unreliability, negatively affecting the business' ability to rank in search results.
While the importance of citation consistency for search rank has waned, reliable information is still essential to avoid having potential customers driving to the wrong address, calling the wrong number, or getting scared away by the look of neglected and incomplete listings.
Poor ranking performance for local keywords
The corporate site was successful at driving traffic from people searching for general keywords like "concrete driveway repair" but not keywords like "Atlanta concrete leveling" that included local modifiers, suggesting that the searcher was looking for something nearby.
As a result, the company was missing opportunities to attract potential customers already searching for their services in franchisee service areas.
Optimization tactics that happen on a web page, or "on-page SEO" factors, including the presence of certain words on a web page, are the number one set of organic local SEO ranking factors affecting regular, "blue link" Google search results like the example below:

Source: Google
They are also the number two set of factors affecting local pack results (Whitespark).
We Created Local SEO Packages Designed to Generate Leads for Franchisees.
To address these challenges, we designed local SEO packages containing:
Google Business Profile claiming and optimization
Claiming and optimizing Google Business Profiles would serve to boost each location's ability to rank in local pack and general organic search results. As part of this service, any duplicate listings would be deleted, and each listing would be optimized with up-to-date, complete, accurate business information.
Citation claiming and optimization
Identifying, claiming, and optimizing other citations would help mitigate confusion by providing consistent, correct information. This would also enable the location to respond to and manage reviews.
Microsite service pages
Six customized pages would be added to each local microsite housed on the corporate website, and two existing location pages would be updated. This included:
A refreshed location home page
A refreshed service area page
General service page
Five specific service pages (e.g. garage floor leveling, driveway leveling and repair, sidewalk and walkway leveling and repair, concrete steps repair, concrete porch leveling and repair, patio leveling and repair, etc.)
These more robust microsites would:
Target local keywords to attract potential customers living in the area
Contain an accurate business name, address, and phone number on every page, sending trust signals to Google by providing consistent business information to help the pages rank higher in search results
Have customized content tailored to each franchise location and its market to encourage conversions
We Executed Paid Search Advertising Campaigns.
As A-1 Concrete Leveling began to see the results of our work, it asked for recommendations for how to best use paid media to generate leads. We suggested starting by focusing on Google Ads (formerly "AdWords").
When set up correctly, these campaigns only serve ads to people who are actively searching for the services a company is selling, making them a great place to start when it comes to paid media.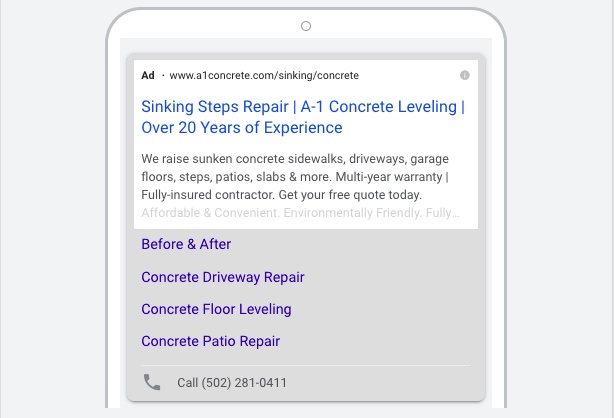 We also suggested using a small portion of the paid media budget for retargeting display ad campaigns, a relatively inexpensive strategy that targets people who have already shown interest in A-1 Concrete Leveling's services by visiting its website.
We implemented these advertising campaigns in early 2021.
Results
We examined marketing and sales metrics from Q2–Q3 2021 for the first five locations that purchased our local SEO package and/or paid search services in late 2020 or early 2021 and compared them to the same metrics from Q2–Q3 2020. Specifically, we reported on five KPIs:
Lead form submissions on each microsite.
Organic sessions to measure how many sessions (site visits) were generated when someone found and clicked through to a location microsite in organic search results. Tracking organic sessions over time is one way to measure local SEO campaign effectiveness. SEO helps unpaid, or "organic" search results from your website rank higher in search engine result pages, where they are more likely to be seen and clicked on.
Total estimates to measure the number of estimates made for jobs.
Jobs acquired to measure the number of sales obtained.
Marketing-generated revenue to measure the revenue generated from sales attributed to digital marketing activities.
Quick take-aways
A year-over-year improvement on lead form submissions of 32.35% for these five locations suggests that our local SEO packages and advertising services helped generate more leads for franchise locations.

Moreover, results compare favorably to company-wide metrics.
The five locations we worked with experienced a total increase in lead form submissions of 32.35% compared to 4.40% for all A-1 Concrete Leveling locations.

These five locations also experienced a combined increase in organic search sessions of 21.59% compared to a decrease of 8.68% across all locations.

In addition, four of the locations we worked with experienced a combined increase in marketing generated revenue of 623.93% in Q1–Q3 of 2021 compared to 20% for all locations, further evidence suggesting that local SEO and advertising was effective. Note: no data was available for one of the five locations we worked with. Company-wide revenue data only available year over year.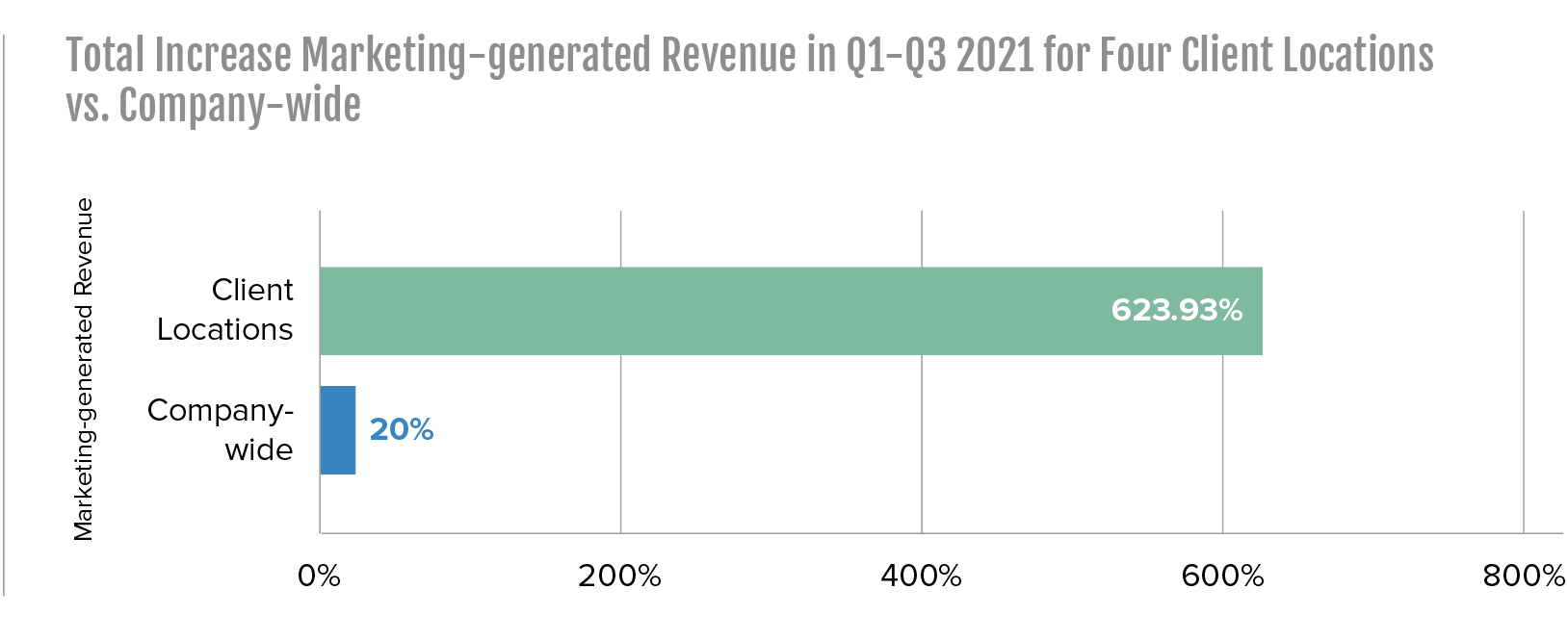 After just two years, these strategies were already starting to help A-1 Concrete Leveling realize its franchise growth goals.
In 2022, we look forward to continuing our relationship by helping expand A-1 locations' digital advertising capabilities and helping more franchisees find success through optimizing their local search presence.
"I'm very encouraged by the results we've gotten this year with MMG's help. We're seeing more conversions and higher revenue for locations they've worked with, so we're hoping to bring more franchisees on board." Dale Pease, Director of Marketing & Communications at A-1 Concrete Leveling, Inc.
Want to generate more leads for your franchise through digital marketing? Talk to us.