What is this guide?
A playbook for setting up an SEO content marketing plan

Who is this guide for?
Consulting firms interested in bringing traffic to their website and attracting, nurturing, and converting leads through web-based activities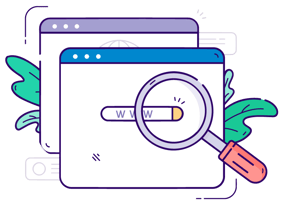 What will I learn and be able to do with this information?
You'll learn what goes into an inbound content marketing strategy fueled by SEO and how to start putting together your own using best practices.
Introduction
Consulting firms traditionally gathered most of their leads from referrals, and many still do today. But these days, many more prospects expect to be able to learn a lot about a firm's capabilities and experience before they ever pick up the phone.
Whether they know you by name or find you through a Google search, the firm's website is often the place where a first impression is made. Many prospects come looking to learn about the firm, get what they need to decide if it's an initial fit, and reach out.
Making that first impression a good one can mean the difference between a firm that gets noticed by potential clients and one that gets upstaged by a more visible and welcoming competitor.
While many firms, particularly established ones, may bring in enough business from referrals alone, imagine how much more business they could attract if potential clients outside their network were able to find them in Google search results in a matter of seconds.
A strong SEO content strategy designed to inform and motivate projects can not only help your consulting firm attract business online, but showcase your expertise in a way that helps convince potential clients to choose you over your competitors.
This guide explains how consulting firms can seize that opportunity by optimizing their website and their broader web presence to attract and convert leads. We'll break down exactly what SEO means in this context, and offer a strategy your firm can use to put a few best practices to use.
If you're new to SEO and content marketing, we suggest starting from the top of the guide to give yourself a working understanding of both concepts. We've linked to several resources if you need to dig into any of the concepts we bring into the discussion.
What is SEO?
Search Engine Optimization (SEO) refers to a set of web development, copywriting, and design strategies used to make websites and web pages more visible on search engine result pages.
Google is the main focus of SEO professionals, since it holds most of the global search market share.
If you're not familiar with SEO, set a few minutes aside and check out our free guide.
What is content marketing?
To explain what content marketing is, first we have to define content.
Content, in the context of the web, is information presented in an informative and/or entertaining way that satisfies an audience. Content appears on many different channels, from social media feeds to websites, and takes many forms, from videos to white papers to tweets.
In the B2B world, some popular forms of content include webinars, white papers, guides, pillar pages, infographics, case studies, social media posts, and blog posts.
Content marketing is a set of strategies that uses content to engage and ultimately convert site visitors into customers by providing helpful, interesting information that helps them solve their problems.
When done well, content marketing uses keyword optimization and other on-page SEO tactics to help your content rank high in organic (unpaid) search results. This, in turn, attracts more potential customers to your site, who consume your content.
Your content is focused on providing value to your visitors. However, it also contains links to offers (calls to action) that allow site visitors to become leads, and eventually, customers.
Content marketing and the inbound methodology
Content marketing is a component of an inbound marketing strategy: an approach to marketing that focuses on providing niche audiences with customized offers that offer immediate value (such as free information or tools) in order to invite potential customers into a long-term relationship with your brand.
This contrasts with traditional, or outbound marketing, which relies heavily on advertising that interrupts whatever its audience is trying to do (read an article, watch TV). It often targets a broad audience in the hopes of reaching its target audience.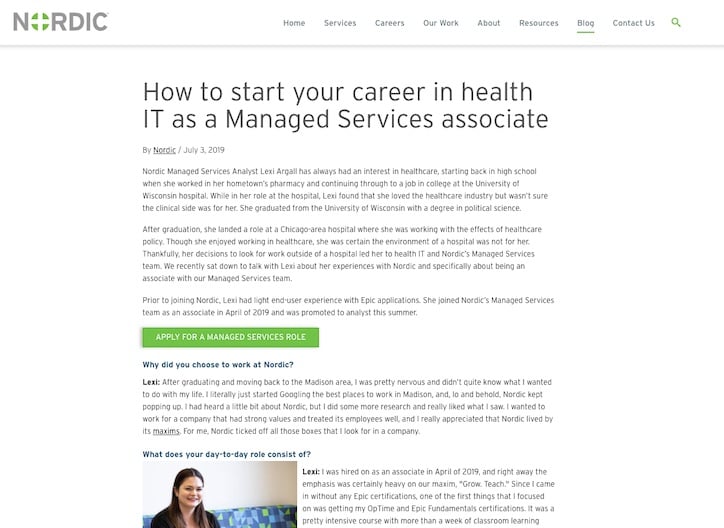 Source: Nordic
For example, this health IT consulting firm wrote a blog post interviewing one of its consultants about how they got into health IT consulting.
Its target audience is potential consultants who you might want to hire. This is an example of inbound content marketing. It's attracting prospective consultants searching for answers to questions about this particular kind of consulting. It answers their questions and frames their firm in the context of those answers.
Why is SEO content marketing a great tactic for B2B consulting firms?
Consulting firms are well-positioned to capitalize on content marketing because clients looking for the expertise of a consultant are almost always searching for answers to questions or solutions to problems that are complex in nature.
Publishing original content on your website helps provide that insight to immediately provide value, build trust, and demonstrate authority before anyone has picked up the phone.
To be clear, creating content shouldn't be seen as giving away free consulting. Rather, it's extracting and capitalizing upon bits of that expertise to attract prospects, demonstrate authority in addressing those problems, and build trust.
Effective content should have prospects come away knowing their problem needs to be solved and that your firm is capable of helping them find and implement the best solution.
Most consulting firms have the added advantage of having access to a ton of subject matter experts via its consulting network. With the right tools and processes, a content marketer can tap into that pool of knowledge to source original, high-quality content that positions your consultants as experts.
Since quality is one of the most important factors Google uses to determine its search rankings, combining great content with a technically-sound website—one that is fast and easy for users to navigate—you have a better chance of ranking at the top of search results, catching the attention of prospects and ultimately converting them into leads and clients.
The nuggets of expertise you offer through your content can return incredible value through the leads and sales it generates. Plus, the leads from content marketing can expand your circle of clients, which can result in even more referrals from leads you acquired online.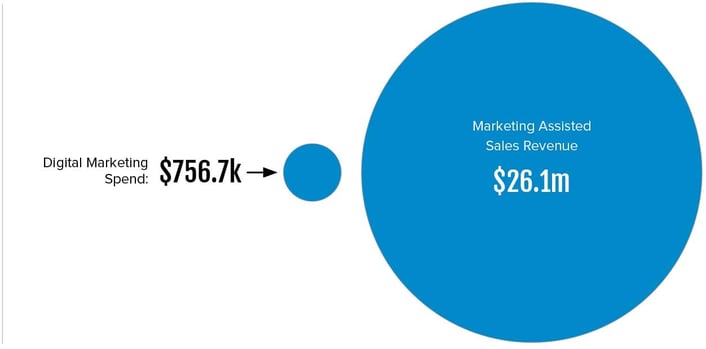 This was the case for one of our clients, who saw 34x marketing ROI after we implemented an SEO content strategy for their consulting firm.
Read the case study and get all the details.
How to create search engine optimized content for your firm
The first step in creating content for your B2B consulting firm is to create a content strategy.
This is a plan for creating content around topics that matter to your prospects, help to uncover project needs, and have the best chance of ranking well in search results.
We'll walk you through the process at a high level, but make sure to read our in-depth content strategy guide for greater detail.
Step 1: set goals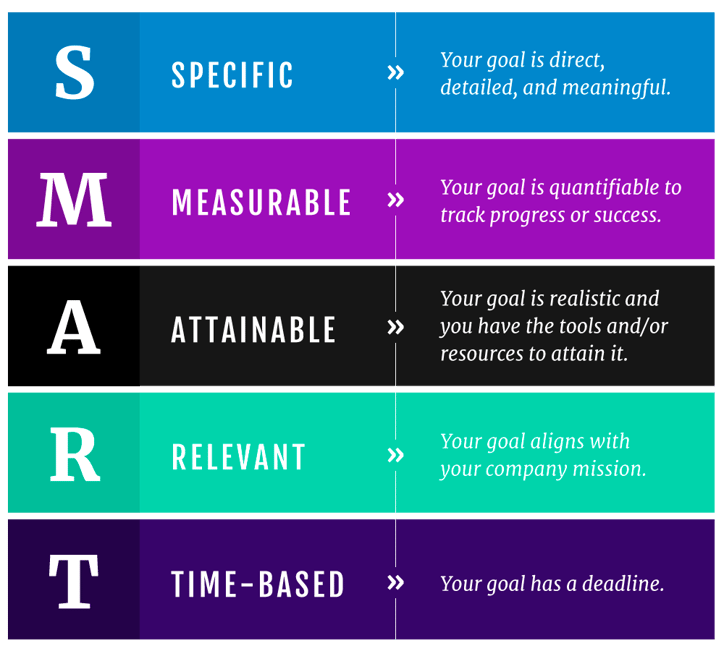 The "SMART" framework has become a popular model for setting content strategy goals. Smart goals are:
Specific: Your goal is simple enough that you are able to create a focused plan for achieving it.
Measurable: You are able to use metrics to track your progress and determine whether or not you achieved your goal.
Attainable: You can reasonably meet this goal within the time frame you have specified.
Relevant: It aligns with your business's needs and objectives.
Time-based: You have defined a time frame for achieving this goal and have set a deadline.
Set SMART KPIs for each SMART goal
In order to measure the success of your SMART goals, you'll need to establish SMART KPIs to track.
Possibly the most popular free analytics tool you can use to set up and track your KPIs is Google Analytics. You may have already installed it on your website. If not, you can follow these instructions to turn it on.
Let's say one of your goals is to see 80 more lead conversions on your site by publishing five pieces of content. Page conversions (how many people converted into a lead on a given page or group of pages) would be a useful KPI, since it tells you how many leads were generated across those five assets.
You can also set up conversion events (formerly "goals") in Google Analytics to measure and track your progress across KPIs over a period of time.
One efficient way for consulting firms to set lead conversion events is to identify and group the pages you have created for potential clients versus the pages aimed at potential consultants.
Set events from your content aimed at potential customers. Then, make a separate group of events that track conversions from your content aimed at potential consultants.
With this in place, you can track your relative success with generating each type of lead.
For a more detailed explanation of KPIs, check out Klipfolio's great guide to KPIs or their KPI examples by industry if you're not sure what to measure.
In addition, if you already use Google Analytics, you may want to read up on Google Analytics 4: the new version which will soon replace the one with which you are familiar.
Step 2: identify your audience(s)
Next, identify your target audience(s). This might be as simple as one audience for clients and another for consultants. However, firms that work in multiple verticals, or whose services require engagement and buy-in from several functional areas may define multiple audiences for each of these stakeholder groups.

No matter how simple or complex your firm's audiences are, the goal for each is to identify the important characteristics about them so you can create relevant, valuable content for them.
Buyer personas for consulting firms
One way to define your target audience(s) is to create buyer personas. A buyer persona is a fictional representation of your target audience, or ideal buyer.
Many businesses have more than one, and consulting firms have at least two: your ideal customer, and your ideal consultant.
Odds are, you can already describe the characteristics your best clients have in common, as well as your best employees. However, buyer personas can be a helpful tool for putting this down on paper.
Create a buyer persona representing your best customer(s) and best consultant(s), describing what they want, what they need, what makes them more or less likely to become a client or consultant, and any other useful information.
There is no need to adhere to a rigid persona structure that contains a laundry list of characteristics just for the sake of capturing them. Too often, buyer personas gather dust in folders because they are not actionable.
Instead, structure your buyer persona in a way that suits your needs and only include information that your firm will actively use when speaking to potential clients/consultants, prospects, and customers. More on this idea.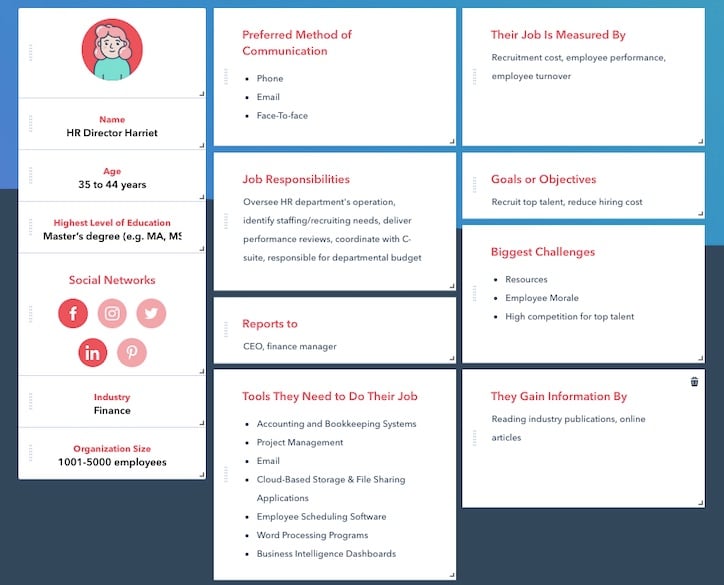 Source: HubSpot
Some persona questions to get you started:
What problems and challenges do they face that make them turn to your service? > Example: they have no in-house experts to solve the problem they are experiencing.
What are they afraid of? > Example, as a result of undetected problems, they will not pass federal regulations.
What factors will make or break a buying decision? > Example: cost
To what industry do they belong? > Example: IT, Telecommunications, Healthcare
What position do they hold? > Example: manager, director, VP
How do they demonstrate their value at work? > Example: ROI, employee satisfaction
You can use this customizable HubSpot template to put one together in minutes.
Create one for each of your ideal buyer and consultant audiences. Again, it's likely that you may have many different personas, depending on the services that your firm offers and how your clients make buying decisions.
Learn what topics and content interest your personas
After creating your buyer personas, you'll want to determine what types of content your personas seek and where they go to find that content.
It's easy to assume that because you know your persona well, you know what they'll like to read or watch. However, it's less of a gamble to find out what sorts of content they are interested in and consume already.
Good sources for this type of information include:
FAQs: what questions do your clients and prospective consultants ask over and over? This gives you an idea of what answers they're seeking, which can be the seeds of engaging content.
Surveys: You can directly ask existing consultants why they joined your firm, what made them decide to become consultants, and if they had it to do again, what types of content would help them make the decision to engage with your firm?

Surveys can also help you ask existing clients what kinds of questions they ask consulting firms they might hire, what signals of trustworthiness they look for on a firm's website, what types of content they enjoy, and about their favorite social media channels or websites.
Hire a market research firm: there are firms whose business is to compile this sort of data for you
Keyword research: If you compile a list of brainstormed topics or content ideas, you can check to see how often they appear in real searches using keyword research tools.
Existing content: If you have already published a few pieces of content, such as social media posts or white papers, which ones were the most popular (had the most views, conversions, comments, likes, shares)? What do the popular pieces of content have in common? It's likely that your personas found the topic(s) they covered interesting.
Make a list of topics that interest your personas and content types that they prefer.
Step 3: perform keyword research
Next, compile a list of keywords related to topics that interest your personas—specifically topics that speak to problems or challenges. You will use these keywords in your content in order to attract more potential clients and future consultants.
This will typically involve:
Brainstorming keyword ideas

By analyzing your persona research (such as survey responses) for terms and questions, what people like your persona talk about on forums like quora or on social media
By listing your key services and what words you might expect your persona to use to find your services

Plugging keyword ideas into keyword research tools like Google Keyword Planner, Ahrefs, SEMrush, or Answer the Public in order to generate keyword suggestions
Sifting through keyword suggestions to find the lowest competition, higher-volume, relevant keywords that satisfy search intent
Looking at the keywords your competitors are going after by using tools like SEMrush and Spyfu, or conducting a competitor content audit
Coming up with content ideas that interest your persona and use those keywords in their title
If you're new to keywords and keyword research, check out this resource from Ahrefs. If you're new to on-page SEO, check out our free guide.
Keyword research considerations for B2B consulting firms
When conducting the keyword research process, you will need to follow the steps above for each persona, since they will use different keywords to look for different types of content.
For example, to come up with keywords for content aimed at consultants, you will need to brainstorm keyword ideas by talking to your consultants and finding out what terms they use to research a potential employer or decide whether they want to become a consultant.
You will also have to come up with a separate list of keyword ideas based on what potential clients are looking for online, and what terms they use to search for a consulting firm to hire and questions they ask to diagnose problems you can solve, for example.
Step 4: use your keyword insights to plan content
Once you've identified the keywords you want to target and come up with some topic ideas, you can begin to strategically plan future content.
Should you focus on TOFU or BOFU first?

Many businesses start by making content aimed at top-funnel buyers and gradually add content for bottom-funnel buyers. However, there's often a strong case for prioritizing middle and bottom-funnel prospects first, and then creating top-funnel content to build upon that "low-hanging-fruit" foundation.

This strategy is often preferred when most or all of your prospects know who you are and/or have a thorough understanding of their problems and available solutions. In these cases, a firm's content strategy should meet prospects where they are further in the buyer's journey—focus on helping prospects that are comparing firms to find the best fit.
Plan content for each persona. Look at your list of keywords and map them to their relevant buyer personas. Now, using insights from your keyword research such as monthly search volume and keyword competition, plan and prioritize content for each of your personas. Come up with titles and formats for as many pieces of content you want to plan.
Organize your planned content. Now that you've planned content for each persona, you can organize it in a way that will help prospects find and consume it. The way we would suggest is using topic clusters, which are groups of interlinked content on your site that relate to a shared, core topic. Learn how to make them.
Step 5: plan content for every stage of the buyer's journey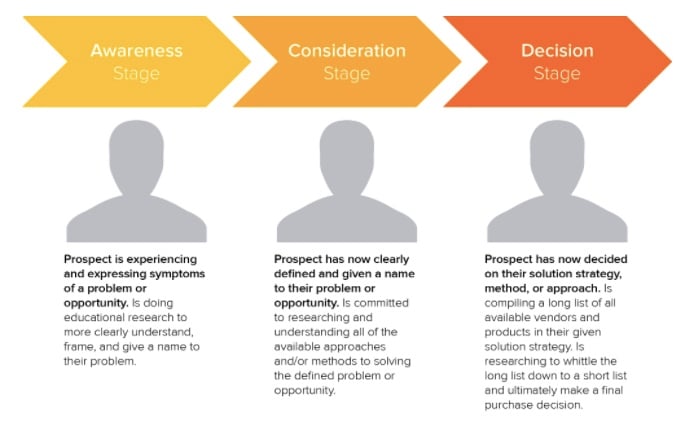 Source: HubSpot
The buyer's journey is the process a buyer goes through in order to make a purchasing decision, from experiencing the symptoms of a problem to choosing a vendor. It has three stages: awareness, consideration, and decision.
At each stage, buyers have distinct questions they want answered.
Awareness stage buyers: What problem am I experiencing?
Consideration stage buyers: What solution should I choose?
Decision stage buyers: Which vendor should I choose?
A good content marketing strategy includes content for each stage that answers these questions.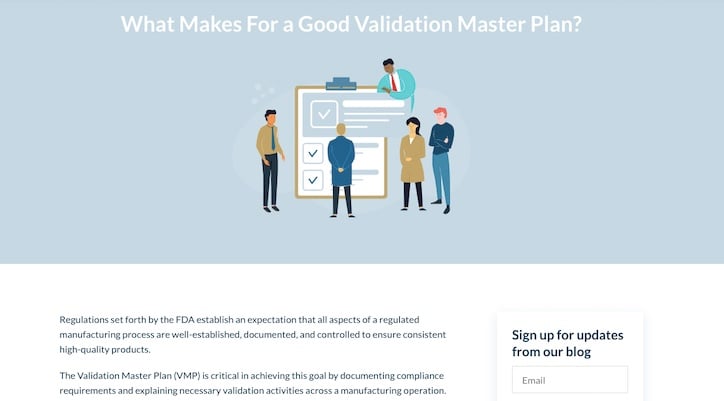 Source: The FDA Group
For example, an FDA compliance consulting firm wrote the blog post above about validation master plans. This is aimed at potential clients who may have heard of validation master plans and know they are important, but don't know anything about them.
This audience is trying to understand their problem. Content like this is designed to help them diagnose a problem. As a result, this is an example of awareness-stage content.

Source: The FDA Group
The same consulting firm also provides consideration-stage content, such as the webinar above, for buyers who are trying to decide how to solve their problem (having to undergo an audit without the auditor being physically present). This content is designed to help them learn about solutions.

Source: FDA Group
Finally, this firm provides decision-stage content, like the case study above, to help persuade prospective clients at the decision stage that their consulting firm will be the right vendor for them.
You may be wondering why you shouldn't target decision stage visitors exclusively. The reason is they represent only a fraction of the traffic on your website.
By providing content for each stage, you can "nurture" leads at earlier stages by 1) providing useful content that establishes you as an authoritative source of information, and 2) nudging them further down the Buyer's Journey with calls to action (CTAs) within the content that lead to an offer for the next stage.
Consider each of your persona's buyer's journeys
A successful content strategy also takes into account the unique buyer's journeys of each of its personas.
Both your potential customer and your potential employee experience the three stages of the buyer's journey—awareness, consideration, and decision—but they have different questions at each stage.
Consider:
What does the sales cycle look like from start to finish with your new clients?
How do your employees find you, learn about you, engage with you, and decide to choose you over your competitors?
What questions does your persona have at each stage?
When would each of your planned content pieces seem the most attractive and useful to them?
Use CTAs to nurture leads
In general, the primary call to action for a piece of content should lead to an offer that would appeal to the next stage of the buyer's journey.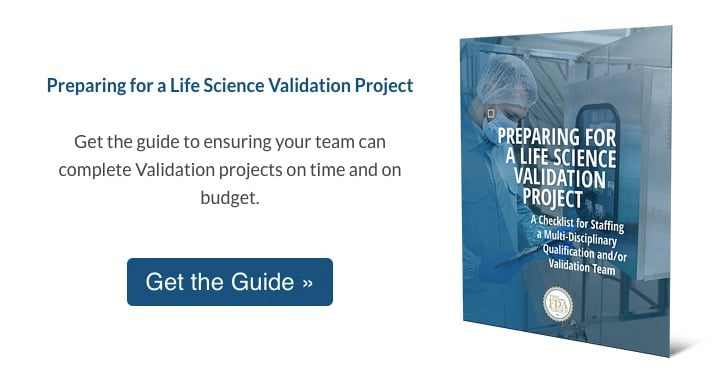 Source: The FDA Group
For example, the awareness-stage blog post about validation master plans from the previous section ends with an offer for a consideration-stage piece of content.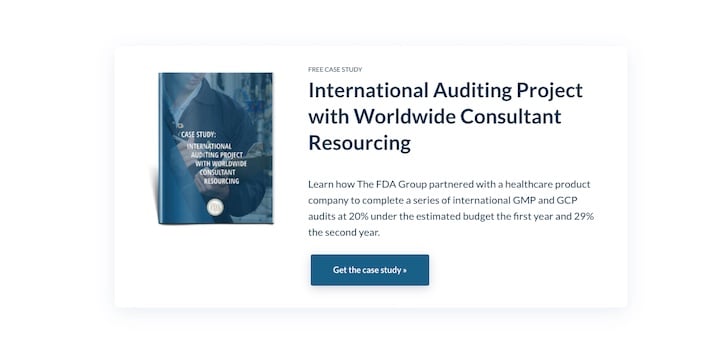 Source: The FDA Group
Likewise, after submitting a form to access the consideration-stage webinar from the previous section, the visitor is taken to a page where they can view the webinar. At the bottom of that landing page is a decision-stage case study offer.
If the visitor decides to download the case study, the visitor is sent an email with the case study, and an offer to directly contact the consulting firm.
In this way, content offers prompt visitors to follow a chain of actions, ending with direct contact with the consulting firm.
Including offer(s) within your content that are relevant to your audience and lead them further down the Buyer's Journey can help you provide real value to your prospective clients and result in more leads that could turn into customers.
Step 6: create a content calendar
Now that you've created topic clusters you can create a content schedule. The idea is to organize and plan your content production process as well as keep everyone on the same page.
Put together a system that satisfies the needs of your business. You'll want to consider:
How many people will be involved in content creation (a small team of three, a larger team of 15?)
In general, the larger the team, the greater the need for a clear, organized system to which everyone has access.
Which platforms you use (your website, Facebook, LinkedIn)
Which platforms you should use will depend on the types of content that your audience likes to consume and where they spend a lot of time. For example, B2Bs spend a lot of time on LinkedIn, so you might consider posting on that platform.

How often you would like to publish on each platform (once a day, once a week, once a month)


How often you publish will depend on the platform. For example, it's considered in poor taste to post on Instagram more than once or twice a day.

When it comes to content on your website, it used to be that businesses had to produce reams of it to get searchers' and Google's attention. However, due to new tweaks in Google's algorithms, it's actually better from an SEO standpoint to create fewer, higher-quality pieces of content a year than to produce many lower-quality pieces.
Your content calendar should have:
Content deadlines
Promotion deadlines
Your list of content ideas to schedule later
Check out this content strategy guide to learn more about putting together a content calendar.
Step 7: create content
Now that you've decided which keywords are important to you and what topics interest your personas, it's time to create content. Your research into your persona's habits should have helped you identify what types of content they prefer (videos, whitepapers, blog posts or other forms).
If you didn't perform that type of research, blog posts, pillar pages, and premium content like webinars, white papers, and guides are all popular forms consumed by B2B readers.
Learn how to create premium content.
Your exact content strategy will depend on your firm's needs. However, here are a couple best practices for content creation.
Learn from your competitors: Conduct a competitor content audit and tools like SEMrush or Spyfu to identify content gaps (i.e. opportunities for you to write about topics your competitors haven't covered thoroughly).

You can also use Backlinko's Skyscraper and Skyscraper 2.0 techniques to analyze and learn from competitor content for a given topic.
Follow web content writing best practices.
If you've never written content before and don't know how to format it, HubSpot offers free templates for blog and social media posts as well as for planning content.
Content planning for consultants
When your writers are researching content, remember that your firm is full of primary sources, or "subject matter experts:" your consultants. They are each experts at your different services and may have backgrounds in other fields, which makes them invaluable sources of information for your content writing.
This gives your firm an advantage over all the hurried content writers on the internet doing all of their research from other web content.
Look back at the titles of the content you planned. Make a note of who is a subject matter expert for each topic, and make it easy for the person assigned to write that content to get in touch with them.
Step 8: promote your content
While great content that ranks high in search engines should attract visitors to your site, SEO is a long-term strategy, and it sometimes pays to promote new content on other channels like social media, email, or paid search. Here are a few easy ways to promote your content:
In an email list or newsletter
Via social media posts
Through an ads campaign on Facebook or LinkedIn
By adding a share bar to your blog
Learn more about content promotion.
Step 9: monitor your KPIs
During the goal planning stage, you established some SMART KPIs for each goal you set.
Now, it's time to monitor these KPIs to see how your content performs over time. If you're not sure how to use Google Analytics, check out their free beginner's course.
SEO is a long-term strategy, as opposed to a short-term strategy like social advertising. As a result, it may take months or years to see real results like this B2B consulting firm, enterprise B2B IT service provider, and niche B2B software company enjoyed.
However, SEO content can continue to attract leads to your website years after you first posted it. You can track your KPIs with a monthly or quarterly report.
Conclusion and next steps
B2B Consulting firms are positioned to capitalize on SEO content strategy by producing helpful content potential clients and employees are hungry for.

For the investment of time and a little of your consultant's expertise, consulting firms have the opportunity to generate thousands of dollars from new clients they may not have reached otherwise.
Read this case study to learn how we used SEO content to help a consulting firm increase sales revenue by 314% in six years.