What is this guide?
This is a comprehensive guide to creating a law firm marketing plan aimed at generating qualified leads.

Who is this guide for?
This guide is for law firms who are considering starting a marketing plan, or want to improve upon their current marketing efforts.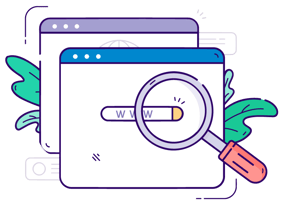 What will I learn and be able to do with this information?
You'll learn the six parts of a law firm marketing plan that has proven itself to be effective.
You'll also learn important things you can do right now to assess the quality of your marketing efforts and make improvements.
Introduction
Years of growing competition in the legal space have left firms locked in a constant battle for the attention of prospective clients.
As far back as 2012, 76% of consumers were using the internet to research attorneys, according to Lexus Nexus, making Google's search result pages the battleground on which this war for attention is increasingly fought.

Winning and losing law firms are often separated by a well-planned and executed digital marketing strategy—one that caters to Google's preferences in order to capture the attention of searchers while compelling those prospects to become leads and eventually clients.

Unlike many of the countless how-to's about law firm marketing online, this guide doesn't start with general ideas about good marketing. Instead, it deconstructs a strategy that's already proven itself effective for a real law firm.

Since 2012, our agency has helped a local criminal defense firm capture online real estate for valuable legal keywords—filling their pipeline with leads that turn into clients. Here are a few standout results:
4,970 new leads generated between March 2015 and
December 2022
99% increase in lead volume in year two relative to year one
243% increase in lead volume in year three relative to year one
401% increase in lead volume in year seven relative to year one
$18,700 monthly traffic value (the equivalent advertising cost of monthly traffic from all keywords)

(Read the full case study here.)
To make law firm marketing as clear and simple as possible, we've broken down our strategy into six parts described below.

1. Build a website designed for lead generation
Think of your law firm's website like a car entering a race. To have any chance of winning, it not only has to be functional but one of the fastest cars on the track. Even with the best fuel and most skilled driver, it won't go anywhere if it doesn't stand a chance next to the competition.

That, in a nutshell, is why attorneys can't afford to settle for a less-than-stellar website. Not only is it the public face of your firm—it's the platform for doing everything that comes later. It's the place you need to communicate to prospects that you're the legal professional they need right now, and it's the place where many people will actually facilitate that communication.

But just having a website isn't enough. It has to be fast, mobile-friendly, appealing, and easy to find and use—more so than your competitors' websites. If other attorneys are showing up to the racetrack with Mustangs, don't expect to win with a Taurus no matter how well it runs.

Let's run through all of these important website factors and what you can do right now to assess and improve them.
Your law firm's website has to be fast.
In general, visitors expect web pages to load quickly. The conventional wisdom is that your page should load in 3 seconds or less. If it takes longer than that, expect them to lose their patience and hit the back button. Chances are, your competitors' websites are ready and waiting to be there for them, so you can't afford to lose opportunities with a slow website.
SEMRush recommends a goal of 1-2 seconds, which would make your website faster than about 75% of the web according to one study they cite.
What to do: Head to Google's free speed tester, PageSpeed Insights, and plug your website in. If it's in the red, you have a major problem. Call your web team and ask why it's so slow, or call us and we'll tell you exactly what's slowing you down and what you need to do to fix it as soon as possible.
Your law firm's website has to be mobile-friendly.
Between Q3 2013–Q2 2021, 61% of visits to websites in the U.S. from search engine results (excluding ads) were from smartphones and tablets, according to Statista.

You've probably been on a website that looked terrible on your phone and very quickly decided it wasn't worth your time. Small text, buttons you can't press—everything's all messed up. When this happens, you click the back button and get out of there. Don't make your prospects do the same to you.
What to do: Head to Google's mobile-friendly testing tool and plug your website in. If it finds problems with mobile responsiveness (your website's ability to conform to a tablet or phone screen), you're almost certainly losing potential business and will continue to do so until it's fixed. Again, if that's the case, you should be hounding your web team to understand why your website isn't mobile-friendly in 2022. If their answer doesn't satisfy you (and it shouldn't), get in touch with us to talk about getting mobile-friendly as soon as possible.
Your law firm's website has to be appealing.
As we touched on earlier, your website—like any other public-facing part of your firm—has to be visually appealing to prospects if you expect them to stick around, let alone reach out to you. Aesthetics are subjective, but that doesn't mean there aren't clear principles that should inform your design.

Websites look very different than they did even five years ago, so be open to a redesign if your site is behind the times. The best designs align with their brand, create positive impressions for visitors, are clean, and complement the content they present. Subtle design details can be surprisingly important to people, especially younger folks.

What to do:

There's no handy tool that will tell you if your website's pretty or not, but you can ask five questions of your website to get a sense of whether or not it's time for design changes:

Is my law firm's website style consistent with my brand in terms of colors, feel, graphics, etc.?
Is the style consistent throughout the website?
Does the style suit my target audience? (i.e., does it present the elegance and authority of a reputable law firm?)
What feel does the website give? Organized or messy? Sparse or crowded? Playful or formal?—and how does that align with my goal and image as a law firm?

Are photos or decorative touches helping my message or getting in the way of it?



Get rid of any stylistic choices that contradict your brand, personality, or message. Make sure your logo and website design align with one another. Consider your target audience and let that inform your style.

If it's clear you need to make improvements, talk to your web team about design tweaks or talk to us about redesigning your website to make a powerful, lasting impression on prospects. Here's an example

of a law firm website we designed and developed.
Your website has to be easy to find and use.
Most law firms are two things: local (not national) and need-based (clients come to you). With this in mind, we can sum up the goal of your firm's website:

‍Attracting local prospects and giving them the information they need in order to convert them into leads.

‍This shifts us into the second major component of a digital marketing strategy: content.

Content is the copy, video, images, and everything else that fills your website. If your website is the car, content is the fuel you put in it. To be the firm that appears first in search engine results, you need to have pages filled with the specific types of information they're searching for and ensure those pages are optimized so Google serves them up toward the top of the list. This is called Search Engine Optimization (SEO), and it's absolutely critical to making your firm visible and attractive online.
What to do: Plan and implement a content marketing and local SEO program. Read on to learn how to do that.

2. Invest in locally-targeted law firm content marketing and SEO
Again, search engine optimization, or SEO, is the practice of making your website appear higher in search engines like Google when people search for your services. More and more when people need any service, they pull out their smartphone or tablet and either type it into Google search or use voice commands to open local listings.

Your law firm needs to be on page one of Google, or it may as well not be listed at all. More than 75% of all clicks go to one of the first three organic (not paid ads) search results, according to a Backlinko study.

Enter content marketing—the practice of expanding your firm's online presence through planning, producing, and publishing content to ensure your firm is there with the information prospective clients go looking for.

Before we start preaching about how to do content marketing though, it's important to demonstrate actual results, first.

The graph below shows organic website visits for our client, Stangl Law Offices S.C., from the 2nd quarter of 2015 through the 4th quarter of 2020. We started putting a content marketing plan in place in July of 2015.

Today, the firm ranks in search results for some of Madison's most important legal keywords—those that would cost thousands of dollars a month to target with online advertising.

The top-performing pages garner hundreds of views each month. To see how this works for yourself, simply open a private window in your browser, head to Google, and search for "battery charges Wisconsin." You'll likely see our client's pages at or near the top spot.
Website traffic (by source)

Organic keywords (ranking in the top 10)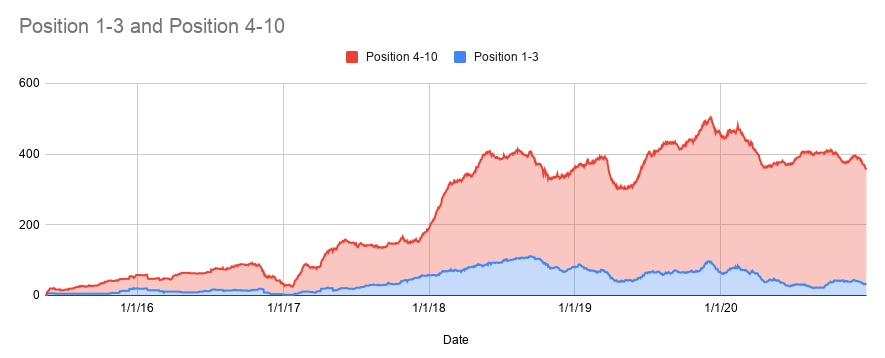 Compared to before we helped with SEO, Stangl Law saw:
369% change in total website traffic over the first 12 months

314% change in organic traffic over the first 12 months
Read Stangl Law's case study here.



While making your website fast and mobile-friendly are two huge SEO factors we've already covered, the next step is starting up a content marketing engine and optimizing it for better results as time goes on.
Content marketing and SEO for lawyers
As we summarized earlier, content marketing is the practice of attracting prospects and converting them into leads by publishing content that answers their questions and offers insight into legal issues and possible paths forward.

This demonstrates your knowledge and expertise as a legal professional, which in turn compels the prospect to reach out to you.

When someone is arrested or finds themselves with another legal need, for example, the first place they will turn for information is Google. Given this context, content marketing is critical for three main reasons:
High-quality, engaging content provides a service to these prospects in the form of answers.
High-quality, engaging content raises the profile and authority of your firm, establishing you as a local leader.
High-quality, engaging content directs people to your website, which is how you generate leads.
Another example: One of the biggest hurdles for people hiring a lawyer is understanding the confusing legalese. Content marketing offers an opportunity to translate complex legal concepts into plain language your clients understand.

One more example is publishing content about possible defenses for certain charges or how certain types of cases can be built. For both of these ideas, you can break down and generalize cases you've handled in the past, giving people a sense of how you might be able to help them if they hire you.
There are three main steps to creating a law firm content strategy:
Create a client buyer persona. Buyer personas are descriptions of your average client that can help you understand their questions and concerns and write in a language they'll understand.



What to do:

Conduct surveys and ask for feedback with each client. Gather and use this information to create relevant content for your marketing strategy.
Create a plan for writing and publishing prospect-focused content regularly. Many firms who claim to "do" content marketing publish sporadically—perhaps a handful of times a year when they find the time—not nearly enough to expect any significant traffic from this activity.
Very often, the substance of these few posts isn't informed by any kind of strategy that reflects information prospects are actually looking for. Instead, the blog becomes a place for the attorney to muse on subjects of personal interest. They're often written for an audience of fellow attorneys rather than a prospect seeking help. While this approach may give off some tiny, ambient sense of expertise, there's far more value in writing to your prospects rather than above them. Firms that do this well focus on building immediate trust by answering frequently asked questions and delivering practical advice in a way that encourages prospects to reach out for expert help as the next logical step.

In addition to writing and publishing articles, you also need to plan how you'll distribute and promote your work. Distribution channels can include email, social media channels, and anywhere else your audience finds this type of information.
Execute your content marketing plan (and avoid common mistakes). If you decide to go it alone, executing the plan is largely a matter of sticking to it. This is one of the most common reasons law firms (and other organizations for that matter) fail to see results from digital marketing in general. Writing an article—or multiple articles—every month can be an easy thing to put on the back burner. This is the simplest way to derail your efforts. Besides this, be aware of three other traps not to fall into:

Putting quantity over quality. With a heavy publishing schedule, it's easy to let quality lapse in the interest of time. But in many cases, it's better to publish nothing than something of poor quality. Here's why: The time users spend on a page is one of many signals Google uses to judge whether content is helpful or not. If Google notices people find your content, only to quickly hit the back button when they discover it doesn't actually answer their question, Google may interpret that as poor quality content and bury your website far away from the first page of results. If time is short, spend it crafting high-quality content, even if that means publishing less.
Being overly promotional. Another common mistake is to think of content marketing as another opportunity to talk about what you do and how great you are. While the ultimate goal is converting a lead, don't push your services too soon or pull a bait-and-switch by leading prospects onto your site only to turn around and beat your chest without providing anything of value. Good quality content is helpful first and foremost.
Over-generalizing. This goes for both the audience you write for and the topics you write about. Before creating anything, make sure you've identified a specific target audience with a well-developed buyer persona and ensure the content is tailored to them. Similarly, if you're only targeting local prospects, make sure to write articles targeted to your state or region.
Content marketing and SEO to-do's for lawyers
Create separate web pages for each area of law you practice (such as criminal defense, DUI/OWI, appeals, and personal injury) filled with detailed information about your services, experience, successes, testimonials, and more.
Create separate landing pages for each practice area that underscore the importance of contacting an attorney for particular types of charges or legal situations and providing an online contact form and/or phone number.
Optimize your landing pages for specific local keywords such as "Madison criminal defense lawyer" or "DUI defense attorney Madison."
Optimize all website pages with clear, consistent, keyword-focused titles, meta descriptions, heading tags, etc.
Claim any unclaimed local business or national attorney listing directories (such as Avvo and Google My Business) and complete profiles with accurate, consistent information. (This is also called "off-site SEO," which we will discuss more in-depth below.)
Create and execute a content marketing strategy with keyword-focused blog posts, social media posts, and relevant advertising. (We'll discuss this more below, too.)

3. Optimize beyond your website
Law firm SEO isn't confined to your website. You need to manage all of your online real estate—including the online space you own (such as your website) as well as the spaces you rent (such as Google My Business, Avvo, Nolo, and FindLaw).

Rented online spaces are controlled by third parties, but these services often allow (and encourage) professionals to claim their accounts and ensure information is accurate and up-to-date. This is a tedious task, but it's important for local SEO.

If you've ever searched for a local business, you may be familiar with Google's "local pack," a box with a map and a list of local businesses that fit your search query. Google uses many factors to determine who gets the coveted top spots within this box—one of them being these rented online spaces such as directories and lawyer listing services.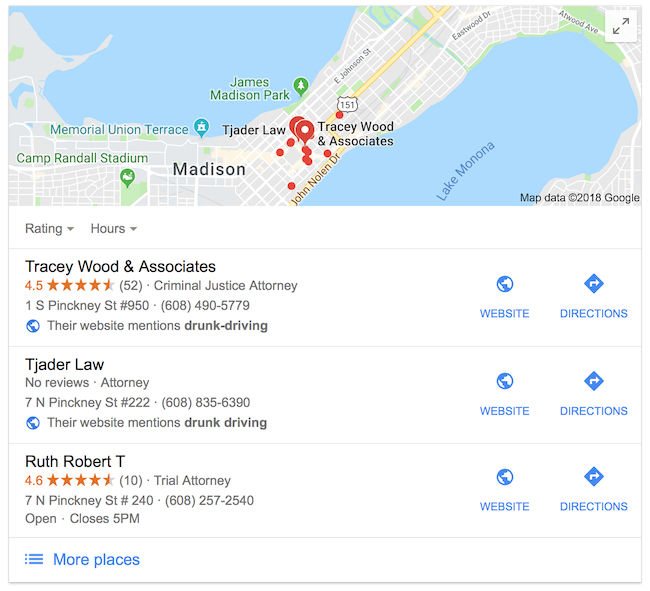 While there are many things lawyers need to optimize in order to rank well in local packs, claiming, filling out, and managing rented online space is a critical first step.

What to do:

If you haven't already, claim your Google My Business account and fill it out completely with accurate, detailed information about your firm. Next, use the following links to do the same with other attorney directory services.
Citation quantity matters, too. Make sure there's a plan in place to find and claim all available citation sources. Don't worry, there's a handy tool for this. Sign up for a free trial of Whitespark's citation finder to get a full list of the citations you need to claim and manage.

4. Get active on social media
Yes, your firm needs a Facebook page and you need to post to it. In addition to offering another way for people to find and contact you, social media is a unique opportunity to humanize your firm and the attorneys who comprise it.
It's a chance to stand out among the competition by shedding the stiff, shrewd stereotype and demonstrating a human side to your personality—possibly helping some prospective clients overcome the hesitation of contacting a lawyer in the first place.
What to do: If you haven't already, create or enhance your firm's Facebook profile and consider publishing to it weekly. Do you work with local charities? Post about it. Do you volunteer? Post about it. Does your firm do anything else for your community? Post about it.

Facebook is also a good place to share client testimonials, reviews, tips, case victories, and other helpful tidbits that are relevant to your audience.



5. Manage your firm's online reputation and generate positive reviews
Online reviews are a massive factor for local SEO and your reputation in general. These days, people look at reviews before buying just about anything as demonstrated by the statistics below.
"87% of consumers read online reviews for local businesses in 2020" (Brightlocal).
"Only 48% of consumers would consider using a business with fewer than 4 stars" (Brightlocal).
94% of consumers said that "positive reviews make me more likely to use a business" (Brightlocal).
92% of consumers said that "negative reviews make me less likely to use a business" (Brightlocal).

(Get more numbers here.)
What to do: Take stock of the number and quality of the online reviews your firm has. If you have negative reviews, respond to them honestly and appropriately. If you have few or no reviews, email recent clients with a link to leave a review or simply ask those you're currently engaging with if they'd be willing to share their experiences. Also, get a process in place to ensure a steady stream of new online reviews. The same 2020 research from Brightlocal cited above suggests that 86% of people only consider reviews from the last three months to be relevant. Read more about responding to and ethically asking for reviews.

6. Track and report on your marketing efforts for future improvement
It's very easy to waste money on ineffective marketing. That's why it's critical to measure and track everything you do.

Tools like Google Analytics can be intimidating, but measuring results regularly is vital to maximizing marketing ROI. To make this less daunting, try whittling down the data points you're going to pay attention to from the outset and consider what you can track without the need for a complex analytics tool.

Keep track of this data on a weekly or monthly basis. If everything is going right, you should see small, steady upward trends in the important Key Performance Indicators (KPIs):
Total new clients generated via the web
Leads
Revenue
Return on marketing investment (ROMI)
Lead-to-sale conversion rate
Booking rate (from calls)
Cost per lead (CPL)



What to do:

Establish a means of tracking the KPIs listed above and set reminders to calculate these metrics weekly or monthly.

Next Steps...
With so much competition among law firms, investing in a well-planned content marketing strategy should be a no-brainer. This is especially true considering that your competition is most likely already using these strategies to get a leg up on you.

As prospects continue to use Google and other online resources to find legal help, not having a comprehensive content marketing strategy hands the advantage to your competitors who do.

However, if a law firm is good at what they do, they should be too busy to do any of this themselves. Simply learning about all the moving parts of digital marketing can be incredibly time and energy-intensive – let alone putting those pieces in place and doing an exceptional job at it.

If you're interested in generating more leads with the help of an experienced digital marketing agency, contact us to schedule a call as soon as possible. We're happy to assess your current website and marketing efforts, listen to your lead generation and business goals, and offer recommendations for how to achieve them.
Learn how we used these strategies to help a law firm double local lead volume: