SEO and franchises
In the past few decades, the internet and growing popularity of smartphones has changed the way people shop at local businesses.

No longer chained to a desktop, Americans are free to research local businesses and make purchasing decisions on the go.

Consider these statistics:
96% of adults own a smartphone.
28% of local searches lead to a purchase.‍
76% of local searches result in a visit to a business within a day.
With more people using the internet to find local businesses, your franchise's digital storefronts are becoming almost as important as your physical ones.
This means making your franchise and each of its locations as attractive and easy to find as possible could help you get new customers.
And local SEO may be your best tool for achieving this goal.
What is local SEO?
Search engine optimization (SEO) is a set of strategies used to make a business more visible on search engine result pages. The main goal of SEO specialists is to get onto the first page of results, because only .63% of searchers click on the second page.
They do this by employing a wide range of web writing, design, development, and reputation management strategies (to scratch the surface) that make web pages as appealing as possible to searchers and search engine algorithms.
SEO specialists focus mainly on Google, since its engine dominates the search market. However, some strategies are tailored to other engines, like Bing or Yahoo.
Local SEO refers to specific search engine optimization strategies that local businesses use to attract customers who live in their geographic area.
Odds are, your competitors are aware of SEO too, and will do whatever they can to make it onto the first page of Google search results ahead of you. In order to compete, franchises must harness the power of local SEO for each of their locations.
Here's how you can get started.
The challenges of local search for franchises
Franchises may face logistical challenges because it's not always clear who should be managing each location's web presence—franchisors or franchisees.
Plus, franchisee websites and corporate franchise sites have different audiences.
While the primary goal of a corporate franchise website is to attract potential franchisees, local franchisee websites aim to attract customers to their location.
Issues may come up when a certain location's website doesn't match the corporate branding, or when franchisees don't understand how local SEO works but must manage their own site and listings.
In this post, we'll walk you through steps you can take to optimize your franchise's local SEO and attract more customers to your franchise locations.
Optimizing your local franchise SEO
Step 1: Get your corporate marketing team and franchisees on the same page.
Ensure both your corporate marketing team and your individual franchisees understand the basics of local SEO. Share educational resources with your corporate marketing team and host a webinar for franchisees to give them the chance to ask you questions.
This can help everyone involved get on the same page. It can also help franchisees who are not interested in SEO understand its value to their business.
This is particularly important if they will be taking time out of their day to assist in local SEO efforts for their location.
Step 2: Take corporate control over franchisee websites.
To ensure your franchisees follow your corporate brand guide and messaging, take control of any existing franchise location websites.
It takes less than a second for a visitor to judge your website based on its appearance.
Professional website design is important for any business, because it helps you look more professional.
Consistent branding is especially important for franchises, because customers expect a uniform experience no matter which location they visit.
If franchisees have to create or maintain a website without guidance, they may not follow your brand guide at their location.
As a result, customers may not be presented with the colors, fonts, and brand voice they have come to associate with your franchise, which can distort your brand identity.
Plus, even if your services are top-of-the-line, if your website looks unsafe or dated, it might turn off customers.
This often happens because franchisees are busy with other aspects of the business.
Taking corporate control removes the burden of learning these skills from franchisees and ensures not only brand consistency but website(s) optimized for local SEO.
If your franchise doesn't have time to learn about local SEO either, then it's easy enough to find a partner who can do it for you.
After taking corporate control, you'll want to take stock of your franchisee websites.
Audit each website to see how well it is performing. You can do this manually by analyzing performance data in tools like Google Search Console or Google Analytics.
Otherwise, there are tools that can help you quickly diagnose site issues, like Screaming Frog's SEO spider, and Hubspot's Website Grader.
If the website receives a lot of local search traffic and is ranking well in Google search results already, then you might consider letting it be.
However, if there is anything that can be improved to optimize the site and keep it on brand, then you should carry on to step 3.
Step 3: Give each franchise location multiple pages on the corporate website.
Franchises may display information about their locations in a number of different ways, such as:
Listing all locations on a single page of their corporate website
This is not great for SEO because you miss the opportunity to generate traffic with separate pages tailored to each region you serve.

However, if all the locations are within a specific region, then it could be a convenient way for visitors to find their nearest location.

If this page provides links to location-specific pages, then you can provide more useful information and improve your local SEO.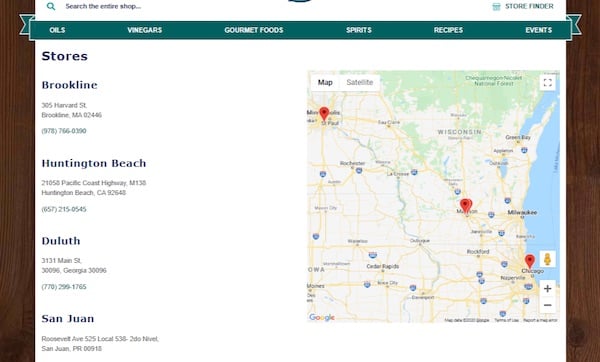 Source: Vom Fass
Giving each location its own web page on the corporate website
This is better than the previous method, but still not the best for SEO. Multiple pages with optimized content tailored to that location have a better chance of ranking well than a single page.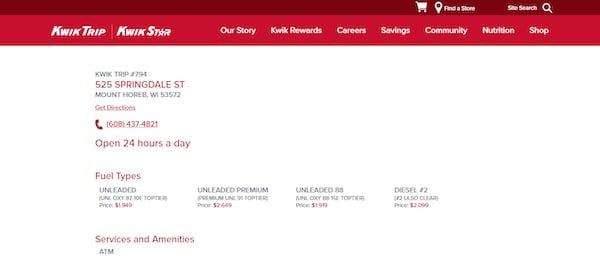 A location on their corporate website; Source: Kwik Trip
Allowing each franchisee to have their own website
This may not be the best choice for every franchise.

Sometimes franchisees do not follow brand guidelines, and it's possible franchise websites will compete with the corporate website for search rankings, undermining SEO efforts.

On the other hand, franchisee websites help a franchise target local keywords for each location, potentially helping your brand to rank higher in searches for local businesses.

It also reduces the digital marketing burden on the corporate team and allows franchisees to hire outside help if they are less familiar with websites.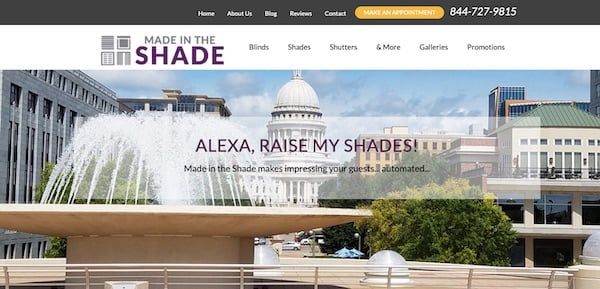 A separate franchisee website; Source: Made in the Shade
Creating multiple web pages within the franchise's website
This method may offer the biggest SEO payoff for the least tradeoff. It allows locations to customize their content for each city without confusing Google. It also allows franchisors to maintain brand guidelines.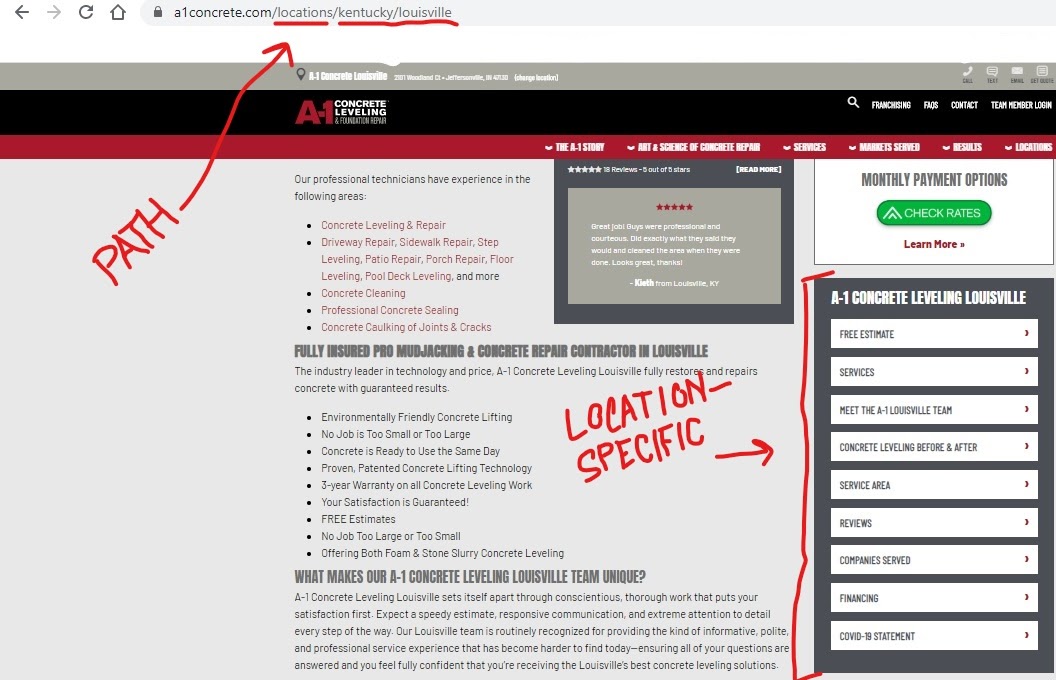 A franchise location with pages under the franchisor's domain; Source: A-1 Concrete
If possible, franchises should house their location pages within the franchisor's corporate website. There's a lot of jargon surrounding websites, so let's break down exactly what this looks like in practice for those who aren't familiar.
A URL is a web page's address on the internet. It contains all sorts of information about the location of your page, including:
The name of your website, or "domain," (a1concrete)
The type of website it is, or "top-level domain" (.com, which indicates it's a commercial site)
Which subsection of the site contains this page, or "path" (/locations/kentucky/louisville)
Let's say you're visiting this website. You have the street address (a1concrete.com), but you don't have the room number (locations/kentucky/louisville).
You need to find the correct path to the room (page), so you walk into the business and start looking around.
You want to visit a particular location, so you go to the "locations" floor.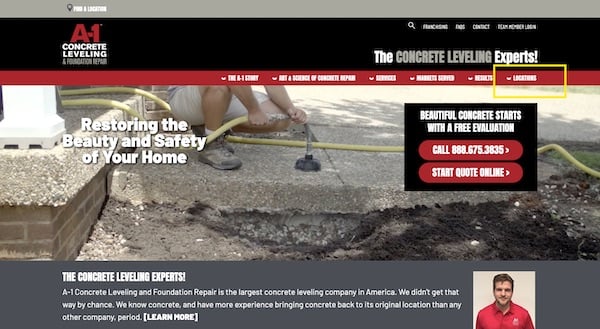 Source: A-1 Concrete
Now that you've reached the locations floor, you look for "Kentucky," since that is the state where Louisville is located.
You find the Kentucky wing.
Then, you see a large room labelled "Louisville," and you step inside.

Source: A-1 Concrete
You have successfully followed this URL to the Louisville page: a1concrete.com/locations/kentucky/louisville.
By organizing your site this way, you can guide site visitors to each location (like Louisville) logically, and nest relevant pages under each location.
In the above example, the Louisville location of A-1 Concrete Leveling has pages for services it provides, team members for that particular location, location-specific reviews, and more.
If the Louisville page is like an auditorium, each of these pages is like a small office that branches off of it.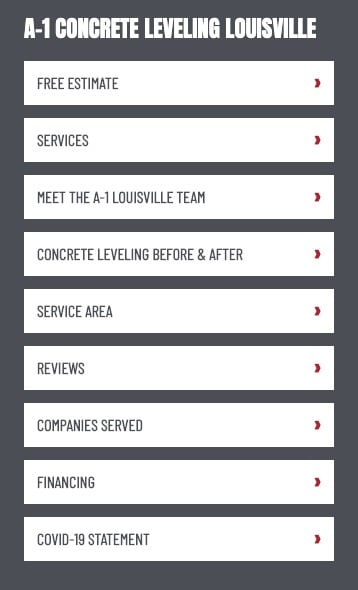 Source: A-1 Concrete
This is not exactly a microsite, but it feels like one.
"Microsite" is another term that gets thrown around a lot, but it usually refers to either 1) a website within your website, or 2) a subdomain, which is connected but separate from your main website and has its own address.
Franchises commonly use subdomains to create sites for recruiting franchisees. However, we think it's best not to use subdomains for franchise locations.
Instead, use subfolders (a type of site organization) under the corporate website's domain, like in the A-1 Concrete example.
Subfolders often require less time and work than subdomains and do not run the risk of confusing Google.
Learn more about what this looks like in practice by reading our A-1 Concrete Leveling case study.
Franchise location pages and franchisee websites should have these elements
Pages optimized for the most commonly-searched local keywords
Identify which local keywords your customers use to find each web page, and include them in your title tags, metadata, and the text on your page.
To learn more about keyword research, check out Moz's resource.
Your location's hours of operation
It's important to list each location's open hours so visitors can determine when you're open or closed.


Source: Kwik Trip
An interactive map that displays your location
Most franchise websites have a map embedded into one of their pages (often an individual location page or location finder page) that allows visitors to zoom in and out and find nearby stores, which are pinned on the map.

Often, businesses embed Google Maps, which allows users to look up directions, as in the example below. Here are Google's instructions for embedding Google Maps.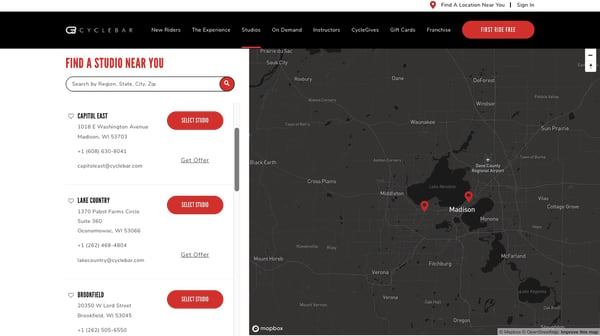 Source: Cyclebar
Original photos and/or videos from this location
Real, location-specific photos help reassure visitors that your business is legitimate by proving that the location really exists and that other customers have gone there and enjoyed their experience.

Can you think of a time when you've viewed a sketchy website or business listing? Odds are, any photos you may have seen were stock photos or extremely generic shots that could have been taken anywhere.
Real testimonials and feedback from customers and your community
Any business website worth its salt has social proof on their website such as testimonials, star ratings, accreditations, or awards that show potential customers that past customers and other community members approve of their business.

In many cases, the logo of the client, shield of the accrediting organization, source of the star rating, or name of the publication that issued the award will be listed, so a skeptical visitor could fact-check it.
Element that displays your business' name, address, and phone number at the bottom of every page of your site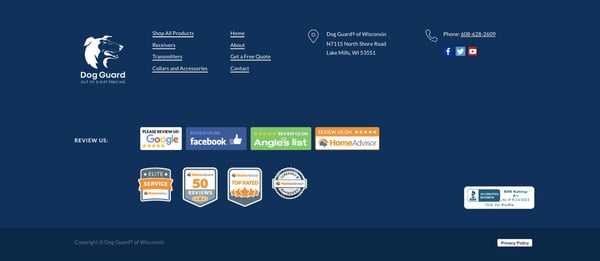 Source: Dog Guard of WI
Structured data
This is "organized data that conforms to a certain format" (Ahrefs). It is a tool, almost like a language, that is used to structure the code of web pages in order to help Google identify types of pages and key, on-page information that will be valuable to searchers. If you want to learn more about structured data, check out this resource from Moz.
Well-written content
Well-written web content follows web writing best practices. Write concisely. Use headlines, subheadlines, and lists to organize your content. Use images to illustrate your points. Copy-edit before publishing.
Some franchises even try their hand at a content strategy: using case studies, blog posts, videos, and other media to attract leads to their site and engage them on social media.
Clear, easy-to-navigate design
Make sure that your website is designed according to web design best practices. The goal is for it to look and work great when viewed on any device. Learn more about franchise website design →
Links to social media profiles and review platforms

Source: A1 Concrete
Step 4: Take corporate control over your franchise location citations
Take corporate control over your franchise's citations on review sites, social media, and online directories.
Citations, (listings or mentions of your business's contact information online) are still useful for local SEO because they offer proof that your business is real and where it's physically located.
They're even more important for providing users with accurate information and persuading them to convert.
Perform an audit to determine:
Where your franchise locations are listed
Whether those listings have been claimed
What major platforms your business is NOT on
The quality of those listings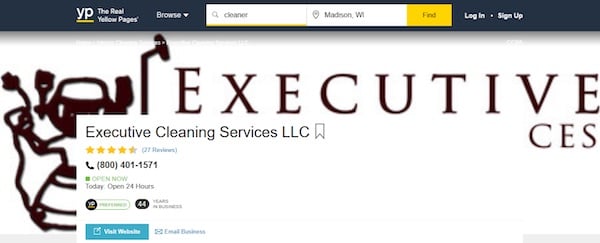 A citation in an online business directory; Source: Yellowpages
Citations can help you gain visibility on websites that rank well in search, such as popular directory sites like Yellowpages or places where your customers like to spend time, like Facebook.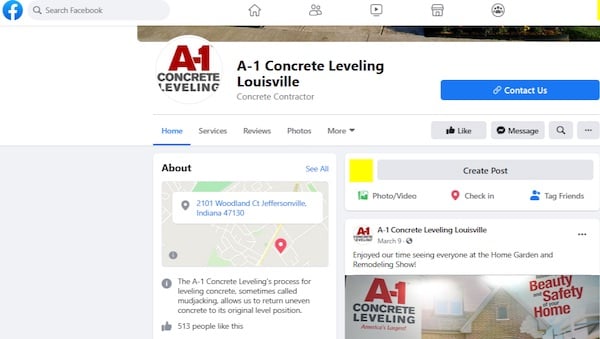 A franchise location's Facebook listing; Source: Facebook
Citations range from listings on review platforms, directories, and social media sites to references to your business information in blog posts or articles like the one below.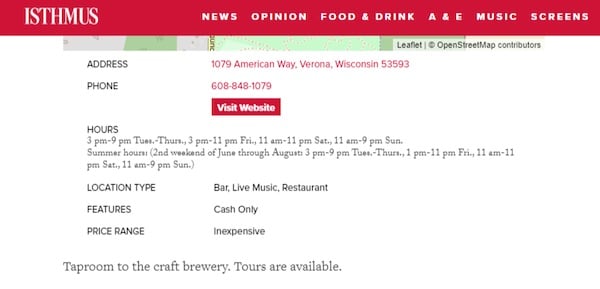 A citation in an online article; Source: Isthmus
Unless your business is brand new, it may already be listed on platforms like Yelp or Google Business Profile (formerly known as Google Business Profile). You just need to claim them.
Claiming listings allows you to change and manage them, as well as get rid of duplicate listings.
You can find or create listings manually by googling and checking different sites. However, this can be a long and tedious process since there are many platforms, from industry-specific ones to sites like Google Business Profile that serve multiple markets.
Some review and directory sites for local businesses include:
For more local citation sites, check out Brightlocal's list.

Alternatively, you or a partner can use software and services like Moz Local and Whitespark, to comb through the web for citations you have and find opportunities for new ones.
Next, you need to ensure the information on each of your listings is correct, complete, and up-to-date.‍

An unclaimed listing; Source: Yelp
Every listing should at least list the correct business name, address, and phone number for that location. This is called a NAP citation. Google rewards your franchise for:
Number of citations (The more the better. Focus on popular review sites, industry-specific sites, and places where your customers are likely to spend time.)
‍Accuracy (Everything is correct and up-to-date.)
Consistency (You supply the same information on different websites.)‍
Completeness (You provide as much useful information as possible, such as your location's NAP, geolocation, hours of operation, photos from that location, links to social media, and a link to your website.)
Optimizing your citations ensures that customers at all locations get a good user experience and the information they need to make a purchasing decision.
Plus, by consistently providing your customers with a good user experience, you may be able to improve your search result rankings.
Step 5: Optimize Your Google Business Profile
Make sure your franchise has a complete Google Business Profile (GBP). According to the Whitespark local search survey, GBP-related factors made up 32% of ranking value for Google Maps results like the one below, and 9% of ranking value for regular local search results.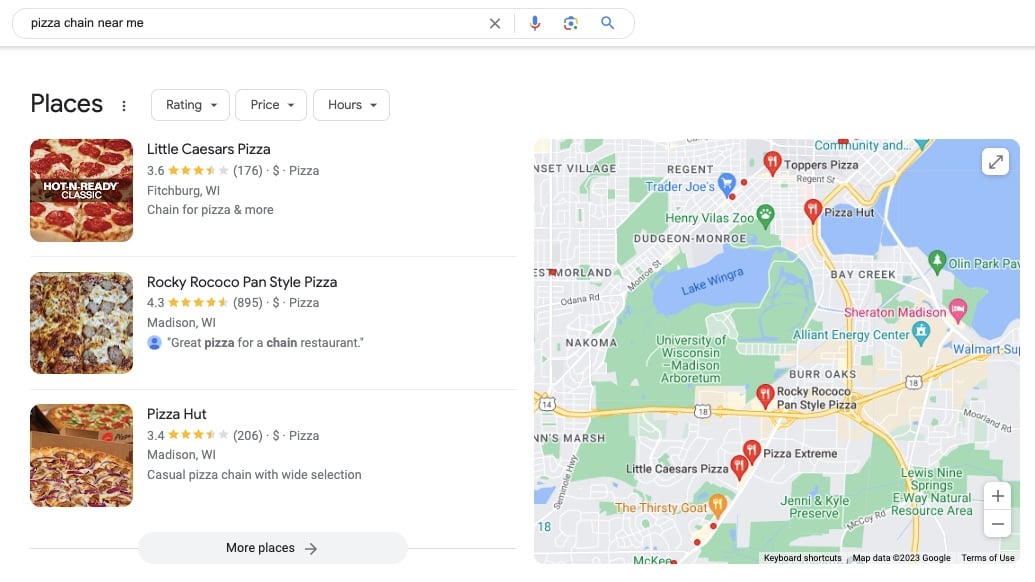 "local pack" of nearby businesses for search "pizza chain near me"; Source: Google
GBP also has features for businesses with multiple locations you can take advantage of. Create a distinct listing for each location of your franchise, and then use a location group to allow multiple people to manage them if you like.

If your franchise has multiple service areas without brick and mortar stores, you can create one GBP listing for your franchise and indicate up to 20 service areas.
In general, you can apply the same general advice we provided for other citations above, but here are the GBP factors local search experts pay particular attention to:
Keywords in GBP Landing Page Title
In your profile, you have the opportunity to link to a page. People usually link to their website's homepage.
Whatever page you link, ensure the title includes the most important keyword for your business, like your primary service or product offering.
Keywords in GBP Landing Page Headings (H2, etc)
In addition to the title of the landing page, relevant search terms in subheadings also sends powerful signals to search engines about your page.
Primary GBP Category
When setting up your page, you'll be prompted to pick the main category your business falls under (e.g. "consultant").
Picking the most advantageous and accurate category is critical, because it affects which searches you'll appear for. Learn more about picking a category →
Keywords in GBP Business Title
This refers to whether the business title (name) field includes search terms, like "cruise planner." You must include your official business name, but can also include additional details if you like.
For example, in the case of the Waukesha location of this travel franchise, the keyword is included right in the name of the business itself, but the name of the agent is also included in the business title.

Source: Cruise Planners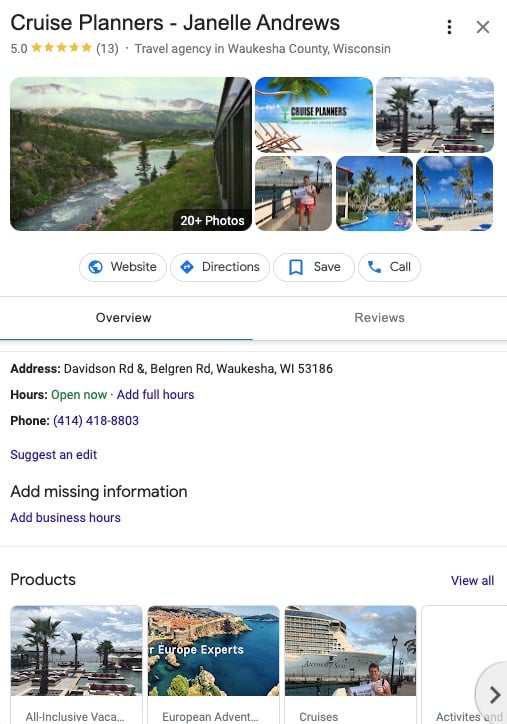 Internal Links To GBP Landing Page from Other Pages of Website
This refers to what pages link to the page your Google Business Profile features in the "website" field. Specifically, links from the body of your site pages (not menus) to your GBP landing page.
Whitespark recommends you make sure to link from relevant pages of your site to your landing page for SEO. This is especially important if this is for a comparatively minor page, like that of a franchise location.
Step 6: Set up a customer review management system
Every franchise location should have a system for review management in place. Reviews are another factor for local SEO especially Google Maps related results. They can also have a big impact on lead generation.
Potential customers use reviews to research their buying decisions, and Google's algorithms use factors such as your review quantity, positiveness, and recentness to help determine your search ranking.
A survey done by Brightlocal found that 82% of participants read local business's reviews and 97% read business's responses to those reviews.
As a result, it's important to monitor and reply to reviews, especially if they are negative. One way to do this is to use software which will alert you when you get a new review.
Some review programs for local businesses include:
Since franchisees know the most about their locations, employees, and customers, they should reply to reviews for their own location.
However, it's a good idea to create a set of corporate guidelines for replying to reviews and train franchisees to adhere to them. This ensures that everyone knows what to do and responds in a consistent way that reflects your brand.
If you don't already have guidelines for replying to reviews, here are some general rules of thumb:
Respond promptly
Be polite
Thank them
Express regret and apologize for negative experiences
Offer a link to a solution, or an email or phone number the reviewer can call to resolve their issue
Reply to negative reviews with a cool head
Pass on compliments for particular employees
If they mention a particular thing they love about your business, thank them and mention something about it in your reply
Address them by name to make it feel more personal, and sign your own name
If a review seems to violate a platform's guidelines, report it
Tell happy customers that you look forward to seeing them again
For more about reviews, read "Asking for Local Business Reviews in 2023: The Owner's Guide."
Step 7: Earn local backlinks from franchise sites
Another major SEO ranking factor is the number and quality of backlinks your site earns. These are links from other people's sites to yours. On the web, links are channels for social credit and trust, similar to a "like" or "heart" on social media.
A backlink from a reputable site tells Google that the reputable site trusts, or "likes" your website. Lots of links from different reputable sites mean many people like and trust your site.
Google's algorithms reason that if other reputable sites trust yours, then your site must be reputable, too. This can help your site rank higher in search results.
There are many different strategies for earning backlinks, including:
Claiming your Google Business Profile listing, and linking to it from your site, as well as linking to your site from your profile
Sponsoring local sports teams, clubs, or charities: You might get a backlink from a sponsor page.
Getting into the local news: If your franchise location participates in local events, you may be able to get into the local news and score a link from an online article. You can also write press releases when your franchise does something newsworthy.
Finding mentions of your franchise or product in online articles and asking editors if they would add a link to your website.
Listing your website on online directories, both general (think yellow pages) and ones that are specific to your city, region, or industry. One easy way to search for these is to type "[name of your city or region] + business listings" into the search bar.
Hosting events that local event calendars will want to link to, or creating your own event calendar that your community might find useful and therefore link to.
Step 8: Double-check your SEO basics
According to Whitespark's survey, the search engine optimization that happens right on your site is actually the second most important factor in ranking for Google Maps related results and the most important factor in your ability to appear in regular local search results.
These tactics are called "on-page SEO," as opposed to optimization activities that happen off your site like fixing up your Google Business Profile, which are called "off-page SEO."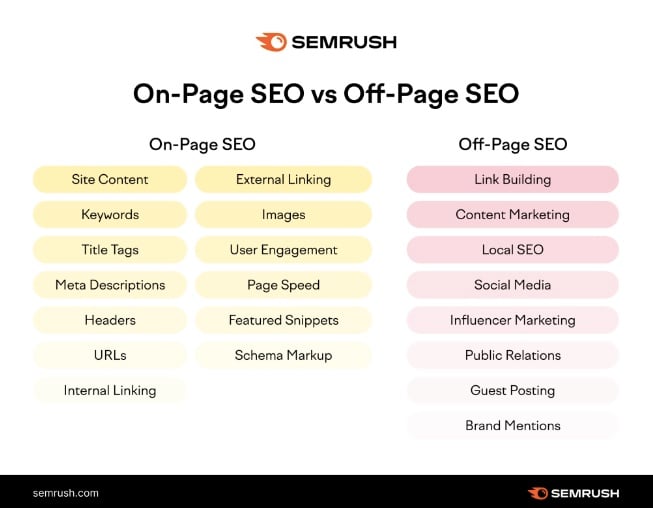 So what sorts of tactics does on-page SEO include? Short answer: lots, but here are a few essentials:
Strategically including relevant search terms on your pages
Creating satisfying site content
Organizing pages logically with headings and subheadings
Linking site pages together logically
Writing great information about your pages for search results and page tabs (metadata)
Making sure there's nothing wrong under the hood of the site (quality web development)
Making sure your pages load in three seconds or less
To learn more, check out our complete guide to SEO for franchises →
Step 9: Ensure your site looks great on any device
For every website, but especially those catering to locals, mobile-friendly design is critical for a couple reasons.
First, because the majority of the time, Google now judges the content and quality of your site based on its mobile version. This means a poor mobile experience could directly effect your ability to get found in search results.
Second, because 63% of searches for local businesses (including franchise locations) are on mobile devices, making it more likely your site will be viewed on a mobile device.
Conclusion
It's easy to get wrapped up in the technical details of local SEO, but these best practices can help you take control of your local franchise's search presence and hopefully earn you a higher rank from Google, attracting more customers as a result.
Need help? Grab our free guide to search engine optimization for franchises.