When you search for a local business like yours on Google, what's the first thing that comes up?


Probably some ads: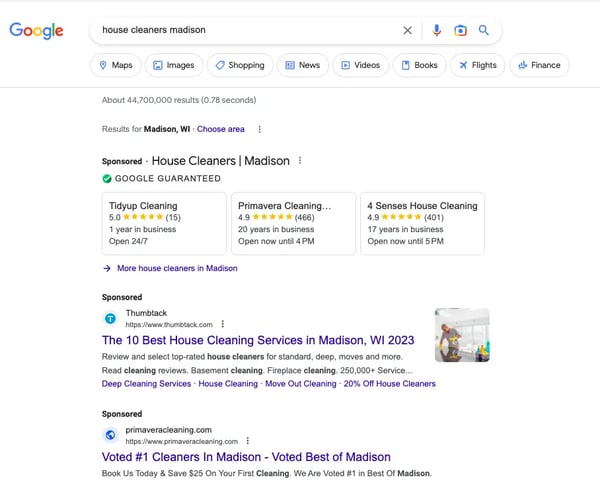 Source: Google
Then something like this, a local pack of business information, pulled from Google Business Profile (formerly known as Google My Business) listings: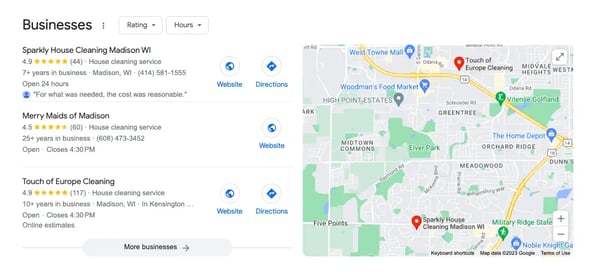 Local pack result; Google
According to a 2023 local search ranking factor survey by Whitespark, Google Business Profile accounted for 32% of factors affecting business' ability to appear high in results like the ones you see above (specifically in local pack results).

In other words, Google Business Profile affects your ability to get the attention of potential customers actively looking for a business like yours.

As a result, it's no wonder that SEO experts routinely tell local businesses, "Claim and optimize your Google Business Profile."

Great, but what if you find that the realities of your business don't fit neatly into one box or another, like something as simple as your business address?

In this post, we'll help you troubleshoot some common address-related issues in Google Business Profile so you can get back to serving customers faster.
1. Google Business Profile (Google My Business) account without an address
If your business does not "make in-person contact with customers during its stated hours" through either 1) a physical address, or 2) a service area around your physical location that allows you to "travel to visit customers where they are," you cannot have a Google Business Profile, according to Google's guidelines.

exceptions to this rule are:
ATMs
Video-rental kiosks
Express mail drop boxes
Seasonal businesses (although they must provide signage year-round)
Virtual kitchens (as service-area businesses)

Ineligible business types include:
Online-only businesses
Businesses that offer services, classes or meetings, from a location they don't own or have the authority to represent
Rental or for sale properties, (although sales or leasing offices may be eligible).
Lead generation agents or companies
2. Can I use a P.O. box for Google Business Profile (Google My Business?)
You may be thinking, "Okay, but I have a P.O. box address I can use." Unfortunately, according to Google's guidelines, "P. O. boxes or mailboxes located at remote locations are not acceptable" for business addresses.

According to Google's guidelines, other ineligible business addresses include those of:
Virtual offices
Co-working spaces (unless that office maintains clear signage, receives customers at the location during business hours, and is staffed during business hours by your business staff.)
3. How to hide Your address on Google Business Profile (Google My Business)
According to Google, if your business does have a physical location, (such as an office) but you only travel to customers, you have a service-area business. These businesses can set service areas but should not display their business addresses.

If you serve customers at your business location and travel to customers, that makes you a hybrid business, which can display both a public business address for customers to visit and a service area.

If you are in the process of setting up your profile, you can hide your address by checking "no" when asked whether you serve customers at your location.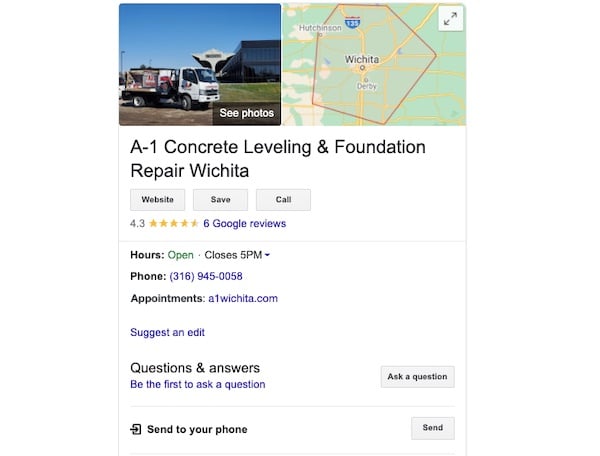 A service area business profile; Source: Google

Next, enter your service area(s). These should be identified by city, zip code, or other geographic area. For more details, check out this help article.
4. How to delete an address in Google Business Profile (Google My Business)
Maybe you already claimed your listing and entered a business location but want to start over as a service area business. To do this, Google recommends you take the following steps:
Desktop
Go to Google Business Profile Manager and select which location you want to edit.

Go to "Info."

Click on the address field.

Hit "Clear address."
Hit "Apply." Now, only your service area will be displayed, or, if you haven't entered one, Google will generate one for you.
A few things to remember when setting up service areas:
You cannot enter your service area by making a radius around your business location (like you used to). Instead, enter the name of a town or zip code.

Google allows you to have up to 20 service areas.

It should take no more than 2 hours to drive to the edge of your overall service area.
5. Can two businesses have the same physical address on Google Business Profile (Google My Business)?
According to Google Business Profile Gold Product Expert Sherry Bonelli in this support thread, this is generally not a good idea. Most likely, attempting to do this would result in your Google Business Profile getting suspended.

This is because, when you try to add a new business profile with an address that is already attached to another profile, Google flags it as a "duplicate location" (Google).

As Bonelli notes, in general, Google doesn't want home-based businesses appearing on Google Business Profile, since the platform was originally created for brick and mortar storefront businesses, and later went on to include service-area businesses.

Often, when someone sets up multiple business accounts under the same address, it is either a home-based business or a bad actor.

If you run two businesses out of the same location, she recommends picking the more important one to avoid risking both businesses.

That said, there are a few situations where what might appear to be a separate business can have the same (or almost the same) address as another business.
Special circumstances
Chain locations inside a mall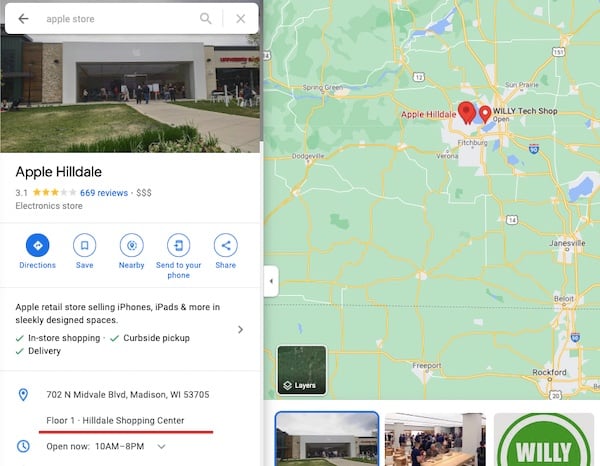 A franchise location's business profile inside a mall; Source: Google
For example, Google says that "​​if a branch of your business is located within another complex, such as a shopping mall that is already listed on Google Business Profile, you can request to have this information displayed in your Business Profile."
You can do this by submitting this form.
Departments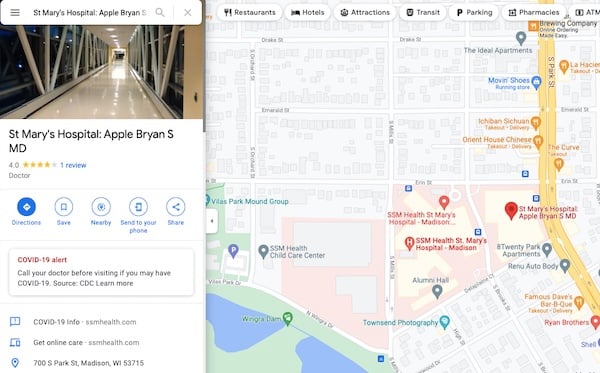 A listing for an auto center within a Fleet Farm location; Source: Google
Google also allows "Departments within businesses, universities, hospitals, and government institutions" to have their own profiles. Provided that:
They are "public facing"
"Operate as distinct entities"
Have distinct categories that are different than other departments
Have a name that is different from the organization
They may also have their own entrance and set different hours.
Car dealerships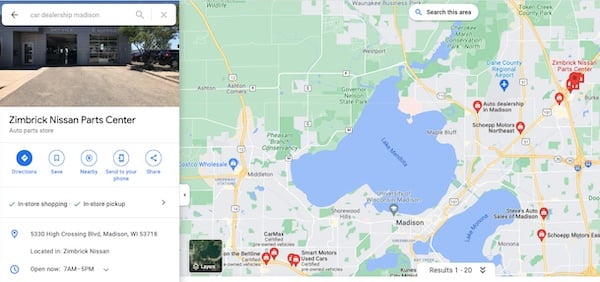 An auto parts department within a car dealership; Source: Google
Similarly, Google says that "all car dealerships can have a profile for the dealership itself and more profiles for their departments, like sale[s], parts, or services."

If this sounds like your business, Google has special guidelines for car dealerships.
Public-facing independent practitioners within certain industries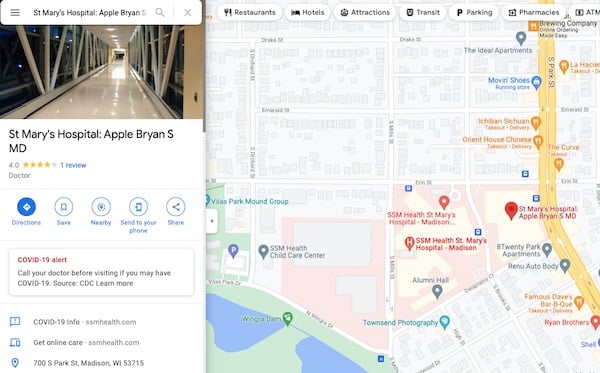 An independent practitioner listing; Source: Google
Also, multiple "public-facing," "independent practitioners" (such as "doctors, dentists, lawyers, financial planners, and insurance or real estate agents") that "can be contacted directly at" a single "verified location during stated hours" can have their own business profile (singular) separate from the organization's profile . . .

Unless they are the only public-facing representative of a "branded organization" (e.g. American Family Insurance) for that particular location, in which case they should not have a separate profile.
Those eligible for a separate profile within a larger building, such as a clinic, can request to have their location within an already listed building containing multiple practitioners displayed.

Note that there are separate rules for healthcare provider business profiles.

If you are ever confused about how your Google Business Profile should be configured, you can make an appointment with one of their small business advisors.
Conclusion
Navigating addresses and eligibility can be particularly hairy on Google Business Profile.
The best course of action is to carefully read Google's guidelines to determine if your business is eligible, identify whether your business type is subject to special rules, and then proceed from there.

If dealing with Google Business Profile looks like one more task to add to your already heaping plate, contact us.
We offer Google Business Profile optimization as part of our local marketing packages.
Topics: Local Business Marketing