It's safe to say that lead generation is a top priority (and challenge) for most marketers this year.
Recent HubSpot reporting reveals that 61% of marketers rank lead generation as their number one challenge.
The same report also finds that the company website is still the most-used marketing channel for lead generation.
Roughly 55% of marketers consider search engine optimization (SEO) either "very important" or "extremely important" to their overall marketing strategy.

Consider that:
70% of B2B buyers already know what they need before contacting a sales representative
74% of B2B buyers report researching at least half of their work purchases online
With numbers like these, it's easy to see why so many B2Bs use content marketing as the means of seizing on their SEO opportunity to attract and convert leads.

Here, we lay out a series of steps you can take to improve your rankings in search and capture high-quality leads.




TABLE OF CONTENTS

First, let's make sure we're on the same page with terms.
How lead generation with search engine optimization works
What is SEO?
Search engine optimization (SEO) is a set of techniques used to make websites more visible online and attract site visitors by ranking high on search engine result pages like these: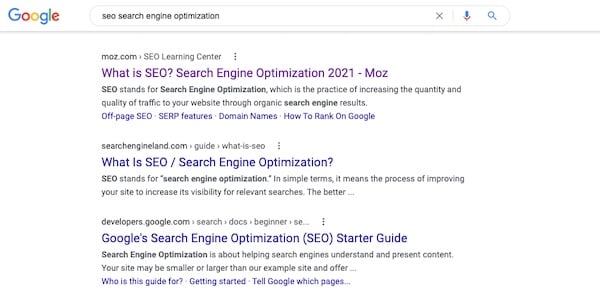 There are two main types of SEO, and one major subtype:
On-page SEO: strategies that make the design and copywriting of web pages as appealing as possible to both readers and search engines.
Technical SEO: web development strategies that improve your website's SEO "score" with search engines and potentially improve the user experience, a subtype of on-page SEO.
Off-Page SEO: strategies that largely focus on getting other websites to link to yours (an important search ranking factor) and managing your business's presence around the web.
On-page and off-page SEO ultimately affect where a search engine ranks the pages of your website. Showing up on the first page of search results helps potential customers find your business.
These results can lead people to site pages or social media profiles where they can get in touch with you, research your products or services, find a location they want to visit, or read content that positions you as an expert vendor to consider later.

In other words, showing up high in search results — with the right content marketing program and conversion strategies in place — often translates into leads.

There are many different types of search results, but they fall into two broad categories: "organic" (like the ones above) or "paid."
Paid search results: ads that businesses pay search engines to display, also called "PPC ads," or "CPC ads." These appear on the first page because you pay for the privilege.

Learn more about the benefits of paid vs. organic search for lead generation.

Organic search results: search results that Google retrieves according to their usefulness to the searcher. SEO can be used to help them rank higher.
Getting to the first page of search results organically relies on many factors, some of which are not publicly released by Google. For context, here's how Google's search engine works in a nutshell:
How search engines work
Google uses bots to crawl the content of web pages, as well as how they are structured. Google constantly crawls newly published pages, which it adds to an index of billions of web pages.

Google also judges the quality of web pages. Algorithms and human employees use different criteria to determine a how high in search results a page will rank for different queries that people type into the search bar.

There are many different factors that lead to a high search rank, but all of them boil down to one thing: giving the searcher the best results possible based on what they're looking for, otherwise known as "search intent."
Search intent: what the searcher wants to find using a search engine.

There are four types of search intent:
Informational: They want to learn something.
Transactional: They want to buy something.
Commercial: They want to find vendors.
Navigational: They want to find something.
When the searcher types something into a search engine, say "accounting services" Google:
Tries to understand what the searcher wants: their search intent
Looks to see what it has in its catalog that can give the searcher what they're looking for
Evaluates which content in the catalog would be the best for the searcher
Supplies a list of search results, starting with the best matches toward the top (1st page)
A successful SEO strategy is about giving searchers who may be interested in your business what they want to find in a convenient and consumable form.
What is SEO lead generation?
SEO lead generation is simply using SEO to generate leads.
It's about having a web presence that delivers what searchers are looking for while providing them with an opportunity to learn more in exchange for their contact information.
To learn the ropes of SEO, check out our free guide.
What are the advantages of SEO lead generation?
Investing in SEO offers a number of advantages.
SEO website best practices often align with a better experience for site visitors. This helps you create a positive first impression, serve current customers, and potentially upstage competitors with less ideal sites
It can introduce people to your brand through helpful content that ranks in results
Great SEO content provides value, builds trust, and demonstrates your expertise, laying the foundation for a healthy business relationship, should it develop
SEO lends itself to steady, long-term lead generation
It can generate leads passively
It reaches potential customers actively searching for solutions and businesses like yours online
Unlike paid search ads, you don't have to pay for each potential lead, a higher position in results, or extra to appear for popular terms
Step 1: Make sure your website is optimized for lead generation
Before planning and executing an SEO strategy, make sure your website is ready to receive and convert leads.
Here's a checklist to get you started.
SEO lead generation ready website checklist
Modern design: Ensure your web design looks professional and up-to-date, because website visitors judge a book by its cover.

It takes a fraction of a second for visitors to form a first impression of your website that will affect whether they stay or go. When in doubt, consult a graphic designer with experience building functional company websites.
Great user experience: Ensure that it's easy for your visitors to get around your site and quickly find the information they need. Learn more about user-friendly design.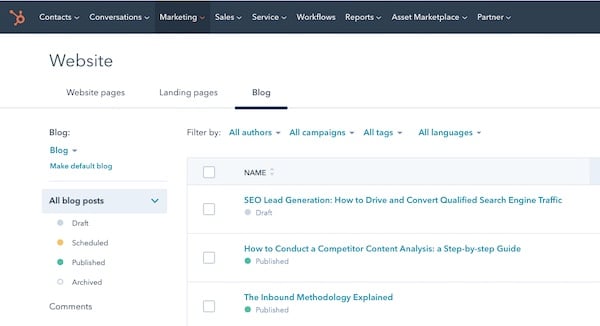 Capacity to use forms: Ensure your website has the ability to use submittable forms, so that visitors can easily request a quote or demo, or access your gated offers.

Forms are an excellent way to collect lead information and allow them to conveniently contact you at any time.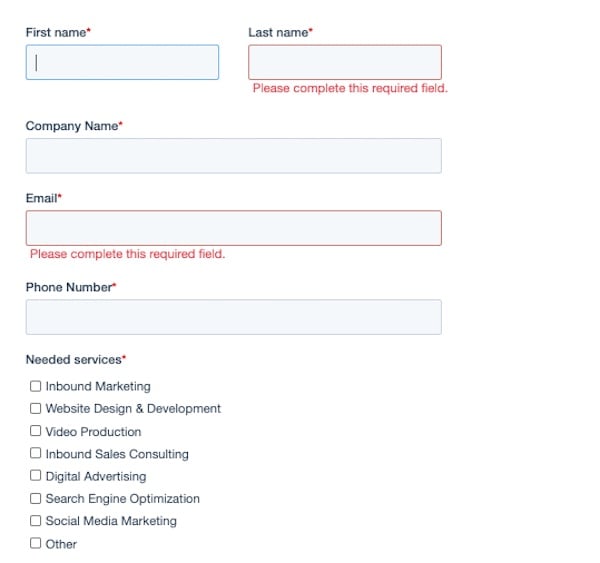 Google Analytics Installed: Make sure Google Analytics is installed on your site. Here are instructions.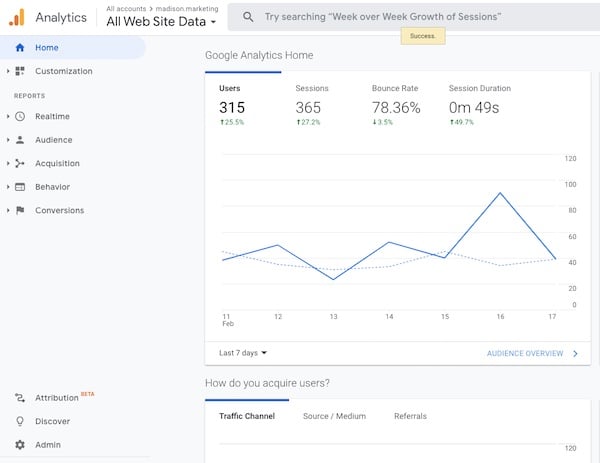 This software is widely used by marketing professionals to monitor and optimize their website's performance and track lead generation goals.

It's also free. If you have never used it before, I would recommend this free beginner certification course that Google offers.

You will also need to set up goals in Google Analytics to track your conversions. Here's how to do it.

Getting these basics squared away builds a foundation for the first step of SEO lead generation: optimizing your website so that visitors find it easy to use, making them more likely to convert into a lead.
Step 2: Technical SEO site audit
The first way that SEO can help you generate leads is to make your site more efficient and provide a better user experience. Part of creating that experience is making sure your site's technical SEO markers are optimized for both users and search engines.
This can be achieved by performing an on-page technical SEO check-up on your website and fixing any issues you find.

Like the measures you took in step 1, this underpins the success of future lead generation strategies like inbound content marketing, because it ensures that your website can be found and crawled by search engines and human users alike.

Done correctly, these measures by themselves can also have a positive effect on your search engine rankings.

Here are some steps you can take:
Technical and On-page SEO To-dos
Make sure your site is secure: Change your site from an "http" site to "https" by purchasing an SSL certificate.

This secures your site and can boost your search rank. To determine whether your site is already https, check the url in the navigation bar.



Http sites can be flagged as unsafe by browsers like Chrome because it is generally easier for hackers to steal information from them, like users' credit card numbers.



This may alarm or confuse users, causing them to feel uncomfortable clicking on results for http sites, more likely to leave http pages after they arrive, and less likely to enter their contact information into forms.

Securing your site reassures your visitors that they can safely submit a form, and you are able to protect their data.

Optimize site speed: Make sure the pages on your site load in less than 3 seconds. Slow websites can hurt your search engine rank, and are annoying for users. Check your page speed in Google Analytics.





Then, use the speed suggestions for each page to see the page's speed performance in Google PageSpeed Insights. This can help identify issues that could be slowing your pages down.

Fix broken and bad ingoing and outgoing links: Use a tool like Dr. Link Check to check the outbound links (from your site to others) for broken and suspicious links, so you can replace them with new ones.

Also check for broken inbound links (from other sites to yours). If someone clicks a link to an archived page on your site, they will get a 404 message.

Prevent this from happening by detecting 404 errors and similar issues with a tool like Ahref's free link checker.

If you have new pages similar to the ones that no longer exist, redirect archived pages to them. If not, redirect to the next higher level of navigation.

For example, if an archived service page results in a 404, redirect the old URL to your general service page. Learn more about fixing broken links.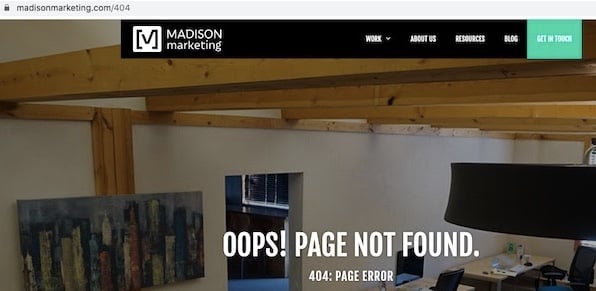 Add alt text: make sure every image on your site has a clear description. This text is read by assisting technology to describe image content to blind users, and by bots to help them understand how the image relates to your content.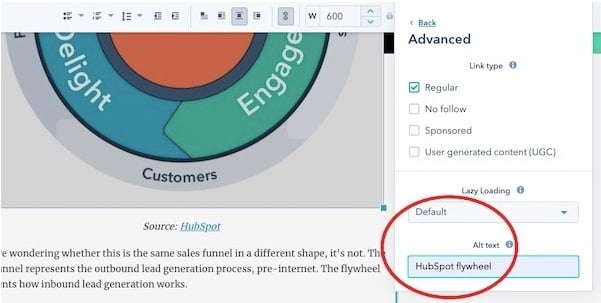 For more actionable technical SEO tips, check out this guide.
Step 3: Search Engine Optimize the Copy on Your Web Pages
After improving the technical performance of your website, it's time to look at the pages themselves, especially the page copy.

Websites themselves don't rank in search engine results: individual pages do. That's why each of your web pages needs to give searchers the information they want.

Giving site visitors what they want sounds like a no-brainer, but delivering it requires a little bit of know-how.
Satisfy searchers with the right information
Beyond providing a great user experience through design and clear navigation, we recommend the following best practices to provide web pages that satisfy site visitors:
Structure page information consistently: A potential customer is visits your site because they want to solve a problem.

Every page should persuade them to take action by acknowledging the problem and explaining how you can solve it. Then, give visitors a clear action to take.

Communicate clearly: Every page should follow web writing best practices, such as using simple words and sentence structures for maximum clarity.

Organize information with headers: Use a descending hierarchy of headers and sub-headers to help organize information on your pages and make them easier to read.

Provide social proof: social proof is feedback about your business from customers, your community, industry authorities, and outside organizations.

There are many types of social proof, such as reviews, testimonials, client logos, accreditations, awards, articles written about you, endorsements, case studies of happy clients, partnerships, and more.

This feedback serves as evidence that claims about the value you offer a customer are true, which is why it's great to include them all over your website.

Learn how to use social proof from Sprout Social and Optimonster.


Be thorough: Err on the side of thoroughness when writing web pages without boring your visitors with irrelevant information. The idea is to anticipate visitor's questions and doubts, and provide everything they need to convert.

For example, if your visitor wants to contact you, you only need to provide some basic contact information and a clear next action.

In this case, Exact Sciences funnels different types of site visitors to the right contact method for them.


But a potential lead visiting a service page may need more information before they're persuaded to take a next action.

Jan-Pro, for example, provides an easy-to-read but thorough explanation of their industrial cleaning offerings, the value they provide, and why leads should trust them:



Providing all the relevant information a visitor wants can help persuade visitors to take the next step.
Another key ingredient to generating leads with your web pages is targeting the right keywords.
Find and incorporate the right keywords into your web pages
Having a smart keyword strategy can also help attract leads to your pages. Plus, identifying the best keyword(s) for each page can make them more likely to convert once they get there.

What are keywords?
Keywords are words that people use to find things with search engines. Every time you use Google, Bing, or Yahoo, for example, you use keywords.

Keywords describe what you want to find. People searching for specific services, products, or vendors use keywords to find vendor web pages.

The phrase "lead generation service," for example, is a keyword used to find lead generation service vendors on the web.

On the flipside, keywords tell Google what a page is about.

For example, if a page is called "seo lead generation guide" and it contains keywords like "calls-to-action," and "website optimization," Google can be pretty sure that it talks about lead generation and SEO.

So when someone searches for "seo lead generation," Google is more likely to add this guide to the search results, than "best defense lawyers in Madison, WI," because it knows the SEO guide is going to be more relevant based on its contents.

Google is all about giving searchers what they want, so it tries to match the words (keywords) the searcher types into the search bar with the same or similar keywords it found on a web page.
How the right keywords help generate leads
To focus your pages and keyword strategy on lead generation, you first need to match each of your pages with the searcher's intent.
For example, someone looking to learn something might use the phrase "how to" while someone looking to buy something might include "buy" or pricing based words in their search.

Your job is to incorporate intent-based keywords along with your standard product, service, or information type keywords so that Google can identify your page as one that will best satisfy the searcher.

Using this type of keyword strategy that matches both page topic and search intent will help your page, and site overall, generate more leads.
Learn more about keywords and picking the best ones for your purposes, check out this article.
Step 4: Implement an inbound marketing strategy
Another way to generate SEO leads is by creating helpful, original content about subjects that interest them and questions they need answered: in other words, by creating an inbound content marketing strategy.

"Content" in the context of inbound marketing, usually refers to tools, ideas, and sources of information like:
Blog & social media posts
White papers, guides, e-books, & checklists
Videos
Webinars
Courses
Digital tools
Newsletters
Product descriptions
Content is basically stuff of value that you offer to visitors on your site, social media pages, and listings on other sites. For a more encompassing definition, check out this article.

Content creation is useful for lead generation for a few reasons:
It generates brand awareness: Good content that generates leads can serve as an introduction to your business for potential customers.

While most content is not positioned to quickly lead to a sale, a helpful piece of content is not easily forgotten.
It builds your reputation: Accurate, informative, helpful content also demonstrates your industry knowledge, making you stand out as a potential vendor when the time comes for a prospect to make a purchasing decision.
It can be used to qualify leads: Premium content, which requires the prospect to submit a form with their contact information to access it, can be used to identify leads who are more likely to become customers.
It engages leads throughout their buyer's journey: You can use content to keep leads interacting with your business as they learn about their problem and research products, services, and vendors.
The key to creating outstanding content for lead generation is tailoring it to your potential customers' needs.
How to do that:
Create buyer personas

: Make profiles of your ideal audience (customer) to describe who they are and what makes them tick.
Conduct market research: Rather than guessing, identify questions potential and current customers are already asking, topics of interest, preferred content types, preferred device types, and where they get their information.
Do keyword research: After identifying topics to write about, find keywords that potential customers might use to search for information about those topics.
Write for every stage of the buyer's journey: Write content for awareness, consideration, and decision-stage customers (top, mid, and bottom funnel) to ensure you're engaging leads at every stage and moving them closer to a purchase.
Pick the right content type: Create types of content you already know your leads enjoy, based on your research.
Give your prospect what they want to know: Create content that gives quick answers to simple questions, and longer, more in-depth answers to complex questions (Amanda Milligan).

For example, if you sell plastic banding machines and your potential customers often ask "how much does a commercial banding system cost?" add this to your FAQ page and answer it in a few paragraphs.

If, on the other hand, a potential customer often searches for "how to select the best commercial banding machine." This might be a good topic for an in-depth comparison guide.
Use your identified keywords in your content: For every piece of content, pick one keyword directly related to your topic of choice that potential customers could use to find information about that topic.

For long pieces of content, like pillar pages, pick broad keywords (2-3 words long). For short pieces of content, pick longer keywords (4 or more words long).

Let's say your customers want to learn how to arrange the floor plan of their retail store to increase sales.

You know that many people search for the keyword "how to arrange retail store to increase sales." This may be a specific enough topic that you could fit it into a blog post.

However, a broad keyword like "grocery store retail design" would probably warrant a guide.

Like any type of writing, the broader the topic, the longer the piece of content will need to be in order to cover it thoroughly.
To learn more about putting together a content strategy, check out this guide.
Step 5: Choose Effective CTAs
Once potential customers land on your pages, and you've provided them with helpful information on that page, the goal is that they are ready to take the next step. That next step is also known as the CTA, or "call-to-action."

Calls-to-action should tell your page visitor what to do next, whether that's filling out a contact form, giving you a call, or downloading a resource.
HubSpot defines a call-to-action as "an image or line of text that prompts your visitors, leads, and customers to take action. It is, quite literally, a 'call' to take an 'action.'"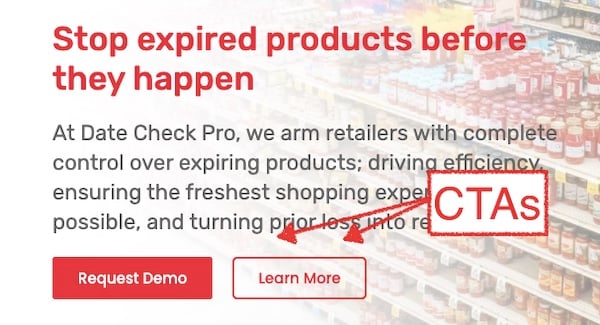 Effective calls-to-action are essential for generating leads on the pages of your website.

To ensure that your calls-to-action are doing their job, it's important to place them appropriately throughout your site.
What makes a CTA effective?
It provides a relevant & compelling next action
Every keyword has search intent. As we discussed earlier, there are four types:

Informational: They want to learn something.

Transactional: They want to buy something.

Commercial: They want to find vendors.

Navigational: They want to find something.

Since you're using SEO to attract leads to your site and are picking keywords with specific search intents for each of your web pages, your calls-to-action should be a logical next action after you've satisfied a site visitor's search intent with your page.

If your visitor searched for "how to fix cracked basement walls," which brought them to a blog post on your foundation repair contractor website, a logical next action after they finished reading might be "check out our foundation repair services."

This action is both directly relevant to what the searcher just read and is a logical next step, since you've just educated them about different repair options.

Takeaway: Write calls-to-action that are directly related to the topic of your page, and are a logical next step after the searcher finishes reading your page.

Example:
Searcher types "name of your website" into Google
Visitor sees your homepage in search results and clicks on it
They arrive on your homepage and read it
Call-to-action: "Call Us Today"
Educated guess behind the CTA choice: They already know who you are and were trying to find you, so they may be considering approaching you.
It sends the visitor further down the buyer's journey.
Most pages of your site will be geared toward a particular buyer's journey stage. The buyer's journey is essentially the sales funnel from the buyer's perspective. It has three stages, each with specific questions and goals:
Awareness: Question: What is causing my issue? Goal=learning what their problem is.
Consideration: What are my options for solving this problem? Goal=learning about different options for solving the problem.
Decision: Which vendor should I buy my solution from? Goal=picking the best vendor for their situation.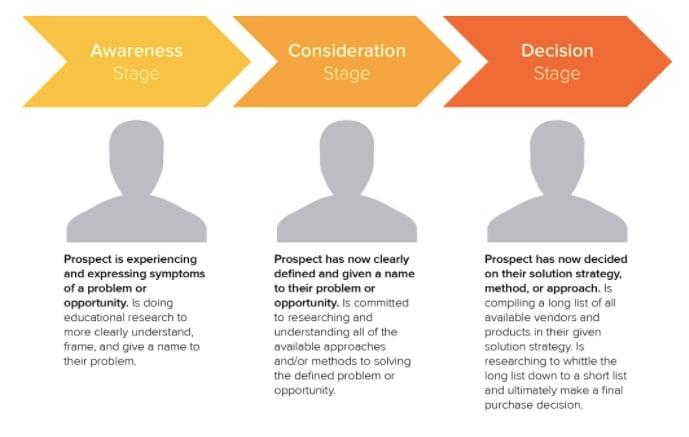 Because buyers have different objectives and questions for each stage of the buying process, not all the pages of your website will be relevant to them.
For example, a person who doesn't know much about your company probably wouldn't visit your "contact us" page, just like a person who is about to buy your Healthcare IT software probably wouldn't watch a video explaining how it works.

Ideally, each page of your website "nurtures" your lead moving them further down the buyer's journey (or funnel) and closer to making a purchase.

In the previous section's example of a blog post about cracked wall solutions, a potential customer who is considering different foundation repair options should have a better idea of which option would work best for them after reading the post.

If they are satisfied with this information, they may become a decision-stage prospect who is prepared to vet this company as a potential vendor.
So, "View Our Solutions" is a logical next step based on their buyer's journey stage, and may compel them to become a marketing-qualified lead.

Takeaway: Create calls-to-action for each page that send your visitor further down the buyer's journey.

Example:
A visitor reads an a blog post called "What is SEO?"
Call-to-action: "Read More" with a link to the post "5 Tips for Optimizing your Website"
Educated guess behind the CTA choice: This person didn't know what SEO was until reading this article, so they were in the awareness stage.
Now, they might be ready to enter the consideration stage, so we should link to a consideration stage article.
It uses compelling words
Words that generate a helpful emotional reaction, such as creating a sense of urgency, excitement, satisfaction, or reassurance are great for CTAs.
Instead of using boring, passive sounding words like "submit," use active verbs like "get," "try," "call," or "join."
Use words that encourage prompt action, like "now" or "today."
Use words that signal a bargain like "free," "save," or some other value proposition, like "easy."
Use words that signal reliability and risk avoidance, like "guarantee," "proven," or "results."
Speak directly to the visitor by using words like "you."
Use words like "new" or "discover" to convey something fresh and exciting
Lead up to the CTA with phrases that signal a time limit for the offer, like "sale ends today," "only 1 left," or "save your seat."
Takeaway: Consider what value you're offering the button-clicker, and choose the most persuasive words to get this message across.
Example: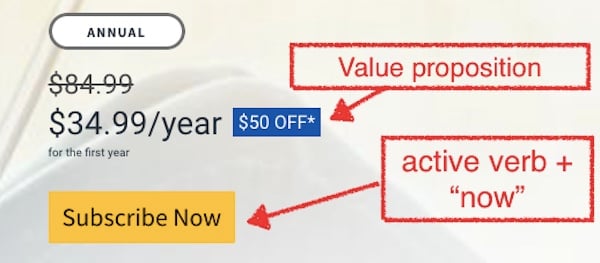 The text leading into the CTA offers a value proposition, while the CTA itself "subscribe now," uses an active verb and a word that emphasizes the time-sensitivity of the offer.
It's easy to see and click on
Great CTAs:
Use colors that stand out from the rest of the page
Are button-shaped (a familiar call-to-action shape for most visitors)
Are large enough that they are easy to spot and click on no matter what device your visitor is using
Are not so large that they take up a large portion of the page.
Use large, concise, easy-to read text
Are in the path of the reader's eye. English readers read right-to-left and top-to-bottom, so it's a good idea to place your CTA in a place where your reader's eye will be headed next.
Are surrounded by white space, (blank space around an object on a page) making them easier to spot
Takeaway: get a web designer involved in your CTA button and page design to ensure that you're making it as visible as possible
Example: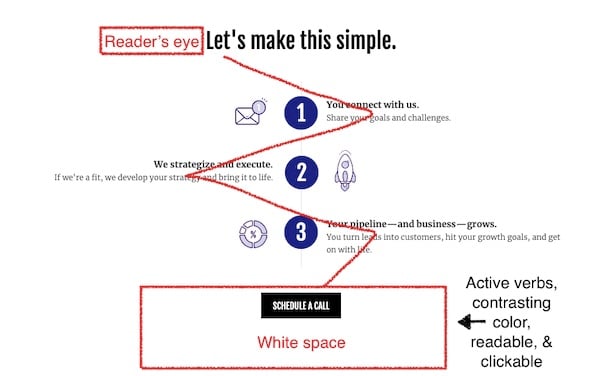 This CTA button on our homepage is placed so that a visitor's eye will naturally land on it after reading the value propositions.
The CTA itself, "schedule a call" uses active verbs, a contrasting color, readable text, and is an appropriate size to be spottable on both desktop and mobile devices.
It isn't annoying
Avoid making CTAs that imply that the visitor is foolish for not buying your product, are interruptive, difficult to close, or force the reader to leave the site if they don't convert.

Takeaway: Use your CTA to offer something of value in a polite and compelling way.
Example: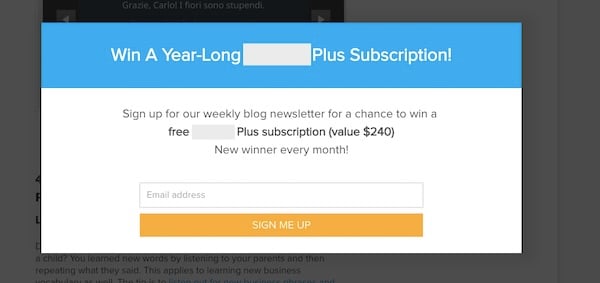 The copy and design of this CTA is okay, but the way it interrupts the visitor's reading experience and hides the "x" that allows you to get rid of it could be annoying enough to drive the reader away.
Next steps
After writing your CTAs, here are a few things you can do to ensure their effectiveness.
Perform A/B tests: A/B tests are experiments where half your visitors see one version of a page (the control), and the other half an experimental version with one element different, such as one with the s green CTA and another with red.

This allows you to see which version gets more conversions, for example.

From there, you can choose the winning version to show all visitors. This can help you improve conversion rates. Learn more about A/B testing.
Make sure you have one primary CTA for each page: Ensure that the copy on your page prepares your visitor to be ready to click on a single, clear call-to-action.
Consider subtle, secondary CTAs: That being said, HubSpot suggests that in some contexts it's great to have secondary, more subtle CTAs, too. These are called "in-text CTAs."

They don't interfere with your main CTA, but they offer other conversion points, and feel less salesy to your site visitors than buttons or pop-ups.
Read more details about CTA best practices, including some of what we discussed above, in these articles:
8 Characteristics of High-Converting CTA Buttons
17 Best Practices for Crazy-Effective Call-To-Action Buttons
Reviews, Citations, & Other Local Business Considerations
If you're focused on generating leads only within a local market, the best practices above are just a starting point. Google uses additional ranking factors when ranking local-intent keywords than it does otherwise.

If your business is local, it's important to learn about local SEO best practices. Check out this guide to learn more.
SEO is one piece of the lead generation puzzle
SEO is a powerful tool for generating leads, but it works best in combination with other strategies. At the end of the day, you'll need to find a balance between strategies that is most effective and sustainable for your business.

Here are a few more lead generation strategies that can be effective for B2Bs:

Email: great for promoting your content and nurturing existing leads
Paid ad campaigns: Sophisticated ad targeting can be used across many platforms to get your offers in front of your target audience.
Traditional strategies: Offline marketing activities like trade shows, conferences, and networking can still offer value to your strategy, depending on your industry and circumstances.
Learn how we used SEO and inbound content marketing to generate leads for this B2B client.