Dog Guard® of Wisconsin wanted to grow their business,
but a poor website held them back

.

In the spring of 2019, Dog Guard of Wisconsin, a local electronic dog fencing dealer, was working to grow their business but struggled with digital marketing.

Their website—and by extension, the agency responsible for running it—wasn't delivering business. What's more, poor reporting obscured important metrics, making it difficult to see what wasn't working.

In a previous role at another company, Terri Benisch, former co-owner of Dog Guard of Wisconsin, had worked with Madison Marketing Group to optimize multiple small business websites and implement Google search and retargeting ad campaigns. She hoped we could do the same for Dog Guard of Wisconsin: improve its website and generate leads.
"I didn't like the website, and I had wanted a new website for a long time. It just wasn't a good experience. I felt like everything was antiquated." Terri Benisch in 2021, Former Co-owner, Dog Guard of Wisconsin
After partnering with MMG, Dog Guard of Wisconsin was able to:
Produce an approx. return-on-ad-spend (ROAS) of 4.7
Produce approx. 4.4 ROI from paid search
Generate approx. $425,000 in revenue from paid search
Generate a total of 1,060 web leads
Generate approx. $800,000.00 in website generated revenue
Read on to learn more about how we helped Dog Guard of Wisconsin overcome its challenges to produce these results.
Part I: Initial Solutions
To help Dog Guard of Wisconsin improve their visibility in search and generate leads, we executed a campaign that included the following motions:
Developing a new website, complete with a content management system and ecommerce capabilities
Correcting and completing business listings on the web
Posting on Google Business Profile (formerly known as Google My Business)
Writing keyword-targeted blog posts to attract prospects via organic search
Deploying Google display ad campaigns
Deploying a Google search ad campaign
Executing the campaign: building a virtual storefront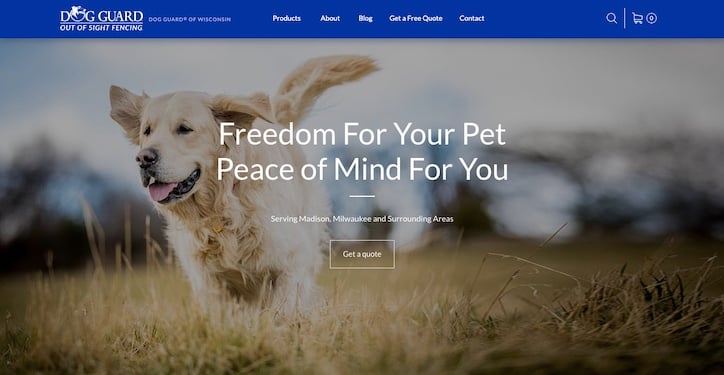 Dog Guard of Wisconsin's site; Source: Dog Guard of Wisconsin
First, we planned, designed, and built a new website for Dog Guard of Wisconsin with a modern look and feel that reflected the professionalism the business wanted to convey. Our use of the Webflow content management system made it easy for just about anyone to edit, add, and otherwise manage pages—a feature Dog Guard of Wisconsin's website previously lacked.
The new site included an ecommerce store that enabled customers to buy products online directly, and quarterly blog posts optimized to rank in search results for terms potential customers used to search for businesses like Dog Guard of Wisconsin.
The content of these posts motivated prospects through the buyers journey by answering common questions about Dog Guard's products or helping local pet owners find resources.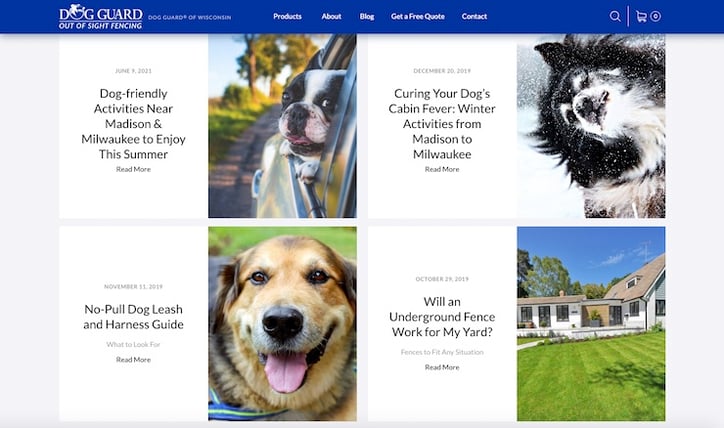 This new website would serve as a place for customers to find Dog Guard, learn more about their dog fencing solutions, contact the business, and convert leads into customers from other marketing channels such as paid search advertising.
"I hated our old website. I love our website now." Terri Benisch, Former Co-owner, Dog Guard of Wisconsin
Executing the campaign: new Google advertising campaigns
To generate leads, we created a new Google Ads campaign from scratch. This included:
Keyword research and strategy
Campaign set-up, ad copywriting for four ad groups
The creation of a dedicated custom landing page
Ongoing campaign management and reporting for tracking and optimizing campaign performance
The totally re-built ad campaign drove users to a landing page optimized to solicit quote requests through clear, concise messaging and thoughtful product positioning.
The budget started low—about $500 per month—to help us test our strategy and campaign assets before investing more.
In addition to Google paid search ads, we launched a retargeting display ad campaign to re-engage individuals who had visited the site but left without converting.
Regular reporting check-ins and data dashboards kept the Dog Guard of Wisconsin team informed of campaign performance and progress toward the goals:
Driving inbound lead generation via the website
Increasing organic and paid search visibility around important unbranded search terms in local markets
Enabling ecommerce product sales to streamline fulfillment processes
Part II: Initial Results and Optimizations
Between September 2019 and March 2020, the campaign yielded some initially favorable results. We also identified areas to fine tune.
Traffic to the website from unpaid search results had increased compared to the previous year, suggesting that efforts to boost search engine visibility had begun to produce results.
Meanwhile, the Google search ad campaign had generated 50 leads, each costing $50 to $60, but worth an average of $200 in sales revenue. Also, the ecommerce store had generated more than $7K in revenue in Q4 of 2019 and Q1 of 2020.
In contrast, display ads were not yielding favorable results, which prompted us to end that campaign and redirect the spend to the more fruitful Google search ads campaign.
As a result of the positive signals from Google search ads from Q2 of 2020, Dog Guard of Wisconsin started spending more per month on paid search advertising, raising the ad spend to over $1,000 per month.
Part III: Long-term Results
Following the encouraging 2020 results, Dog Guard of Wisconsin's web generated revenue spiked dramatically in 2021.
While MMG's work in generating leads via paid and organic search drove the majority of the results, we were likely assisted in part by an overall increase in demand in the pet market during the pandemic.
The cooling of this market led to solid but unspectacular 2022 revenue results, which were down from the heights of the pandemic in early 2021 but still represented the second-strongest year on record.
Despite these setbacks, in Q4 2022 (the slow season) Dog Guard of Wisconsin generated more web based revenue than any of the previous years we have worked together.
Key takeaways
To sum up, from 2020 through 2022 we helped Dog Guard of Wisconsin...
Produce a return-on-ad-spend (ROAS) of 4.7
Get 4.4 ROI from paid search
Generate $424,861.53 in revenue from paid search
Google Ads-Generated Conversions and Revenue
Generate a total of 1,060 web leads
Website Leads Generated
Get $801,817.00 in website generated revenue
Website Generated Revenue
"I'm thrilled with the results. It's been a crazy period of growth for us for the last two years." – Terri Benisch in 2021, Former Co-owner, Dog Guard of Wisconsin
Final thoughts
Since they first partnered with us, Dog Guard of Wisconsin has grown, hiring new employees and enjoying a steady volume of business. In 2022, the original owners passed the torch to their daughter and her husband to carry on the family business.
In the future, Dog Guard of Wisconsin plans to continue to work with Madison Marketing Group to turn their investments in paid search advertising and SEO into leads interested in buying fences and their other products.
"I've always liked working with Madison Marketing Group–the ideas they have and flexibility. It's just always been a good experience." Terri Benisch in 2021, Former Co-owner, Dog Guard of Wisconsin
Reach out today to learn how you can generate more leads with custom digital marketing solutions.